Covid-19 surcharge, a new surcharge of 5% on restaurant bills!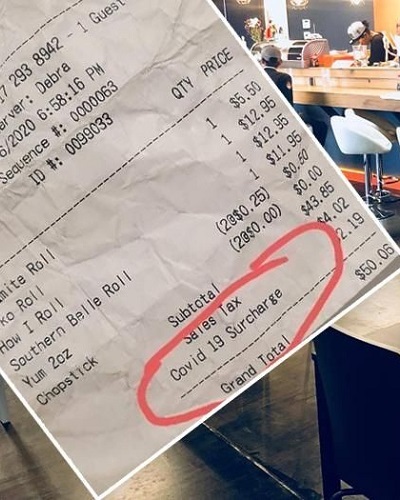 All types of businesses worldwide suffered due to the coronavirus pandemic.
Restaurants were badly affected.
Supplier issues were also present leading to heavy losses.
The restaurant owners want to recover their losses.
Hence they have decided to charge the Covid-19 surcharge to the customers.
---
Covid-19 surcharge-the new way to recover the financial loss
The restaurant industry has been badly and severely hit by the coronavirus pandemic. The governments worldwide forced restaurants to close.
There were ongoing overheads that continued for the restaurants with no revenue. Therefore, they are in heavy losses.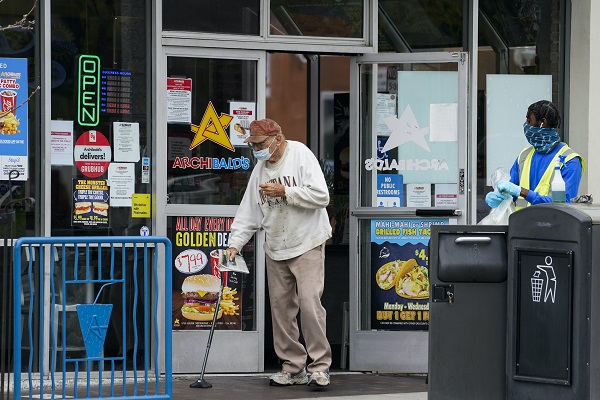 The restaurant owners limited themselves to takeaways and deliveries to pay the ongoing bills. Additionally, there were meat shortages and food supply chain issues. This too led to an increase in the cost of food making and delivery.
As a result, the restaurant owners now have decided to recover these losses from prospective customers by levying a new Covid-19 surcharge.
Kiko Japanese Steakhouse & Sushi Lounge, a restaurant located in West Plains in Missouri has already implemented this Covid-19 surcharge at 5%.
The owner Billy Yuzar stated:
"Instead of us raising prices across the board, we are doing this surcharge of 5 percent."
More about the new surcharge
The owners of Kiko restaurant have made their customers know of it online, at the front door, and also at the register. Billy said:
"We have been transparent about it. Right when you walk into our restaurant, it's there. I made our notice so people read it, making it bold. 'Please Read Me.' And then I put some emoticon."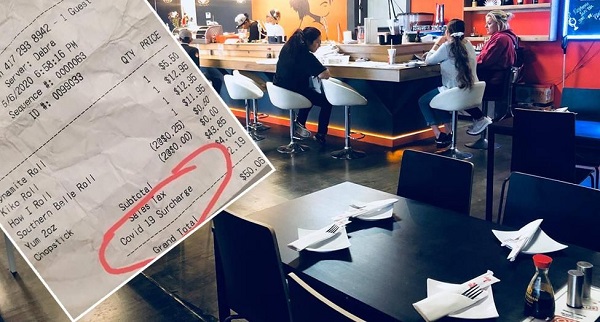 Furthermore, he explained:
"I am at the bottom of the supply chain. I buy my food from U.S. Food, their prices go up. Now, starting last week, the prices went up, my margin is negative. So I have to do this to survive,"

"Instead of us raising prices across the board, we are doing this surcharge of 5 percent. Hopefully… we can adjust it weekly. Lower the cost as things change."
What has been the response of customers?
Billy is happy that most of the customers understand the situation and have been supportive of this new surcharge. He started it on 6 May 2020.
Someone else had shared a receipt of the bill online which had the new surcharge displayed in it. There were some negative comments on it.
But Billy clarified that the customer supported it and did not put the receipt online. But it was a third party who did it.
'Scuse me … what? A covid surcharge…? pic.twitter.com/IYcrkcqIJ3

— Talia (@talialikeitis) May 11, 2020
Talking further on it, Billy revealed:
"Basically all of the restaurants in West Plain, we're getting the same supply through the same supplier. U.S. Foods' price is going up. The name 'COVID-19 surcharge' actually came from [local] Ozark Café who named it that. We agreed to use it."
Other states of the USA are also adopting it and the surcharge is here to stay!!!
Click to read Are pregnant women and their unborn babies at increased risk if the women develop coronavirus infection?
Source: Fox News