The twins join Cristiano Ronaldo Jnr, now 7, born during a previous relationship.
Relaying of the News
The Real Madrid striker revealed the news in a Facebook post after the defeat of Portugal to Chile in the semi-finals of the Confederations Cup.
"I was in the service of the national team, as always, body and soul, even though my two children were born,"
Ronaldo wrote.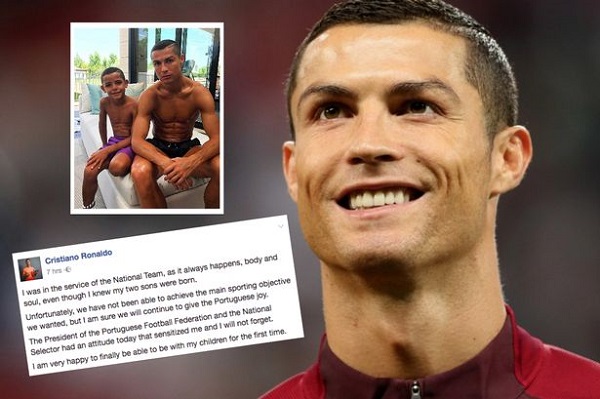 "Unfortunately, we have not been able to achieve the main sporting objective that we wanted, but I am sure we will continue to give joy to the Portuguese people.

"I'm very happy to finally be with my children for the first time."
Response
However, unconfirmed reports from a Portuguese TV channel said that the boy and girl had been named Eva and Mateo. It also claims that they were born on June 8, well before the start of the Confederations Cup.
"The President of the FPF and the National Team were informed before the Confederations Cup by the National Team captain, Cristiano Ronaldo, that he had been a father,"
read a statement from the Portugal national team.
 " The athlete, despite the birth of his children, made a point of being in the service of the National Team, in a gesture that we must underline and praise.
"The President of the FPF and the National Selector understand that if it is impossible to reach the goal of winning the Confederations Cup, they must release the athlete so that he can finally get to know his children."
The Exit From Confederations Cup
Chile's Claudio Bravo saved all three of Portugal's opening spot kicks, dumping the Portuguese side out of the competition following a goalless draw in normal time.