Cristiano Ronaldo Celebrates His Girlfriend Georgina Rodriguez 28th Birthday Infront Of Burj Khalifa Tower In Dubai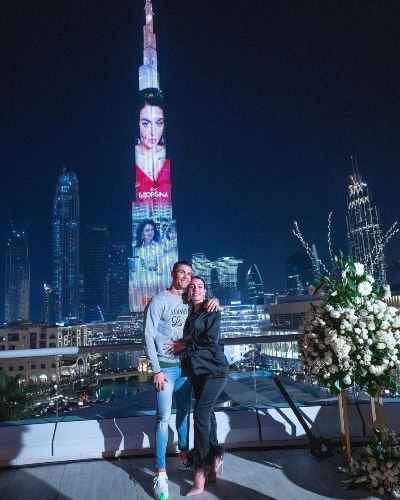 Cristiano Ronaldo has been recently in Dubai with his family where he celebrates his girlfriend's 28th birthday
Georgina Rodriguez received an iconic birthday present being projected on the Burj Khalifa tower
Her Netflix show, 'I am Georgina' is based on her daily life 
---
The 36-years-old Manchester United superstar's girlfriend Georgina Rodriguez who recently turned 28 received an iconic birthday present on her birthday.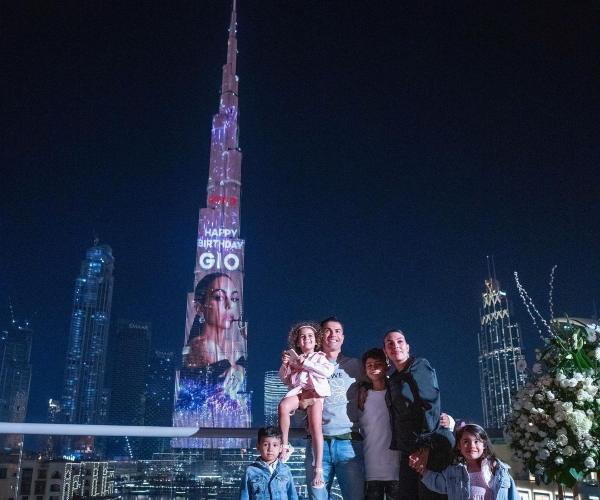 Ronaldo has been recently in Dubai with his family during the England Premier League's winter break. The family celebrated both Rodriguez's 28th birthday and the Netflix series about Georgina's rags-to-riches life, titled 'I Am Georgina', in the Arab state.
On Thursday night, Dubai's Burj Khalifa displayed a special birthday message 'Happy Birthday Geo' for Rodriguez in giant white letters above a photo of the stunning Spaniard in a glamorous off-the-shoulder black dress.
Rodriguez posted a gallery of pictures from the special occasion with captions of gratitude. She wrote,
"This is how this exciting day ends I can't find the words Thak You, Thank you and Thank You @cristiano You can't make me happier every day,"

She continued, "Thank You @dubai for always treating us so well and making us feel at home Thank You to all you who have worked to make this day so special,"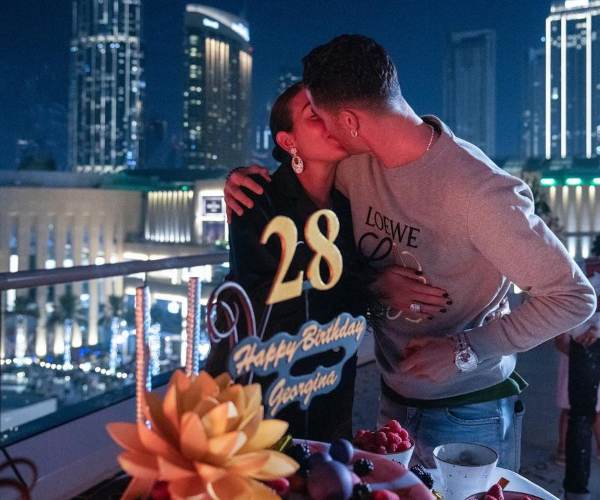 In the second post, she shared a photo of herself and Ronaldo sharing a romantic kiss alongside the caption, "Dreams come true". She is overwhelmed with emotion in one of the photographs.
The soccer star also shared a video and photos with the family in front of the extravagant gift. Ronaldo wrote in Portuguese, "Muitos parabéns Meu Amor" which translates to "huge congratulations my love" in English.
Ronaldo has reportedly spent around $67 thousand million to put the promotional facade on the iconic tower in the heart of Dubai.
Also read "Family of 6! Cristiano Ronaldo is expecting twin children with Georgina Rodriguez!"
How much does it cost to display your photo, ads, and message at Burj Khalifa?
According to sources, Burj Khalifa takes alter prices depending on the time of display and the days of display. Ads displays from 8 p.m. to 10 p.m. on weekdays will cost AED 250,00 for a single three-minute display. Similarly, ads posted on weekends from 8 a.m. to 10 p.m. can cost around AED 350,000.
The cost of a weekend midnight display is AED 500,000. Moreover, an ad placed after 7 p.m. is charged AED 1 million, with a maximum of 5 times for ads to display for three minutes.
According to recent reports, the cost of placing a three-minute promotional ad or message on the tower's facade is at least AED 2,46,182 with the price rising on weekends.
Also read "Cristiano Ronaldo, Portuguese footballer tests COVID-19 positive! An update on his health!"
Georgina Rodriguez' Netflix show 'I Am Georgina'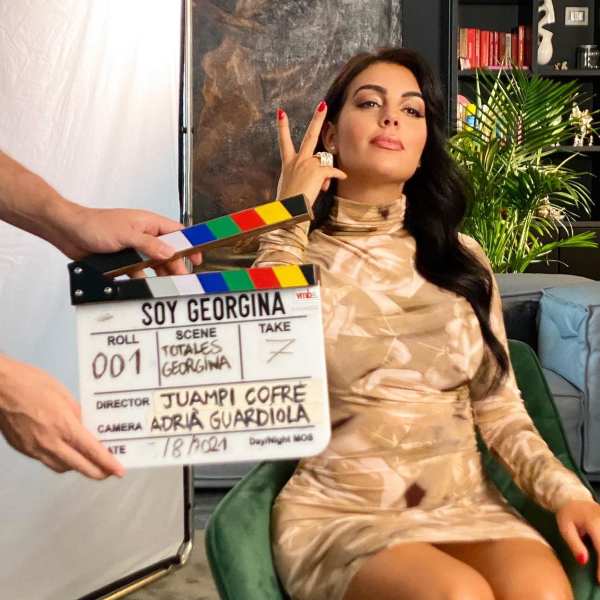 Georgina's new Netflix show, I am Georgina is based on the luxurious life of Georgina Rodriguez. It was officially French, but as of Thursday, Jan 27 the series is also available in English on Netflix. Presently, the series is streaming on the platform.
The now-reality star is a model, businesswoman, dancer, influencer, and mother to three children. She is one of the most followed women on Instagram with over 30.9m followers. She wrote on her respective Instagram handles,
"I am Georgina is what is behind the covers, the stories and the red carpets," 
The series stars Rodriguez and Ronaldo is set to appear as well. Similarly, she is pregnant with twins so far. Last year, she and her boyfriend Cristiano announced her pregnancy in the month of October.
Also read "Cristiano Ronaldo Becomes A Father Again, Announces He Is Now A Father To Twin Babies"