Is Cristiano Ronaldo and Georgina Rodrigues getting married soon? 'I will say "YES" to Ronaldo whenever he proposes for marriage'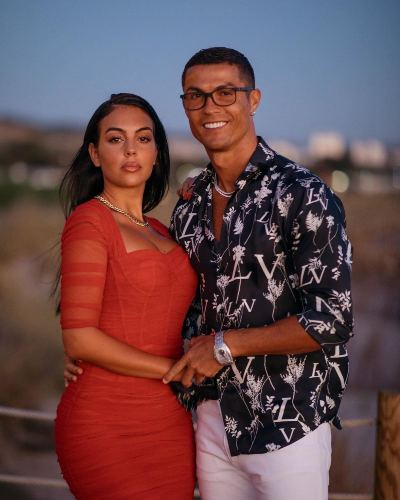 Cristiano Ronaldo and his girlfriend Georgina Rodrigues are rumored to get married soon
The powerful couple is expecting twins children
Ronaldo is going to be the father of six
---
Cristiano Ronaldo who recently turned 37 and his girlfriend Georgina Rodriguez, 28 are speculated to be taking their relationship to the "next level". The lovely couple has been courting for nearly six years. 
Over the course of his 30-year career, he has won the hearts of many football fans and is widely considered one of the best soccer players of all time. Cr7's fans are equally enamored with both his professional and personal life.
He has always accomplished his responsibilities as a great father, a son, and a boyfriend. Now, it's his turn to be a great husband.
Cristiano Ronaldo and Georgina Rodrigues married
In a new Netflix docu-series 'I Am Georgina', Rodrigues noted that she herself was ready to get married.
She says, 'she wants to tie the knot with her football star boyfriend and will say 'yes' when he asks for her hand in marriage.' In response to that, Cristiano explained he will marry her maybe in a month, a year, or even in a week.
"It could be in a year, or it could be in six months or in a month. I'm 1000 percent sure it will happen."
The powerful couple is constantly the subject of marriage rumors. Prior to that, whenever there were rumors about their marriage, Cristiano flatly denied all of them. But, he says that this time will be in a year. So, something is cooking in the couple's mind. Recently after his girlfriend joked with mates about a wedding, Cristiano in a chat wrote,
"I always tell Georgina that we can get that click like everything with our life, and she knows what I am talking about."
Also read "How did Cristiano Ronaldo celebrate his 37th birthday?"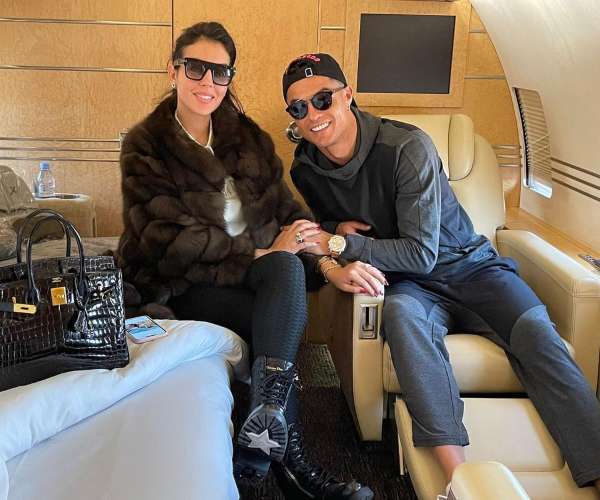 Georgina stated that they intend to live in Portugal after Cristiano retires, and the striker admitted that he feels "free as a bird" in his homeland and "less observed" than in other places around Europe.
Cristiano is having a new mansion built on a large plot of land in Quinta da Marinha on the so-called Portuguese Riviera, half an hour from Lisbon Airport and ten minutes from Cascais's center. According to the Portuguese press, Ronaldo is planning to use it as a family home.
Also read "Cristiano Ronaldo Celebrates His Girlfriend Georgina Rodriguez 28th Birthday Infront Of Burj Khalifa Tower In Dubai"
More about Cristiano Ronaldo
Cristiano Ronaldo is the greatest and one of the best football players of all time. He is the all-time top goal scorer of the Portugal national team. Currently, Ronaldo plays for Spanish giants Real Madrid as a striker.
Throughout his career, he has grabbed four FIFA Ballon d'Or. Back in 2016, he assisted his country to become the champions of Europe.
As of now, he has lifted four UEFA Champions League titles, one came from Manchester United and three from Real Madrid. He has also owned four golden boots in which he shared one with Luis Suarez in the 2013-14 season in La Liga.
Cristiano Ronaldo meets Georgina Rodríguez in the Gucci store. Georgina was working for US$350 in the store. She mentioned her ordinary life has changed into famous life after she started dating the most renowned football player.
Georgina further described that moment as "life-changing" in the Netflix show.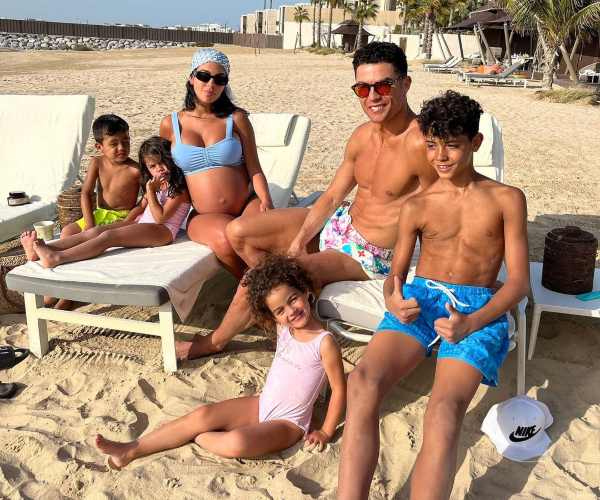 It's already been six years of their relationship. Together they have four children. They first welcomed a boy, Cristiano Ronaldo Jr on 17 June 2010. 
Moreover, he became the father of twins daughter Eva and son Mateo, via surrogate mother on 8 June 2017. Similarly, on 12 Nov 2017, Georgina gave birth to a girl, Alana Martina.
Further, the couple announced that the family is expecting a second pair of twins. They shared an ultrasound photo on their Instagram feed in Oct 2021.
Currently, the Manchester United player, Cristiano is happily living with his present girlfriend Georgina along with his four children. See more…
Also read "Family of 6! Cristiano Ronaldo is expecting twin children with Georgina Rodriguez!"