Crystal Kung Minkoff Explained The Story Behind Arrest Warrant In Arizona; Get To Know Her!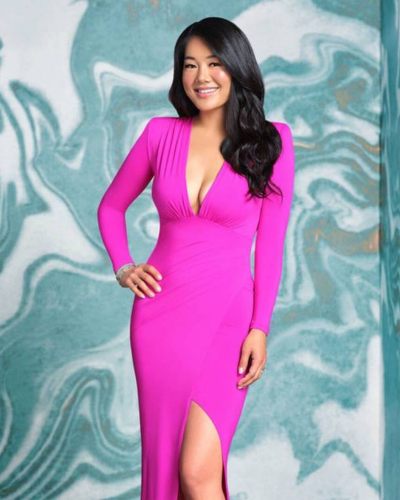 Crystal Kung Minkoff recently shared the story behind an arrest warrant in Arizona. 
RHOB newcomer star Crystal is wooing her fans by talking about her past stories. 
She is the first Asian-American to join the show RHOB. 
---
The actress and RHOB star Crystal Kung Minkoff talked about her arrest warrant in Arizona in one of the recent episodes. She was playing 2 truths and 1 lie with her co-stars where she talked about the past. Moreover, she also talked about her former job as an escort agency phone operator. She is the first-ever Asian-American to join the American reality show Real Housewives of Beverly Hills. Here is everything you need to know about her and the story of her arrest in Arizona.
Crystal Kung Minkoff: Newcomer to the reality television
The newcomer Kung Minkoff is a new face on the reality show RHOB. However, she is not a newbie to the Hollywood industry. She is married to a big-time director, Rob Minkoff. Crystal made her appearance on the show after the departure of former RHOB stars Denise Richards and Teddi Mellencamp. Meanwhile, she is already grabbing the spotlights with some of her amazing storytimes. Besides being the wife of the famous director, she is also the founder of Real Coco. Moreover, she has also worked on one of Rob's movies as the third assistant director.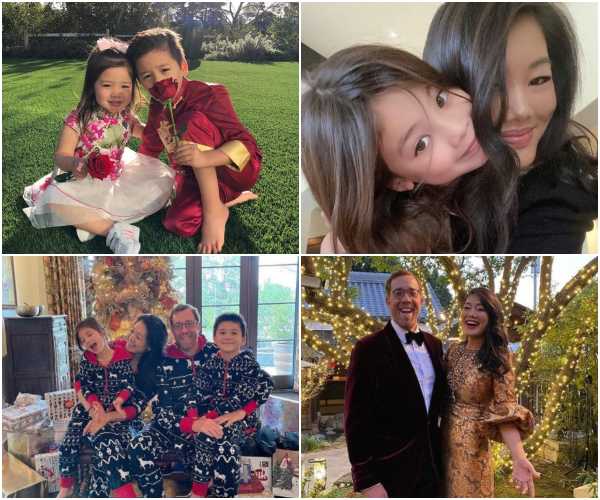 She and her husband have an 8-years-old son and a 5-year old daughter Zoe. Crystal often shares adorable pictures of her family on her Instagram account. Though this is the first time that she is stepping into the reality tv show world, she is friends with some famous reality television personalities. She is friends with Kylie and Kim Richard's sister, Kathy Hilton. Moreover, she also attended Kathy's Christmas party with her husband, Rob, in 2019.
The story behind arrest warrant in Arizona
On one of the episodes of the show, Crystal was playing 2 truths and a lie with her co-stars. She claimed the story about her arrest warrant in Arizona was a lie. Furthermore, she added she went with the option as she thought it was an easy possibility. Addressing the arrest warrant story, the reality star added:
"I have a warrant for my arrest and that would've been great [to use in the game]. I talked to the judge and he's like, 'Are you going to come back here?' And I was like, 'No.' And he's like, 'Just don't come back.'"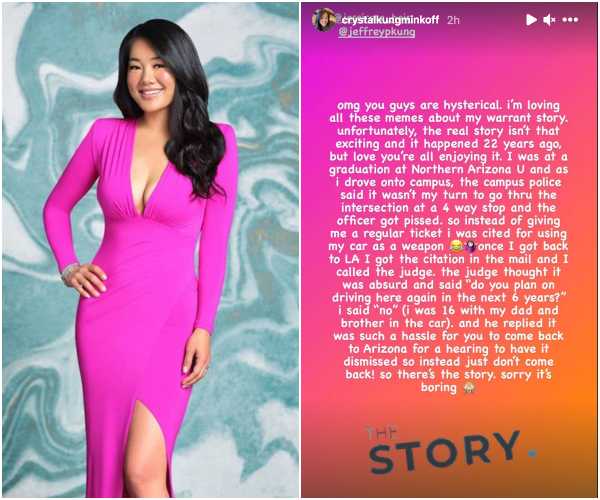 After Twitter started flooding with comments about her arrest warrant and the memes, she finally decided to elaborate the story. She then revealed it happened 22 years ago which was just a simple matter of a traffic violation at 16 years old. The RHOB star then explained the story saying:
"So instead of giving me a regular ticket I was cited for using my car as a weapon. Once I got back to L.A. I got the citation in the mail and I called the judge. The judge thought it was absurd and said, 'Do you plan on driving here again in the next 6 years?' I said, 'No.' "I was at a graduation at Northern Arizona U and as I drove onto campus, the campus police said it wasn't my turn to go thru [sic] the intersection at a 4-way stop and the officer got pissed."
More About Crystal Kung Minkoff
Kung Minkoff is an American actress and director. The public noticed her for appearing in the reality show The Real Housewives of Beverly Hills. She also appeared in The Forbidden Kingdom (2008), Flypaper (2011), and more. Minkoff is a successful businessperson and TV star. She is mostly famous for being in the casts of The Real Housewives of Beverly Hills. She joined the show in its season 11 in 2021. See more bio…