'Damn Daniel', That's the video which made Daniel Lara and Joshua Holz an internet sensation overnight! Know why people were so obsessed with it in 2016!
2016 can be described in two words, 'Damn Daniel'. The video posted on the internet by Daniel Lara and Joshus Holz on February 2016, made them popular all over the world overnight.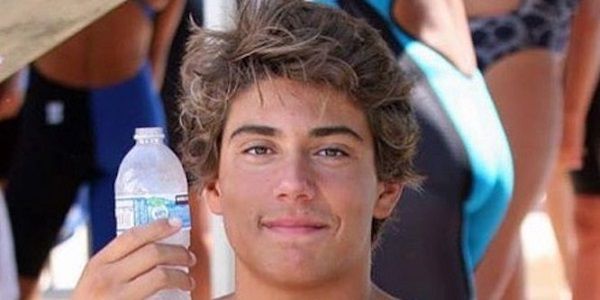 A half a minute long video, which was the collection of Snapchat videos entertained the internet user and not only that it made the life of two kids who posted it. Explore more about their surprise success and how a life can change in a night.
The Video
The video under the title Damn Daniel is the collection of Snapchat videos. Mainly the video is featured by Daniel Lara and narrated by his friend Joshua Holz.
The unique phrase narrated by Joshua is the humorous point that the internet liked about. In the entire video, Daniel appears with some stylish dress and in most of the clips, he appears with the white Vans.
That's when Joshua says,
"Damn Daniel, Damn Daniel, Damn Daniel, Damn Daniel, back at it again with the white Vans. Damn Daniel, Damn Daniel."
And that is all there is in the video. Yet, it was so humorous to gain such a huge popularity.
Overnight Fame
Just after they posted their video on the social media platform such as Facebook and YouTube, it went viral. The video was viewed more than 45 million times on a single day. It was liked more than 400k times on the Twitter and was looped on the Vine for more than two million times.
And within 24 hours they were famous all over the internet. In addition, they appeared on TheEllenShow as well. Ellen introduced the duo on her show by saying something that described their fame which they earned overnight,
"Well, if you haven't been hearing the word Damn Daniel in the last 24 hours, you've have not been on the internet."
The two ordinary kids appeared all over the internet all of a sudden. And when she asked them how it all started, Joshua answered,
"You know it was just like, it was just out of nowhere. I just came up out of Daniel after school. I was just like, all right, I am gonna post this on my Snapchat story. So I took a video of him, I was just like, Damn, Daniel, just out of nowhere. And everyone started to love it."
That was the first time Joshua said that phrase. That people loved it and later they started to take videos on the daily basis with the exact same phrase. Daniel also shared his experience by saying,
"I mean at first, the first time he came up to me, I was like, What's this guy doing? I didn't expect him walking out to me, but after that we had some Snapchats back from people and saying that they actually liked it. Yo, this is funny. Keep it going. So the nest day we're like, let's do another one."
After that, they started to take the videos on the daily basis.
Popularity
By then, he was already famous to some extent and people recognized him on the mall and on the street. They started to take photos of him.He also stated that when he went for swimming he was treated as a real celebrity. It was a bit strange for him. But he was already a celebrity after all!!
Joshua was a bit hidden from the public as he was only recognized by his sound. He shared one of his experience as,
"He facetimed me like 10 times at the swim meet and he's like, bro, he's like, do the voice, they're freaking out right now. I'm like, Damn, Daniel, and then all these girls on the back ground started screaming. It was hilarious."
The fame reached to the extent that the duo was getting marriage proposal on the social media and the girls were going crazy about them. Daniel further added,
"Yeah, I mean, girls ask me and I think I'm not into a rush to get married any time soon. I'm 14  years old but you know the girls are just a huge bonus out of all this."
What They Achieved
First of all, they got a whole lot of fans and girls dying for them. Daniel was also provided with a lifetime supply of Vans shoes which he later gave to the patient of children hospital.
Furthermore, Daniel was included on the list of 'The 30 Most Influential People on the Internet' by Time magazine. Also, they were popular among the celebrities as well.
The popularity of white Vans got so huge that one of the whit Vans on eBay got the bid of $300,000. This was crazy but we can see how much the duo was popular already and they were getting some wealthy fans. About his Daniel quoted,
"That's a little expensive, right? They're not mine. They're not even slip-ons actually, they have the laces on them. So, I mean, I feel bad for whoever bid or bought those, I mean they are not mine."
And, Ellen gifted Joshua with a surfboard.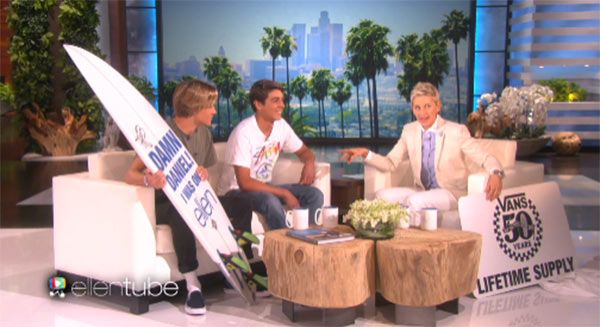 Only with a single video, they got this much popularity. So, what if they started to take it professionally? Let's wait until they will be professionally active and entertain us more than ever.
Short Bio of Daniel Lara
Daniel Lara is an American internet personality. In 2016, the video Damn Daniel which featured Daniel and the voice of his friend Joshua Holtz went viral with more than 50 million views on the internet. He is currently a high school student at Riverside Poly High School. More bio…