Darby Stanchfield took six years to reveal on her marital life. All this time her husband was a secret affair
When it comes to one's personal life, everybody keeps silence. Similarly, celebrities too want privacy when the question is raised on their personal life but after being the famous figure in the industry, they have to reveal on their personal life though they want the silent because they become the highlight in the world and people wanna inquiry more on them. Similarly, Darby Stanchfield is now moreover 46 who is keeping her personal life low-key but her fans and followers compelled to reveal on her personal life.
Darby reveals on her marital life
The lady named Darby Stanchfield is a highlight in the film industry since 2000 and she has always become secretive and silent when it comes to her personal life. Though she tried her best to keep her personal life low-key she was compelled to reveal on it by her fans. Well, it might be surprising to some of you to know that Darby has a secret husband. Let us help you to pull the curtains behind her secret husband. Darby got married to the 52-years-old entertainment professional Joseph Gallegos in the year 2009. Her blissful married life was always under the wrap until the news about her secret husband became viral on the internet in November 2015. According to the resources, Joseph might be her long-term boyfriend whom she was dating secretly hiding from the media. People always doubted on Darby's relationship with Joseph when she added Joseph's name to the deed of her $900,000 home in 2009. She purchased a 1,608 square foot Los Angeles home with Three-bedroom, four-bath in December 2006.
American actress Darby began her acting career at the theater. Her first screen debut was in 2000 in the episode of Diagnosis: Murder. After making screen debut, she started to make her appearance in television series. Throughout her career, she has appeared in a significant number of television series and movies. Darby is best known for appearing in Mad Men (2007-2008), NCIS (2006-2012), Castle (2009, 2013), How I Met Your Mother (2010), CSI: Miami (2011) and Scandal (2012-present).Likewise, her recent film credits are Carnage Park (2016), Medicine Men (2016), The Rendezvous (2017), Slumber (2017), and Willie and Me (2017).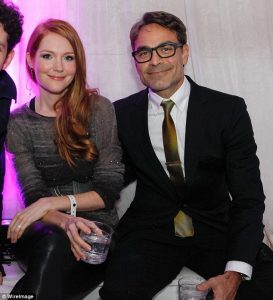 Their marital life is fully showered by love
This couple is a really blessed one. They both are very busy balancing their own professional life but also they keep their personal life without any problems. Her husband bought three-bedroom, four-bath, 1,608 square foot Los Angeles home for $900,000 in 2006. They sold it four years later in 2013
"I think for me, at the beginning of the day and at the end of the day, taking a moment to be really grateful for all the good in my life."

'And it can be really small things, like something growing in my garden or how nice a neighbor was. When I'm grateful for all the blessings, it puts away all the stress about things not in my control.'
Darby continued:
'Things like long hours, aging, pollution, scandals… it helps me create perspective by just focusing on being grateful. Take that moment twice a day with yourself.'
Short Bio on Darby Stanchfield
Beautiful and Gorgeous Darby Stanchfield is an American actress. She is very popular for starring as Abby Whelan in political drama series Scandal. More Bio…