Darin Brooks turned his girlfriend into wife… Read more to know his stylish wedding!!!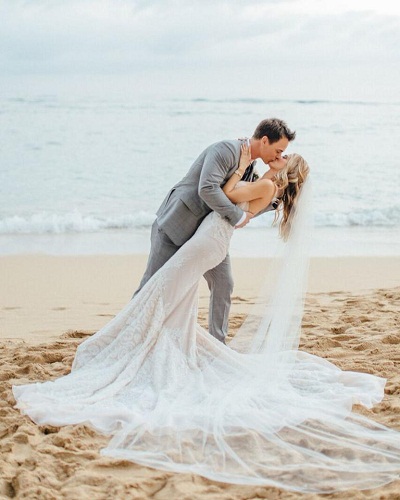 About Marriage
Marriage is one of the purest and most important occasions in life and people wish to make the occasion more special in different ways.
Famous Hollywood celeb, Darin Brooks was wedded and his wedding ceremony with his longtime girlfriend, Kelly Kruger was a chic wedding. Let's know about his stylish marriage…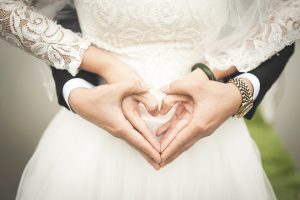 Darin's Stylish Marriage
The couple's wedding venue was at Halekulani, Hotel in Oahu. Their close friends and family were present for their holiest occasion. The theme of their wedding was French-inspired. Similarly, they shared a picture of their wedding which was looking extravagant.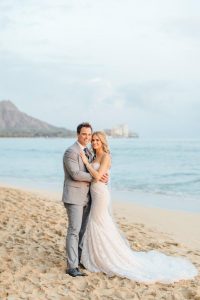 Also read Married in Hawaii; Actor Darin Brooks and wife Kelly Kruger! A Look Back to Darin's stylish Wedding where he Turned his Longtime Girlfriend into Wife!!
The minor troubles, the couple faced in marriage
Darin and Kelly were a little hesitant during their wedding. When asked why they were so, he said,
"Oh yeah. There were some things that we were worried about on the day and all that stuff, but the night before we looked at each other and I was just like, 'Whatever happens tomorrow, happens tomorrow. It's all good.' There's nothing we could do."
Similarly, Kelly also responded,
"There were some certain things. The day of I took my veil – which had some crystal edgings – out of the dress bag because I was hiding it from Darin, and the entire thing came off. And Darin's mom's an artist who works with all types of materials and said if we glued it, it would turn yellow. So we just kind of let it go. No one was going to notice. It is what it is. There's nothing you can do about it. You have to let it go."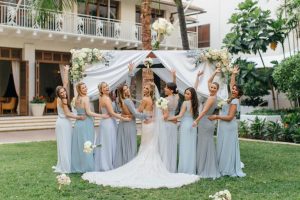 More on troubles of their marriage
Kelly added, that their wedding was perfect because of imperfections and said,
"There were little things too, like the front row was reserved for family but nobody knew that they were supposed to sit there. So the whole front row was empty. But we laugh about it because it was perfect because of the imperfections."
Also, on being asked about life post-marriage, Darin replied,
"That's what a lot of people ask me. Today I went into "Bold" and everybody was like, 'All right! How does it feel to be married?' or, 'How's married life?' We've been living together for five years and we've been together for six or seven years already. We kind of feel like we were married already. It feels a little different saying, 'wife' and, 'husband' and hearing those words because we're not used to it. When I first saw her I knew that she was going to be the one, so it's not different."
How did they meet?
Darin and Kelly met for the first time in the year 2010, on the sets of Blue Mountain State. Then their friendship started growing in love and then started going out.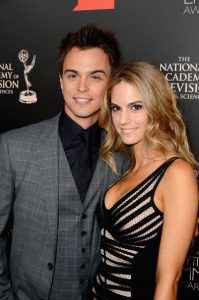 Also read American actor-comedian Jonah Hill engaged to girlfriend of one year, Gianna Santos!
Short Bio on Darin Brooks
Darin Brooks is a famous American actor and writer, best known for his role as Max Brady on the NBC drama series Days of Our Lives. He is also popular as Alex Moran on the Spike TV series Blue Mountain State. He is widely recognized for his role as Wyatt Spencer on the CBS soap opera, The Bold and the Beautiful. More bio…
Short bio on Kelly Kruger
She is a Canadian Television, film & Soap Opera Actress, and producer, known for Entourage (2004), Criminal Minds (2005), and Blue Mountain State.
Also, she is best known for playing Mackenzie Browning on The Young and the Restless. Similarly, she currently portrays the recurring role of Eva on The Bold and the Beautiful. Her zodiac sign is Scorpio. See more…