Daryl Worley, pro football player weds Sierra Simmons in the backyard of their New Jersey home followed by a glam photoshoot and mini-honeymoon in Philadelphia!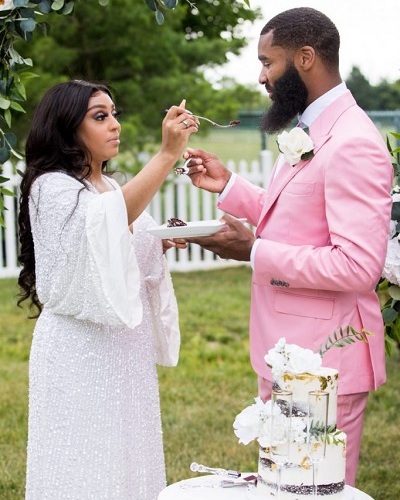 After the restrictions were partially lifted after the coronavirus pandemic, weddings that were stalled are finally taking place. But they are in non-traditional forms. They are either elopements, living room I Dos, micro-weddings, or virtual weddings. And now professional football player, Daryl Worley wed his sweetheart Sierra Simmons in New Jersey in the backyard of their house. Scroll down for the details!
Daryl Worley weds Sierra Simmons
Professional football player, Daryl Worley, 25 said I Do to his bride Sierra Simmons in the backyard of their off-season house in Swedesboro, New Jersey. It was a unique wedding of the two but they looked extremely chic and stylish. Only 9 people attended but others were watching it online.
The wedding was followed by an ultra-glam photoshoot held in Philadelphia before the couple headed for a mini-honeymoon. Daryl looked dapper in his pink-colored Amin Standard suit embroidered with his name with a white shirt underneath it and white Saint Laurent sneakers. While the glamorous bride, Sierra was wearing a white silk wedding gown with a lot of beadwork on it. It was a Ciara sequin kimono-sleeve dress by ASOS Edition with Jimmy Choo heels. She had let her dark black hair loose and had done makeup on her face to look great.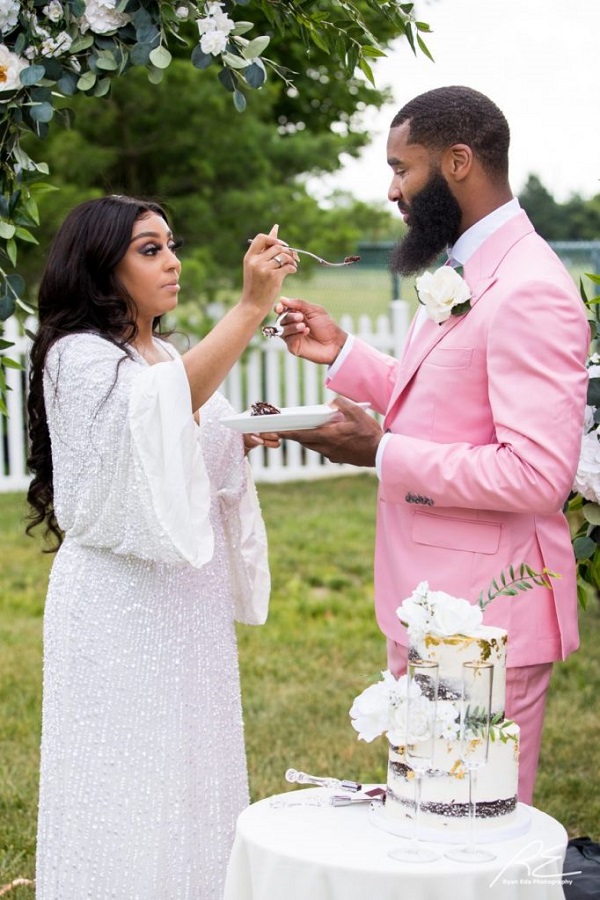 The photoshoot was an excellent one and has to be seen to be believed. They have a proper wedding on 28 February 2021 at the same venue that they had planned before for their June 2020 wedding-Ballroom at the Ben.
The relationship of the couple
Both Sierra and Daryl are natives of Philadelphia and had begun dating in the year 2013. They were in the senior year of their high school at that time. They connected via the hashtag of West Virginia University on Twitter. Thus, they came to know that they were from the same area and also were planning to start further training at the same college. They also had some sort of similar social circle. The two had attended the same sleep-away camps during their pre-teen years. Daryl was also in some high school football games for which Sierra had cheered.
Their dating started during their freshmen college years and has grown remarkably well after that. Their love only intensified with time and now after the engagement, they are married.
Daryl and Sierra-the engagement
Daryl now plays for Buffalo Bills and is the cornerback with the team. He had proposed to Sierra after 5 years of dating. The occasion was the first birthday party of their son, Kaiden. This was also in the backyard of their house in front of family and friends. But it was done in a very subtle way.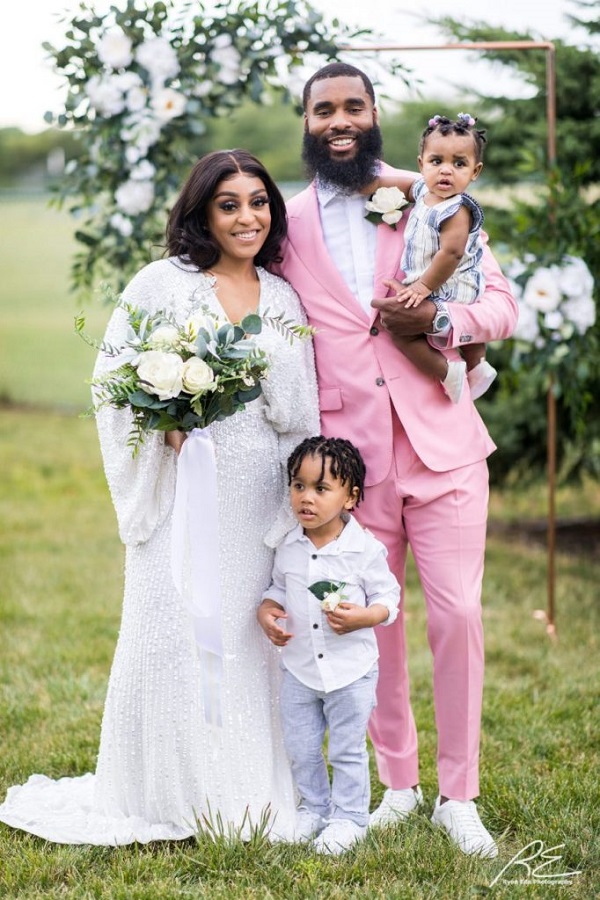 Daryl gave Kaiden to Sierra so that he could sing the happy birthday song for their son. When Sierra took over the child in her arms, she saw his shirt and on it was written:
"Mommy, will you marry Daddy?"
After this, when Sierra turned to look at Daryl, she saw that he was down on one knee. Daryl recalled:
"I was so nervous I couldn't even talk. All I could do was smile."
Their son was carrying the board of Happily ever after for the photoshoot post-wedding. The couple also has a daughter now. Their wedding first was scheduled for 19 June 2020 at the Ballroom at the Ben with 180 attendees but was postponed due to the coronavirus pandemic.
Also, read The lesbian couple, Fortune Feimster and Jax Smith wed in a small wedding ceremony in Malibu!