Emotional David Beckham Waits in Line for 12 Hours to Pay Respects to Queen Elizabeth II!
David Beckham stood in line with thousands of mourners to say goodbye to Queen Elizabeth  II.
Fans noticed the footballer wiping tears inside Westminster Hall on Friday.
He even bought some of his fans doughnuts while waiting in line.
---
David Beckham mourns the Queen's passing
David Beckham made sure he was there to bid his final goodbye to her Majesty the Queen.
The British soccer star patiently waited in line for over 12 hours to pay tribute to the late monarch. She died at the age of 96.
Like thousands of mourners, Beckham was very emotional. He kept wiping away tears inside Westminster Hall on Friday where her Majesty's coffin was kept.
He was also seen burying his head in his hands as he waited for his turn to pay his respects to the Queen.
The 47-year-old footballer appeared alone as none of his family members were in sight. He lined up at 2:00  a.m. on Friday morning and waited for 12 long hours until finally, he got to see the Queen lying in state.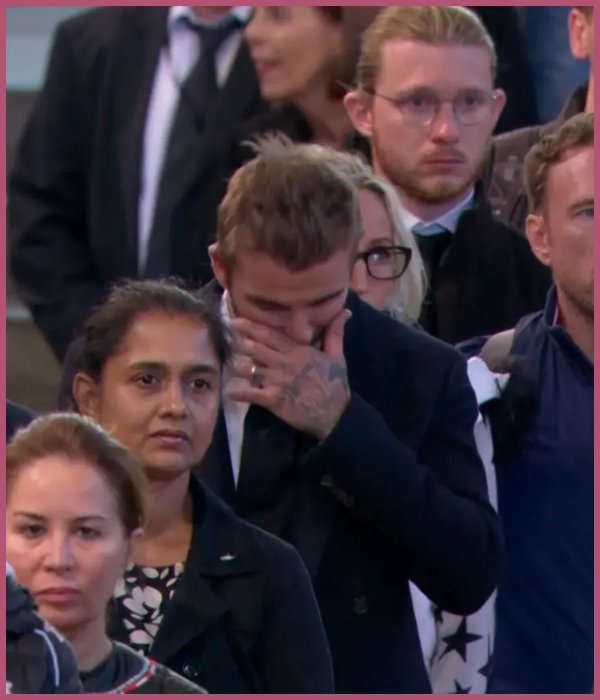 He wore a black suit and a black cap as a sign of mourning. Once he entered the hall, Beckham removed his cap.
During the time of grief, David did not care about the enormous media and public attention he received while standing in line.
He even bought donuts for some of the fans who were standing near him as they also had been waiting for hours.
Beckham's devotion and kindness toward the Queen and his fans took Twitter by storm.
A user tweeted:
"My best friends Mum has been directly in front of him the whole time and he's been queueing so far for ten hours just like her. My friends Mum says he joined the queue at about 2 am. He's bought the people around him donuts."
Also, Read Princess Anne Opened Up about Mum Queen Elizabeth II's Final Hours Before her Death!
Beckham had the privilege of meeting the Queen
David, being the gentleman that he is, agreed to take pictures once he came out after paying his utmost respects to the Queen.
People also praised him for waiting in line for 12 hours despite being one of the most famous faces in the world.
Another fan tweeted:
"Without being all 'Wah, it's actually hard to be a celebrity,' for David Beckham to come alone, and queue for ten hours, when everyone would recognise him, is pretty ballsy. GOLDENBALLSY,"
The father of four revealed that he was grateful he was able to say his final goodbye to the monarch he admired so much.
The footballer was devastated after the Queen's death last week.
He told in a news interview:
"I was so lucky I was able to have a few moments in my life to be around Her Majesty. A sad day but it's a day to remember the incredible legacy she left."
Beckham had the honor of meeting the Queen several times, including gatherings at Buckingham Palace and award ceremonies.
Also, Read Princess Anne Curtsies to Mum Queen Elizabeth II for the Last Time!