Duane Chapman is hospitalized after heart emergency!The reality TV Star is better known as 'Dog the Bounty Hunter'.
The complete name of Duane Chapman is Duane Lee Chapman. He is mostly known as 'Dog the Bounty Hunter'. Talking about his achievement, he has been able to acquire international notoriety as a bounty hunter. This achievement was for his successful capture of Max Factor heir Andrew Luster in Mexico in the year 2003.
He seems to be much success in his professional life. On the other hand, he has been admitted to the hospital in an emergency because of his heart problem.
Dog the Bounty Hunter's health scare
According to some sources of information, Duane Chapman is  hospitalized because of the heart emergency problem. He is suffering from a heart problem. Source said:
"I can confirm Dog is under doctor's care and is resting comfortably. Thank you for all of your well wishes—keep 'em coming."
Duane Chapman was taken to the hospital when he was at his home in Colorado during the weekend.  He suddenly felt his pain in his chest when he was at his home.
Before telling if it was a heart attack, doctors are still testing on his heart to have the knowledge about what had happened exactly.
"I can confirm Dog is under doctor's care and is resting comfortably. Thank you for all of your well wishes- keep 'em coming."

Rep For Duane Dog Chapman. pic.twitter.com/9yNXinHP5A

— Duane Dog Chapman (@DogBountyHunter) September 16, 2019
Due to the reactions and the responses of the fans, the representative of Chapman confirmed that he is being treated for his weak conditions. However, he is resting and is hopefully getting well soon as soon as possible. He also thanked all the well-wishers of Chapman.
There was the sudden death of Daune Chapman's beloved wife whose name is Beth Chapman about three months ago. She died because of cancer in her throat. Initially, she received treatment for lung cancer in Honolulu. Later in the year 2017, she was diagnosed with throat cancer. She was then declared cancer-free before she was diagnosed with stage four lung cancer.
On 26th of June, the television star announced that his longtime wife had died. Beth Chapman expired in the age of fifty-one.
Also, read about Reality TV stars Stassi Schroeder and Beau Clark get engaged…. in a cemetery!
Honoring the memory of Beth Chapman
Since Beth Chapman's death, Dog the Bounty Hunter has been trying to handle himself mentally. When the television personality watched the series premiere of Dog's Most Wanted, he couldn't control himself from getting emotional. He shared what it felt watching his wife on the small screen again.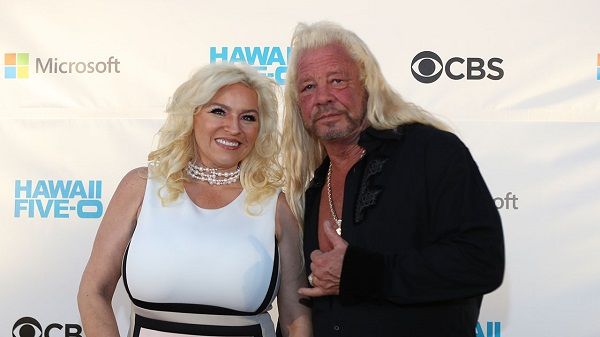 He claimed without any hesitation that he felt better watching his wife. However, he walked away several times, every time for a few minutes just to listen to the voice. Moreover, he claimed that his wife had double the fans that he had. He said that America has given so much love to his wife.
The grief of unfortunate death
According to Dog, he has been trying his best to make his schedule busy to overcome this great grief. However, he sometimes feels so low in his memory of his wife. He said:
"I don't know if I'm light in the mind but I kind of hear her. She was my good coach and I was her good coach but I kind of hear her a lot."
Chapman and Beth had been together for more than a decade. The couple was married in the year 2006. He said that he was having trouble in his daily routine as well. He couldn't eat and sleep. He had even lost 17 pounds in a matter of weeks.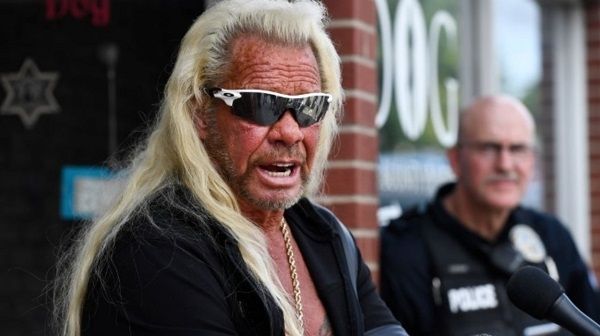 It was an experience with the mixed feeling of the premiere of his new show, "Dog's Most Wanted". In WGN show, Beth Chapman has been heavily focused during the battle of her cancer.
It must be so much grief of Chapman over the loss of Beth. Beth was not the only wife of Dog, but she was also his soulmate, best friend and partner in crime as well for the rest of his life. Chapman had the wish to watch the show together with his wife.
It would be challenging for him to look back at those memories. On the other hand, it will also bring him peace and comfort knowing that she spent her last days making all her wishes true.
Also, read about Reality TV star Tyler Baltierra expresses his immense love with wife Catelynn Lowell via a sweet Instagram post!
A Short Bio on Duane Chapman
Dog the Bounty Hunter was born on 2nd of February,1953. He is the child of Wesley Duane Chapman. He had made international news by capturing Max Factor cosmetics heir Andrew Luster. More bio...
Reference: (eonline, denverpost)