The heart of gold! Dwayne Johnson surprises his stunt double and cousin Tanoai Reed with a brand new pickup truck!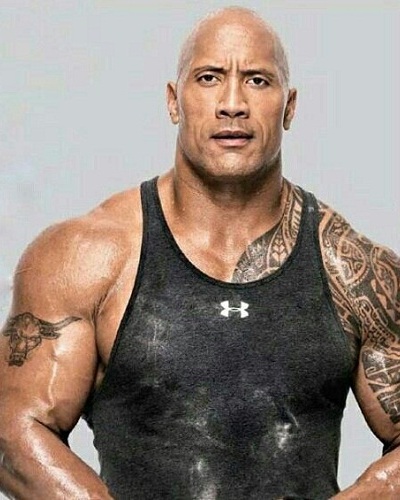 Dwayne Johnson is called a 'rock' but he has a heart made of gold
His latest kindness and generosity were proven again when he gifted his stunt double cousin Tanoai Reed a custom pickup truck
---
Dwayne Johnson and his act of goodness
Dwayne Johnson recently uploaded a video on his Instagram which showed him gifting his cousin a truck. It was extremely heartwarming to see the video. Dwayne wanted to thank his cousin for all the efforts that he had put in during all these years.
He wrote and captioned the video thus:
"My stunt double (and cousin) Tanoai Reed has broken multiple bones, severed tendons, torn ligaments, and just been an overall dominating bad ass, I had this custom pickup truck delivered just in time to surprise him (he's still recovering from a stunt injury)."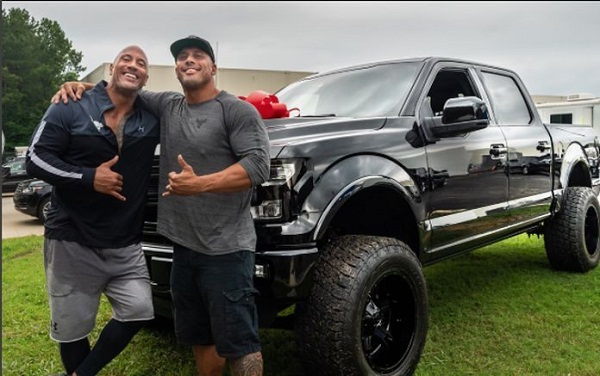 In the video, Tanoai believed that he was going to be interviewed by Dwayne about his career and work and Dwayne says:
'The truth is, he's been an incredible partner and brother to me, It's been an honor, uso, and I want to say from the bottom of my heart, I love you and I thank you and enjoy your new truck.'
Dwayne points to a huge black truck in the background and Tanoai is surprised. He was overwhelmed by this gesture on the part of his cousin Dwayne and was seen crying in the video. Tanoai has been working as his stunt double for the past 17 years and Dwayne is really thankful to him for it.
Dwayne and his car gifting and other acts of kindness
Dwayne Johnson is not new to gifting cars. He is used to it and in 2015, Dwayne had given his uncle a truck as a gift for Christmas.
Earlier this year when his father Rocky Johnson underwent a hip-replacement surgery he gifted him a Cadillac. He had even gifted his mom a brand new car for Christmas.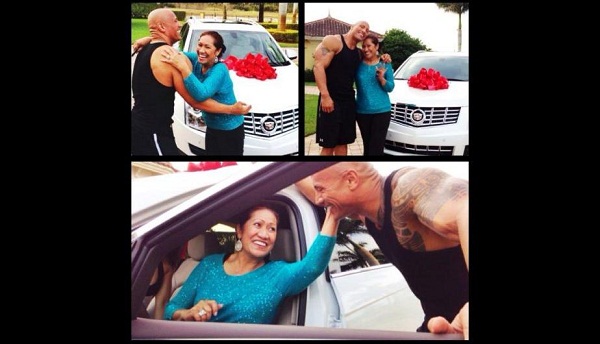 He wrote on his Instagram:
"At 14 I saw my mom crying about our only car being repossessed.

This felt good.

Merry Christmas mom."
Dwayne is also known to do other sweet acts of kindness. He is said to have once reunited a veteran with her husband who was in the military. Once when he came to know that it was the birthday of one of his fans, he had surprised him with a 'Happy Birthday' song.
Once he was invited to a fan's prom but could not go and hence he put up a heartwarming message for her. He also rented out the theater so that she and her friends could watch his movie. He posted a video of the reaction of the fan when he called out her name on the school intercom.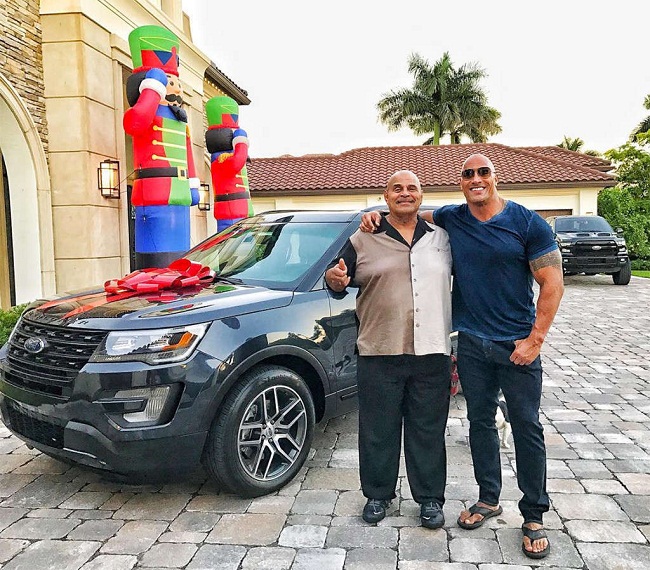 He captioned it as:
"I'll take happy tears all day.
Here's the vid from this morning of me surprising @katiekelzenberg over the school's intercom. Her reaction when I say her name is priceless.
I bought out her local theater this weekend so she & her BFF's can watch RAMPAGE. #StillwaterHigh"
I'll take happy 😭 tears all day.
Here's the vid from this morning of me surprising @katiekelzenberg over the school's intercom. Her reaction when I say her name is priceless.
I bought out her local theater this weekend so she & her BFF's can watch RAMPAGE. #StillwaterHigh🤙🏾 pic.twitter.com/P24M5RuiWt

— Dwayne Johnson (@TheRock) April 20, 2018
Short Bio on Dwayne Johnson
Dwayne Johnson is an American actor, producer, singer, and professional wrestler. He is very famous for his nickname 'The Rock'. Dwayne has mainstream fame in the world of wrestling. He was the major figure in the company's Attitude Era, Dwayne was also the first third-generation wrestler in the company's history. He has been listed as one of the all-time greatest professional wrestlers. Dwayne holds the record for the Raw shows' main event in a year. His roles are highly appreciated in each movie that he plays including 'Fast and the Furious Series'. More Bio…
Source: dailymail.com