Dylan Dreyer was scared of Hurricane Irma so she messaged her husband Brian Fichera. See what he replied which made her confident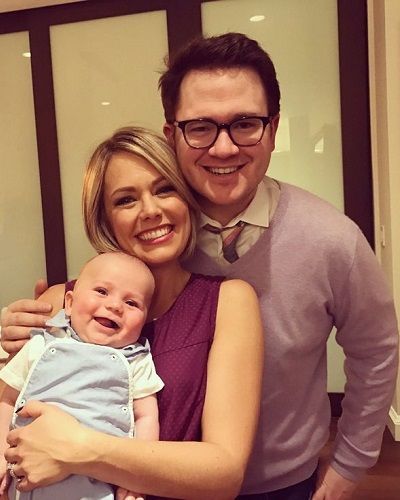 Brian Fichera is the husband of Dylan Dreyer.
Dylan is an American television meteorologist in NBA News.
---
Sweet Message by husband
Recently, Dylan was covering the storm of the St. Johns River in Jacksonville, Florida.
Brian sent his wife Dylan a sweet message when she was scared during her Hurricane Irma coverage. She texted him,
"I texted Brian and I said I'm scared, I'm actually kind of scared for this, I know I'm with a good crew, I know I'm with a good team of people and we're going to keep each other safe, so I sent him this (text message). I said I've got a lot back home. With (baby son) Calvin now I do get nervous being out on the road."
He replied to her saying,
"You're smart, you're athletic, I believe in you 100 percent,' and then he goes on to say if you can give birth, you can handle anything."
After seeing his message she was confident and happy and said,
"It just kind of gave me that boost I needed, I knew I had my heart at home, and we ended up being very, very safe."
Their budding love romance
The couple first met at WHDH and they both had morning shifts during that time. This is how they became friends.
At the start, Dreyer thought that Brian's name was Tom. Their compatibility matched so well that they started hanging out more often.
Dreyer described,
"When he started working more, he'd hang out more in the Weather Center with our friend Todd. The three of us starting hanging out more and more outside of work, building our friendship and getting closer. After a few years, we had a small party at Brian's house which we dubbed the Jammy Jam. It was then that I realized I had totally fallen for him and from there it was history!"
They got engaged in July 2011. The proposal was so romantic, that he proposed to her in front of his parent's home in Easton.
She said,
"When I saw there were roses and two glasses of champagne, I knew,"
They finally got married on 6 October 2012 at the Cathedral of the Holy Cross.
Arrival of a Baby Boy
In 2016, Dylan announced that she is pregnant and also revealed that she was expecting a boy. She said,
"We weren't in a rush to have kids and, to be honest, there was a time when we declared we never wanted kids!" Dylan wrote in a blog post. "Then one day we both looked at each other and said 'I want a baby!' As usual, we were on the same page and it all just seemed right."
In December 2016, their baby was born, and named him Calvin. Dreyer wrote,
"We didn't plan the timing of a December baby to get out of winter storm coverage… I swear."
You may also like to read How is Dylan Dreyer coping with quarantining with her children and husband? Her husband recovered from COVID-19!
Baby's first father's day celebration
They celebrated mother's day so Dylan made sure that they celebrate Father's day as well. She said,
"This Father's Day is particularly meaningful because it's my husband's first Father's Day. He spoiled me on Mother's Day, so I'm going to make sure I do the same thing for him!"
"Why is Brian the perfect dad? He's so patient and so excitable. He's happy all the time. When I'm getting stressed and I'm like 'I don't know what to do, I don't know if Calvin's napping enough, I don't know if he's eating enough,' Brian's like, 'He's fine. He's smiling, he's happy and that's really all that matters.'

It brings me back to reality that as long as Calvin's happy, we're all happy and Brian points that out."
On the occasion of father's day, she made chicken parm for the dinner and planned the trip to the zoo.
Baby's day out
Father, mother, and the son went for their first family vacation in May and shared their flight pictures on their Instagram account. They went to Orlando to relax and enjoy themselves.
Also read Married rapper Nicki Minaj hinting major pregnancy clues! Find out about her husband Kenneth Petty's criminal records
Short bio on Dylan Dreyer
Dylan Dreyer is an American television meteorologist and Reporter. Dylan has been working for NBC News since September 2012. She is a weather correspondent for the show Today and MSNBC. Dylan is the most admired and appreciated female meteorologist. More Bio…