(Conservative Blogger)
Ed Morrissey is an American political blogger with international outreach. Ed Morrissey and Marcia Morrissey met and married in a Church, in Minnesota.
More about the relationship

Ed Morrissey and Marcia Morrissey met and married in a Church, in Minnesota. Marcia grew up in California and was educated at CSU, Long Beach, and trained as a Montessori Instructor in San Diego.

There are rumors that Marcia lost her eye-sight as a 20-year-old. Despite this unfortunate circumstance, she has been working with children for a long time.

Ed and Marcia have a married son, their daughter-in-law, and two grandchildren who have graduated from Harry J. Flynn Catechetical Institute.

As devout Catholics, Mr. and Mrs. Morrissey have been to Rome. In the future, they plan to attend the Archbishop Harry J. Flynn Catechetical Institute for a two-year seminary.
Quick Facts of Ed Morrissey
Quotes
"We both went to church, although Marcia was more involved. Still, I felt a nagging call to do more over the course of our marriage. I engaged in debates online where I used Catholic apologetics to explain and defend our faith and doctrine and looked for other outlets for scholarship and in-depth knowledge. Still, that was tempered by a reluctance to commit fully, even though I became increasingly aware of a gap in my life, in meaning and destination."
"Our trip to Rome was a kind of watershed in my life, and an unexpected one. Marcia and I had always wanted to see Rome, for overlapping but not identical reasons. I joked with Marcia about 'getting our Catholic on,' but that's exactly what happened. I've spent the last year since trying to discern what I should do to commit further to the church, and where my talents can best be used—even if at times in that period I stubbornly clung to my distance from engagement and commitment."
"In all of this searching, it's been important for me to find a path where both Marcia and I can serve together, at least in some aspect. The impulse in me to delve deeper is firmly attached to our relationship. Without my marriage to Marcia, I would not have been capable of connecting to my faith as I have done over the last eighteen years. In Marriage Encounter, we used to have a poster that showed an equilateral triangle, with the husband and wife at the bottom and God at the top. The closer both spouses draw toward God, the closer their union becomes. We have lived that experience in our marriage, and perhaps I understand its truth better now than ever before."
"We both have been feeling a strong tug of the Holy Spirit toward something, individually, for quite awhile. He is calling to us in a deeper way in our lives of service. We both have been praying for discernment for where this is leading us. Although we have both been praying individually, in talking this over we discovered that in our dialog we were both being led in a similar direction."
Relationship Facts of
Ed Morrissey
Ed Morrissey is married to Marcia Morrissey.
He is father of One.
Ed Morrissey is not having an affair with anyone presently.
His sexual orientation is straight.
---
Who is Ed Morrissey?
Ed Morrissey is an American political blogger with international outreach. His nick "Captain Ed" is something he ever tires of hearing.
He lives in the suburbs of the Twin City of Minnesota and works for the tri-state of 1.Hot Air as a full-time blogger, 2. at The Week as a columnist, and 3. appears on Bloggingheads.tv., a part of "Northern Alliance Radio Network".
This network is tied up with another conservative blog, Power Line, and also a Conservative Attorney, Hugh Hewitt, a talk show host with the Salem Radio Network.
Ed is the Chief of Blog-o-sphere and writes on the blog-o-column about issues that are related to the First Amendment.
He is also one of the first signatories of the non-partisan Online Coalition which questions unequal treatment meted out to New Media citizen journalists.
His nick "Captain Ed" is something he never tires of hearing.
Ed Morrissey: Age, Parents, Ethnicity
Ed Morrissey was born on 3rd April 1963 and before coming to Minnesota's Twin Cities, he lived in California, USA.
Details about his father and mother are not disclosed. His ethnicity is Caucasian and has attended Cerritos High School.
He is America's conservative blogger, columnist, motivational speaker, and talk show host.
In 2003, Ed launched his original blog, "Captain's Quarters", and operated it from October 2003 to February 2008. It had far-reaching implications on media and debate that he just couldn't have envisioned at the time.
He wrote about national foreign policy, the presidential election, and the failings of the mainstream media to vanguard the New Media movement.
Captain Ed was the one who revealed a scandal that could've otherwise toppled the Liberal Party in Canada. He is instrumental in bringing accountability in conventional media such as CNN in connection with ethical journalism and reporting.
Chief Blogger is at the forefront of the international blog-o-scene and has successfully expanded this blogosphere into other communication channels.
By 2007, even the members of the National Republican Senatorial Committee were on friendly terms with the Conservative Captains Quarters and reported them as one of the five "best-read national conservative bloggers."
Guest Post-
The Guest Post of 'Captain's Quarters reads like a Who Said What? on this blog-o-chart. Some of them include Senator John McCain, Congressman Duncan Hunter, and Senator James Inhofe.
Ed Morrissey & Responsible Reporting
#1.Adscam or Sponsorgate
Adscam is a scandal involving the Federal Government Sponsorship Programs in the province of Quebec in Canada, and the Liberal Party.
This program was initiated in order to raise awareness of the Government of Canada's contributions to Quebec industries and other activities. In the same vein, this program would counter the separatist activities of the Parti Québécois.
In 2005, a Canadian judge issued a gag order and banned Canadian media from the hearings of the Gomery Commission.
A source in the Canadian legal media, publicly unknown yet circumvented the gag order, feeding the details of the Gomery hearings to Morrissey, who in turn published them on the blog.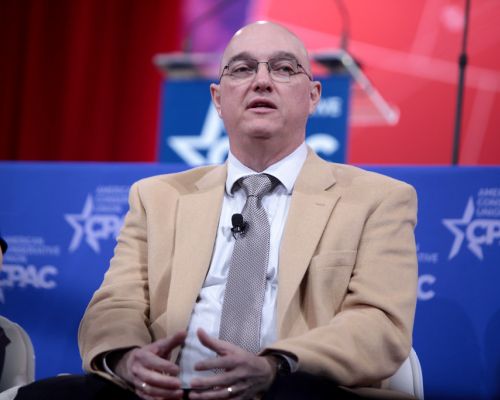 Consequently, the Captain's Quarters became one of the most-visited news sources, sometimes with as high as 400k views in a day. Since the majority of the viewers were Canadians, it was key in the Conservative victory during the national elections.
Chief Blog-o-Media
From April 2007 up to 2008, Morrissey worked in a call center as a Manager. Thereafter, he became the full-time Political Director with Blog Talk Radio.
His job responsibilities were to host daily internet talk shows, write for one of the company's blogs, and lead outreach and development for the company among politicians, candidates, and political bloggers.
Early on the 1st March of 2008, Captain Ed joined HotAir and began blogging as a full-time blogger. He joined the pseudonymous Allahpundit at the Hot Air News website. This was a blog created by Michelle Malkin.
Later Captain Ed also became the host for the daily Ed Morrissey Show.
Captain Blog-o-spheric Achievements
-Chief Blogosphere, Ed Morrissey is one of the prime speakers on the Premiere Speakers Bureau located in New York, USA.
-Edward writes essays that appear regularly in the New York Sun, the New York Post, and The Daily Standard.
-He appears regularly on television and radio in the United States and Canada as a commentator on breaking news stories.
-In the Chat-a-sphere, Ed Morrissey is Chat-a-saur- the new blog-o-dinosaur on the blog-o-sphere. Tune in to Captain Ed and start chattin' at crankytrex.com/chatasaur.
NB. This weekly talk show is aired in Minneapolis with the Twin City bloggers.
-The Ed Morrissey Show usually airs on Tuesdays and Thursdays- 4-5:30 ET. Its hot politics as usual with news movers and shakers like Andrew Malcolm, the Crown Prince of Twitter, and Duane "Generalissimo", along with guests you gotta hear and see to believe!
Ed Morrissey – Mistaken Identity
Ed Morrissey is considered by some as one of the few media celebrities with the reputation of "Best Person in the World" and also the "Worst Person in the World", as Keith Olbermann of MSNBC put it. When he read about it, Captain Ed grunted with "I am amused"!
In his profile, Ed described himself as the 'Undisputed Grand Master of the Sistine Selfie'! Now, is that right?
Ed Morrissey: Net Worth, Salary
Ed's net worth is $5m US as of 2022. As a full-time blogger, his earnings are $30k and more.
Body Stats: Height, Weight
Ed Morrissey has a clean-shaven head and blue eyes. His height is 5 feet 10 inches and weighs 80kg.
Social Media
Edward has 61.7k followers and 186.5k tweets on Twitter, 2.3k followers on Facebook, and more than 1.5k views on his YouTube.
You may also want to read Candy Cane Ken, Colin Furze, and Mary Katharine Ham (CNN, blogger).
---