Ed Sheeran perfect cameo on Game of Thrones season 7 premire! Check out the Fans as well as Celebs react!!
Ed Sheeran on Game of Thrones! The famous singer made his cameo on the premiere of Game of Thrones season 7 on Sunday, July 16, and all his fan are 'thinking out loud' on this matter.
There are lots of comments both positive and negative, regarding Ed as one of the Lanisters. Check out! (Also Spoiler Alert)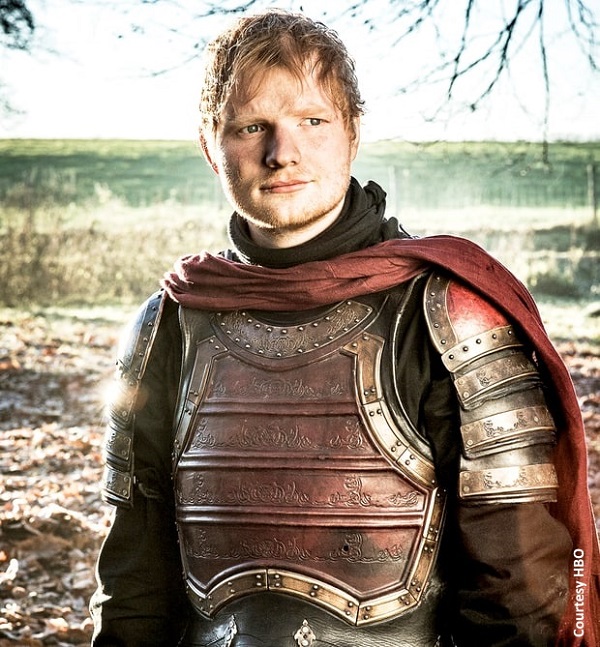 Ed's cameo on Game of Thrones
The 29-year-old 'Shape of You' singer was in the all new season first episode 'Dragonstone' and his role was as a Lannister soldier, who was singing in the campfire with his other lads while coming in the Westeros for Peace.
He sang the new folksy campfire song which went on like-
"He rode through the streets of the city / Down from his hill on high / O'er the winds and the steps and the cobbles / He rode to a woman's sigh / For she was his secret treasure / She was his shame and his bliss / And a chain and a keep are nothing / Compared to a woman's kiss / For hands of gold are always cold / But a woman's hands are warm."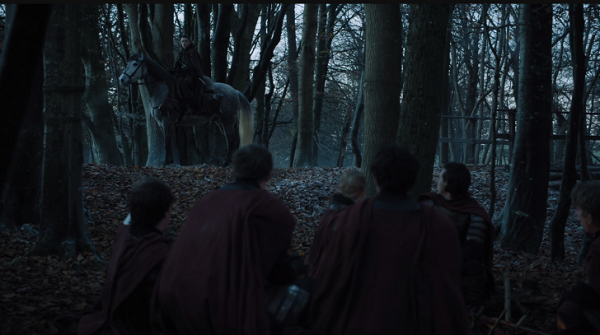 His beautiful voice was full of amazing lyrics it could be the next hit song. In the scene, Arya Stark (played by Maisie Williams) was passing by on the horse, she hears the tune and stops before saying,
 "It's a pretty song. I've never heard it before."
Sheeran whose character has no name yet replies "It's a new one" and the other guys give an invitation for warm fire and food which Arya accepts and sit down among them.
During their amicable conversation, she reveals that she is heading towards the King's Landing to behead the Queen Cersei Lannister (played by Lena Headey).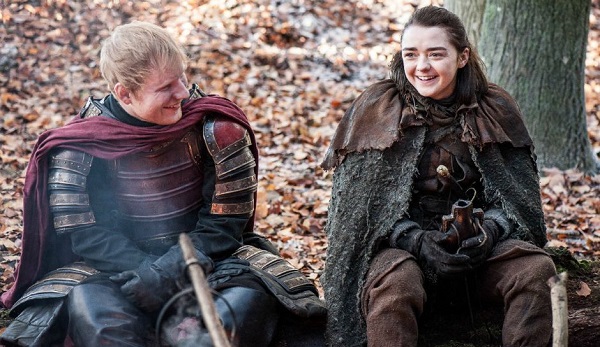 The Grammy winner also revealed his appearance on the show (after it was premiered) in the Instagram with few pictures.
In one pic, he looks over his shoulder while wearing his GOT costume.
You may like to read Singer Ed Sheeran opens up about fame and how it has affected his mental health and relationship with wife Cherry Seaborn!
He wrote,
"Throwback to the time I was a Lannister."
In another photo, Sheeran poses with Williams and holds up his sword.
Also read The East Suffolk estate of Ed Sheeran under fire from local council over pub signage and sauna near the pond!
'Castel' singer guest appearance was highly anticipated as the creators David Benioff and D.B. Weiss announced about his short role in series at South by Southwest festival in March.
Benioff said at the time
"We knew that Maisie was a big fan of Ed Sheeran and for years, we've been trying to get him on the show so we can surprise Maisie. This year we finally did it." 
guess the cats out the bag… https://t.co/9GCDUp9HPN

— Ed Sheeran (@edsheeran) March 12, 2017
Although singer's role was short it was enough to cause the stir among the fans.  There were many fans as well as celebrities who commented on the cameo of Ed Sheeran in the premier.
"Arya madness. Ed Sheeran cameo. Sansa looking phenomenal, Dany finally touching Westeros. Dragons. Game of Thrones well & truly back," one fan tweeted. And of course, it inspired a lot of jokes. "Ed Sheeran's really looking for that castle on the hill, huh #GameofThrones," another viewer tweeted, referencing the star's recent hit.
Others thought his cameo wasn't subtle enough, though. One of the tweets read,
"I don't even watch Game of Thrones but still made Ed Sheeran ruined it."
Here are some of the reactions:
Ed Sheeran: literally says two lines

Me: pic.twitter.com/4sddM6r5rn

— Virginia (@jaimelsnnister) July 17, 2017
I bet Ed Sheeran's Game of Thrones song is already #1 on Spotify

— Ryan Healey (@RAHealey) July 17, 2017
Arya: That's a pretty song. I've never heard it before.
Ed Sheeran: It's new. Buy my album ÷ on iTunes #GameOfThrones #GoTS7

— Samar (@SalimAlSamar) July 17, 2017
Every single person when @edsheeran 's face popped up on #GameofThrones pic.twitter.com/o7mlbjXbNQ

— Noah Weisberg (@NoahWeisberg_) July 17, 2017
Ed Sheehan singing Lannister folk songs #GameOfThrones pic.twitter.com/B7p950AZb3

— rosa park's uber (@lillibrown98) July 17, 2017
Nothing takes me out of a fantasy world like a random Ed Sheeran appearance #gameofthrones

— Dana Schwartz (@DanaSchwartzzz) July 17, 2017
game of thrones: we're a prestige show pls take us seriously
game of thrones: here's arya eating a squirrel next to ed sheeran

— the CEO of chopsticks (@yourwetdress) July 17, 2017
Me when @edsheeran showed up in tonight's episode.#GameOfThrones pic.twitter.com/r0HIjTqzkY

— Rebecca (@nota_regularmom) July 17, 2017
Ed Sheeran's cameo on #GameOfThrones has everyone playing wordplay on his songs. ???? pic.twitter.com/368BkUsPwF

— KC Academy (@Crypt0King_) July 17, 2017
Only way to justify Ed Sheeran's #GameOfThrones cameo is for him to greet Bran with: "When your legs don't work like they used to before…"

— Charlie Potter (@Charlie_Potter) July 17, 2017
So @EdSheeran time traveled into #GameOfThrones to invent singing: "For hands of gold are always cold, but a woman's hands are warm" pic.twitter.com/pzKddLDXen

— Brian A. Hernandez (@BAHjournalist) July 17, 2017
When I see Ed Sheeran in Game of Thrones ! #GoT #GameOfThones pic.twitter.com/eC1S3G4NLF

— Krishna (@itskrish5) July 17, 2017
Game of Thrones airs Sundays at 9 p.m. on HBO.