Elizabeth Hurley, 56, Hot Bikini Photos Which You Can't Handle!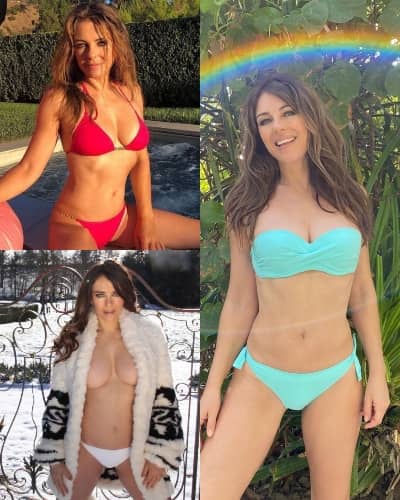 Elizabeth Hurley has been posting lots of bikini photos on Instagram showing her abs.
The actress looks super-fit wearing a bikini, recently she posted a new topless bikini photo on Instagram.
Hurley relies on found fitness and drinking plenty of water throughout the day to help her stay in shape.
Elizabeth Hurley, 56, has been posting all kinds of summer swimsuit pictures on her Instagram, all from her own backyard to the beach.
In every photo, her beautiful make-up and abs made it hard to notice the lovely view behind her. She has been sharing several swimsuit pics over Instagram continuing to wow her over 2 million followers. She is clearly feeling herself in the bikini, and fair. Hurley looks amazing.
Flashes Her Toned Abs In A New Topless Bikini Instagram!
Recently, she's showing off her washboard abs in a brand new topless bikini post. She looks super fit wearing an open kimono and a striped bikini bottom. She looks seriously sculpted. At 56, Liz has never looked better or stronger
She captioned the photo, "Having my own staycation… in my own home". The post has attracted many fans with 208k likes with 6k comments. Fans basically fell all over themselves in the comments. "Fabulous," one user wrote. "Like a fine wine, only gets better with age," someone else said.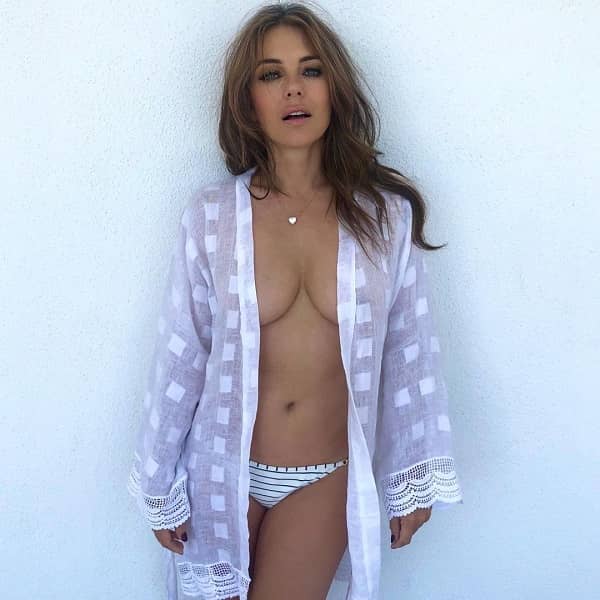 Hurley's daily diet
For a fresh look in every post, Elizabeth starts her day with two cups of water in the morning and hydrates regularly throughout the day. She is constantly posting photos where she looks incredibly fit and appears to be absolutely glowing from the inside out.
She eats balanced meals throughout her day to maintain her fitness. Elizabeth has long since quit the Blood Type Diet. Instead, she approaches her nutrition holistically.
In general, Elizabeth's meals are pretty straightforward and primarily plant-based diet. Here's what she eats in a day:
Breakfast: After her morning workout, Elizabeth says she typically fuels up with a bowl of Greek yogurt, a banana, and a little bit of honey
Lunch: She generally goes for a simple bowl of vegetable soup.
Dinner: Elizabeth usually has dinner at her office. Her go-to meal consists of grilled chicken and "lots and lots and lots" of vegetables.
She told,
"I like simple, natural, easy food. I don't really like food with a lot of chemicals or additives, When I'm at home in the country, I always try and eat food that's grown locally. That goes for meats and vegetables"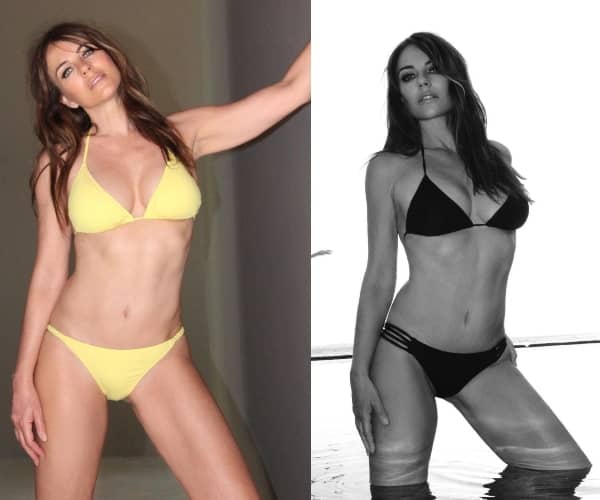 Elizabeth Hurley, 56 Exercise
Elizabeth is all about found fitness and doesn't hit the gym. She counts dog walks and gardening as part of her workout routine.
However, it seems the bikini designer also picks up dumbbells on occasion. Elizabeth swears she doesn't do anything, in particular, to stay fit. She's not big on hitting the gym but likes to get her exercise through outdoor activities and chores like gardening.
She told,
"I do a lot of exercises, but it's really the gardening… cutting down a hedge, using my chainsaw to cut down a tree, logging, all of that stuff I do. So, I'm very active,"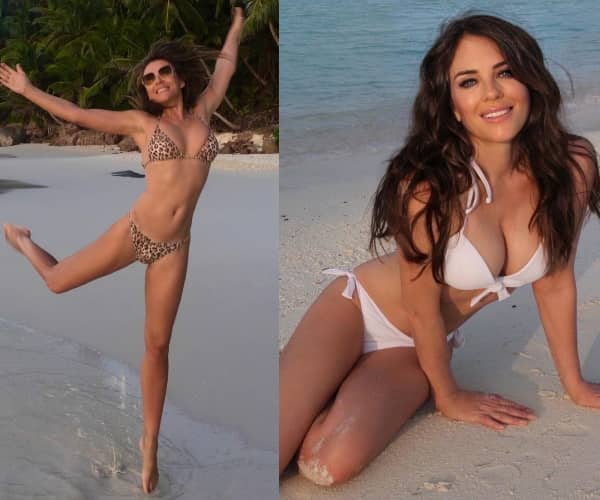 You may also like to read Who is the mystery man whom Jennifer Aniston is hugging and kissing in Los Angeles after a dinner date with friends!