Elon Musk Confirmed He will Step Down as Twitter's CEO once He Finds a Deserving Successor!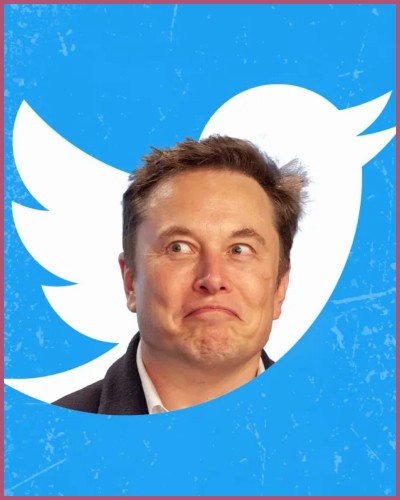 Elon Musk conducted a poll where he asked the public if he should step down as the CEO of Twitter.
The billionaire promised to abide by the poll, which showed the majority of votes saying he should leave office.
Musk promised his Twitter users that he would step down once he found his successor.
---
Elon Musk will leave Twitter's CEO office once he finds a replacement
Elon Musk might soon resign as the Chief  Executive Officer of Twitter.
Earlier, the Tesla founder conducted a Twitter poll where he asked users if he should step down as the CEO of the social networking platform. Surprisingly, the majority of users voted Yes, with 57.5% asking him to quit the job.
The billionaire admitted that he will run the company's software and servers teams after he finds someone who can replace him.
He said he would leave "as soon as I find someone foolish enough to take the job!"
Mr. Musk's announcement comes just a day after his silence about the poll after the outcome, which was predictable.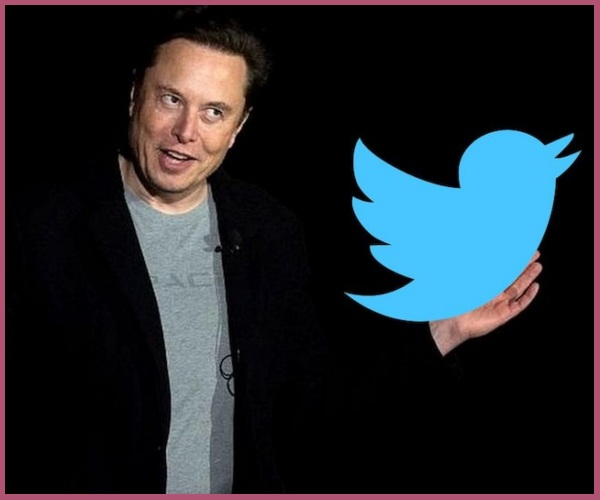 Over 17 million users voted and the majority of votes stood out against Musk.
Ever since Musk took over Twitter, the changes he's made have been the subject of extreme criticism.
After purchasing Twitter in October, the entrepreneur fired almost half of its staff including the CEO.
Musk gained more criticism when he tried a  rollout of Twitter's paid-for verification feature before thinking about it twice. Then the feature was relaunched last week.
Under his leadership, Twitter has broken partnerships with major advertisers and welcomed Donald Trump back after his suspension. Many big names announced their departure from the communication giant.
Netizens also criticized the innovator's approach to content moderation and accused him of taking steps that nurtures hate speech and misinformation.
Also, Read Elon Musk Credits The Simpsons for Predicting his Twitter Takeover in a January 2015 Episode!
Musk compares people's voices to the voice of God
Over the weekend, the United Nations and European Union condemned Musk's decision to suspend some journalists who tried to cover the social media firm.
The United Nations tweeted saying media freedom wasn't a toy while the European Union threatened Twitter with sanctions for its unacceptable actions.
This is the first time the world's richest man responded to the poll that he launched on Sunday. He also feels that finding someone who will be ready to take up the daunting task is a challenge.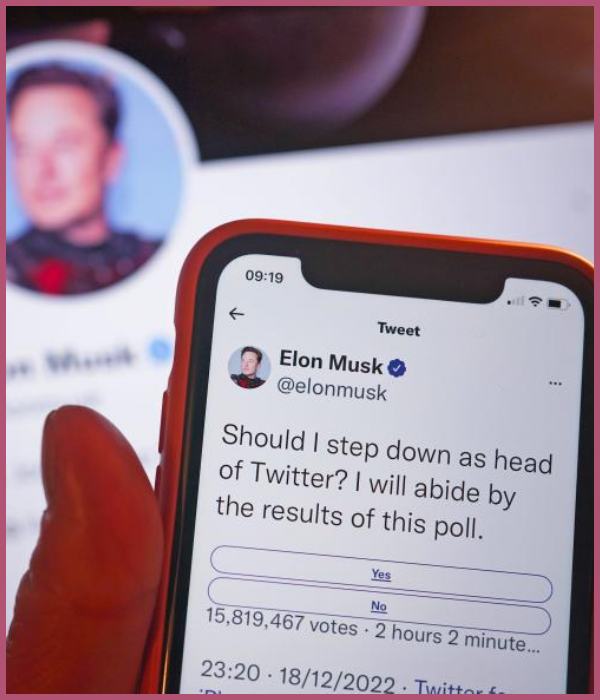 Many suspects that Twitter co-founder Jack Dorsey could be back to run the company after his resignation as chief executive in November 2021.
After the poll's result, Musk tweeted:
"No one wants the job who can actually keep Twitter alive,"
Other names who could be Musk's possible replacement are Sheryl Sandberg, Facebook's former chief operating officer, Elon's close friend and confidante, Sriram Krishnan, and Jared Kushner, who is the former presidential adviser and son-in-law of former US president Donald Trump.
Musk has also previously abided by Twitter polls. He also believes in the Latin phrase vox populi, vox dei which means "the voice of the people is the voice of God".
Musk also values the opinions of people and he recently responded to a tweet that said Twitter Blue subscribers should be the only ones that can vote in policy-related polls. Musk responded by saying,
"We actually have skin in the game",

"Good point, Twitter will make that change."
Also, Read Elon Musk Shares Pictures of His Toddler Son X AE A-XII Visiting His Twitter Office!