Who Is Eminem's Daughter Hailie's Partner Evan McClintock?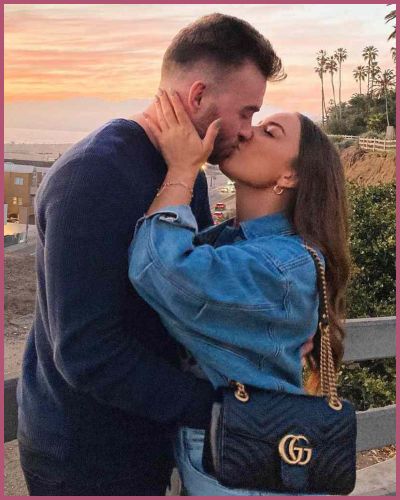 Eminem's daughter, Hailie Jade, 27, is engaged to boyfriend Evan McClintock.
The couple has been dating since 2016 when they met as students at Michigan State University.
---
Eminem's daughter, Hailie is engaged to Evan McClintock
After six years of dating, Hailie, 27, revealed her engagement to Evan McClintock on Monday.
"casual weekend recap… 😭💗 2.4.23 💍 i love you @evanmcclintock11" 
she wrote a caption for an Instagram post.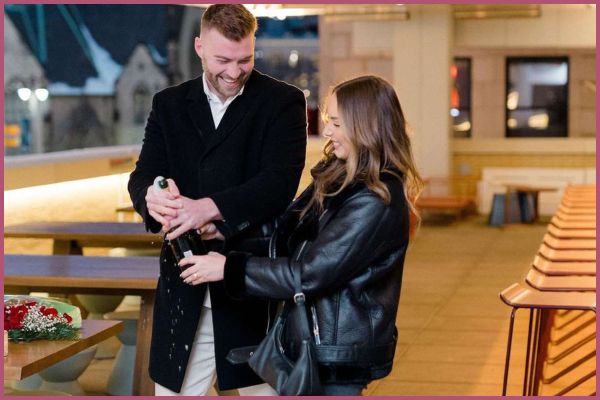 Hailie posted three pictures from her special day on Instagram. The brunette beauty was seen popping a bottle of champagne in the first photo to celebrate their engagement, and she was seen looking surprised in the second as Evan pulled out the ring and popped her the question. The third picture was a close-up picture of the ring sitting nicely on Hailie's finger.
The 27-year-old looked stunning in a black leather jacket, shoes, and a pair of dark gray pants while toting a little handbag.
Her future husband was wearing a white button-down shirt, beige pants, brown boots, and a black peacoat for the occasion.
Also read: Eminem Addresses his 2007 Overdose at the Rock and Roll Hall of Fame Induction Ceremony!
How long have Hailie and McClintock been dating?
According to the Daily Mail, Hailie has been dating Evan McClintock since 2016. At the time, they were both attending Michigan State University.
In December of that year, Mathers first posted his picture on her Instagram profile, where they were celebrating her birthday.
She captioned the photo at the time,
"Couldn't have asked for a better 21st birthday celebration (or a better guy to have by my side)."
The social media star and her boyfriend last appeared in a picture together in February when they were seen kissing in front of a sunset. Hailie uploaded the picture with the caption:
"yesterday & everyday 💖" 
When asked if Hailie's singer mother had any children of her own in a 2020 interview on Hotboxin' with Mike Tyson, Eminem told Mike that she did have a boyfriend but no babies.
"No babies. Just a boyfriend. She's doing good." 
He made this statement about the daughter who appears almost twenty times in his songs.
"She's made me proud for sure."
Who is Hailie's Fiance Evan McClintock?
Evan McClintock is an enterprise growth executive. McClintock found employment with Scout, a software development company, after graduating.
According to the company's LinkedIn page, Scout "provides an investigative solution through technology to some of the largest high-end luxury brands, multinational automakers & manufacturers, government entities, anti-counterfeiting groups, brand protection, leading insurance providers, and multinational pharmaceutical organizations."
He started working for the company in 2018 and is now an executive in charge of enterprise expansion.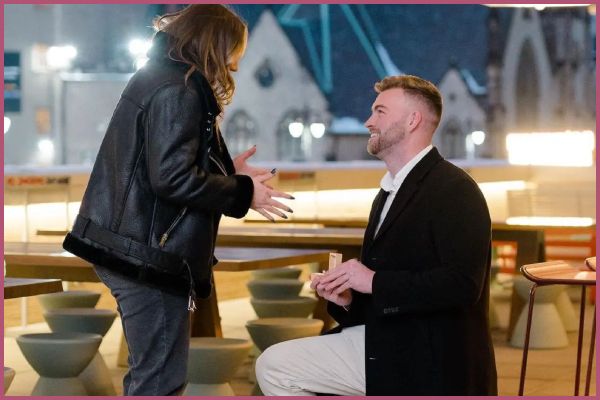 Evan uses  "complex-loss investigatory technology + services to enterprises and large government entities" according to his LinkedIn profile.
In his profile, he stated,
"My most successful use cases land me in the FMCG industry. These are multi-tenant solutions configured for the Legal Suite, centralizing data and workstreams–resulting in digital centers of excellence and automated business intelligence."
Evan seems to prefer staying away from the spotlight as he is rarely seen in photographs with Hailie and also has his Instagram private.
You may also like to read: Eminem's Daughter Hailie Jade Mathers Announces Engagement to Evan McClintock!