Emma Roberts adopted a rescued dog, Chihuahua! The cutest addition to her family in 2023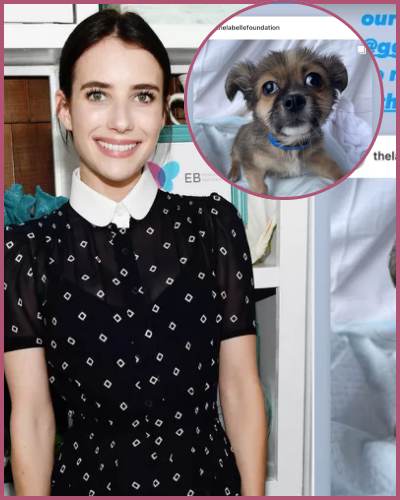 Emma Roberts has adopted a chihuahua rescue dog in celebration of the New Year 
She embraced from a Los Angeles based animal rescue called 'The Labelle Foundation'
Also, this is not the actress's first time adopting a dog
---
While some famous people choose to purchase pricey dogs, others, like Emma Roberts, have chosen to adopt their furry family members.
Emma Roberts begins the year 2023 with a new addition to her family
Emma Roberts and her family have goes with a great start in 2023. She has adopted the rescue dog chihuahua from a Los Angeled based animal rescue called The Labelle Foundation.
The About Fate actress, 31, announced on Sunday that she added a new member to the family. On her Instagram story, she reposts the organization's post captioning it,
"Our new family member… We love him so much! Rescued from @thelabellefoundation."
Alike, the post featured a photo of an adorable pup with light brown, red-brown, and dark brown fur and long dark whiskers staring up at the camera.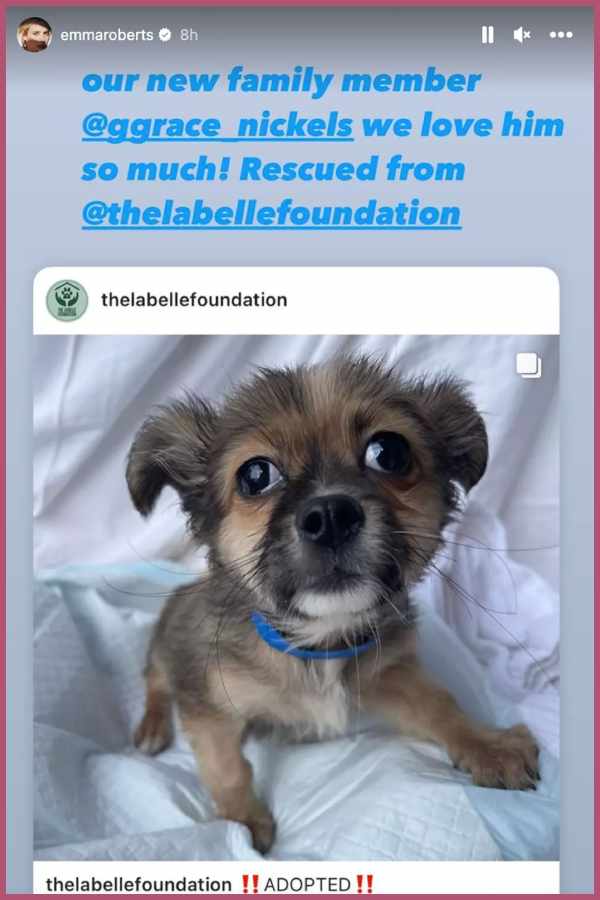 According to the Labelle Foundation, the puppy had been found abandoned in early December along with his siblings.
The puppies were discovered sick with Parvo, a contagious viral infection that causes fever, diarrhea, and vomiting, fortunately, the puppy survived.
Also read Emma Roberts and her new boyfriend Cody John seemed cozied up on their Holidate night
The chihuahua was nicknamed "Skunk".
Meanwhile, this is not the actress's first time adopting a dog. In May 2013, Roberts and ex-boyfriend Evan Peters adopted a dog named Audrey Hepburn.
How did Emma Roberts celebrate New year 2023?
On Saturday, Emma shared a series of pictures on her Instagram wishing everyone a happy new year and noting that she ended the year 2022 on a positive note.
The first photo of the series shows Emma is seen clutching her boyfriend Cody John's hand while being photographed from behind. One of the pictures showed her two-year-old son Rhodes running ahead down a path covered with fallen leaves.
Similarly, other photos of Roberts from the past year include her soaking up the sun by the pool or enjoying a mountain trek, as well as a mirror selfie in which she poses with her stylist Brit Elkin Hines.
Moreover, she simply captioned the post,
"2022 I loved you  happy new year hotties!"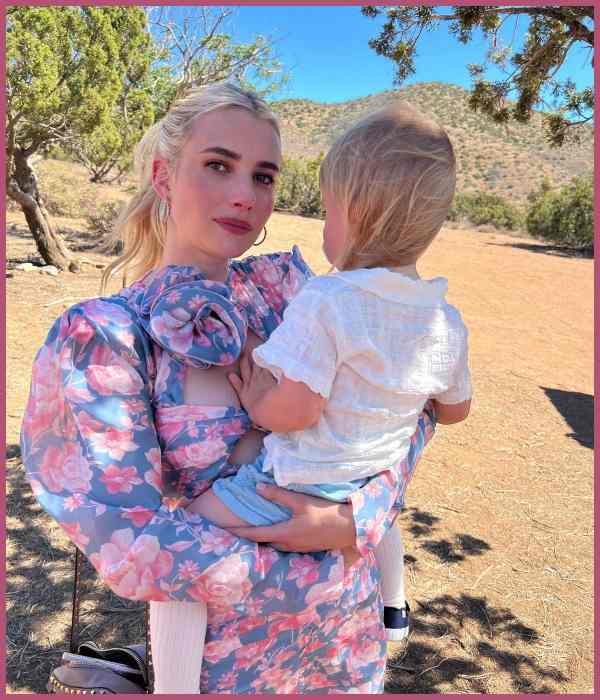 Also read Emma Roberts found a New Love after her split from Garrett Hedlund! Who is her New Boyfriend? 
Short bio on Emma Roberts
Emma Roberts is an American actress and singer.
Roberts is best known for her work role as Addie Singer on Nickelodeon's Television series 'Unfabulous' and for recording the soundtrack of her studio album 'Unfabukous and more' on the same show. See more…