Insight on Emma Slater and husband Sasha Farber's wedding and relationship! How much is their net worth?
Emma Slater is an English professional dancer & choreographer who is known for Dancing with the Stars. She is married to her fellow cast member Sasha Farber who is from Australia. Recently, the pair were spotted kissing as they stopped off at a gas station in Los Angeles.
Emma wore a hot pink short that had fringed hems and she was carrying a black leather bag with low-top boots. Sasha was spotted wearing a denim shirt with bright orange shorts and modeled a pair of open-toed slippers. They seem happy with each other and enjoying their gas station trip.
Emma Slater and Sasha Farber's wedding
On 25th March 2018, Emma Slater and Sasha Farber walked down the aisle in front of 180 guests in Los Angeles. She is from England and her husband Sasha is from Australia. She said,
"Any family members who could make it, we completely welcomed with open arms. We realize it's a long journey, so it left us a lot of room for our L.A. friends."
They chose Mikie Russo as their wedding planner. They wanted to look out at the guest tables and see their friends & family happy. Similarly, they wanted to serve a mouthwatering food spread that honored both the bride and groom's heritage. They wanted European-style cold meat and cold seafood towers so they had a lot of seafood, a lot of shrimp, a lot of oysters, and Ahi tuna. Farber said,
"My favorite moment was hands-down when we did the big reveal."
Slater added,
"It was my first time seeing Emma in the dress and it was perfect. The rest of the day can be so busy, but if you have that moment right before, you can do anything."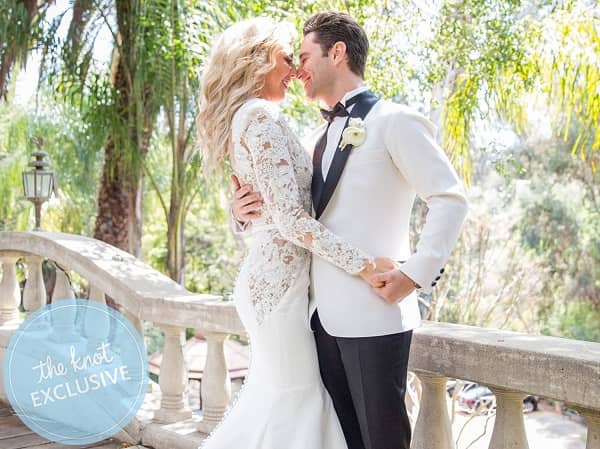 Their ceremony was held at the Bella Blanca in North Hollywood. She wore Rivini and the groom rocked his custom tuxedo. Their wedding cake was flavored with chocolate, vanilla bean, carrot cake, almond cake, and banana cake.
Also read Journey Of Erika De La Cruz From Being Homeless To Having A Successful Career; Also Learn About Her Dream Wedding!
Early life of Emma Slater
Emma Slater was born on 25th December 1988 in Sutton Coldfield, England. She is 31 years old at present. She was raised in Tamworth and she joined local stage schools there taking part in many productions.
When she was 10, she trained in ballroom & Latin American dance. Emma is the daughter of Robin Slater. Similarly, she has a twin sister Kelly Slater.
How much is Emma's net worth?
The estimated net worth of Emma Slater is $300 thousand. In the year 2005, she won the British Under 21 Latina Championships at the Blackpool Closed. Again in 2006. she won the United Kingdom Under 21 Latin American Championships at the Bournemouth Pavilions, England.
Her theatre work includes Lisa Houseman which was a principal role at The Coliseum and The Peacock Theatre. Her other work includes in Simply Ballroom, George Michael Music Video, Cuban Groove, Dirty Dancing, Cheek to Cheek, Latin Fever and Burn the Floor.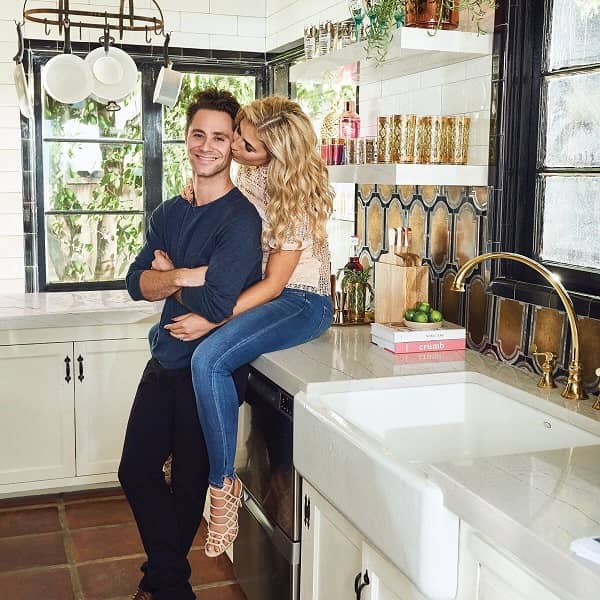 Likewise, her husband Sasha Farber also has a net worth of $300,000. In the year 2016, they moved into a cottage-style home. As per Cabriausa, the house is like a magical 1930s cottage with a big garden, on a lot full of towering trees. They fell in love with the house at first glance. Sasha said,
"The second we walked in, it was like, 'This is our home.' Right here is where all the choreography comes together,"
Also read Are Devin booker and Kendall Jenner dating? Know about their date night, relationship, previous love life, and Kendall's net worth
Short bio on Emma Slater
Emma Slater is a British professional dancer as well as a choreographer. She rose to prominence after appearing on Dancing with the Stars. In 2005, she won the British Under 21 Latin American Championships at the Blackpool Dance Festival.
Furthermore, she has also appeared in the 2008 movie Mamma Mia!. Read more bio…