Engagement of Anthony Rizzo with Emily Vakos: Click here to know more about their relationships and love life
The relationship between two people begins with a love and reached into an engagement. An engagement ring gives next step in the relationship. While the Cubs had a day off on Thursday, Anthony Rizzo gave an engagement ring to his girlfriend Emily Vakos. Then after Rizzo looked happier. Anthony Rizzo has proposed his fiance with the engagement ring and now are finally engaged. Scroll to know more about their engagement.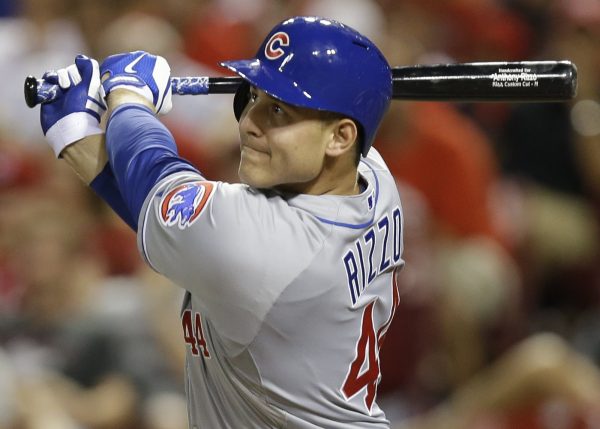 Anthony Rizzo announces his Engagement
The first basemen published his engagement to his girlfriend Emily Vakos on Thursday night after his romantic proposal. The MLB player took his lady on a boat trip on Lake Michigan. After that, he jumped a question which was supported by a fireworks display. World Series champion said that:
"Luckiest guy in the world! She said YES. Future Mr. & Mrs. Rizzo,"
Again, World Series champion  shared the same photo on Instagram along with two other pictures and saying that
"Wow! Soon to be Mr. And Mrs. Rizzo."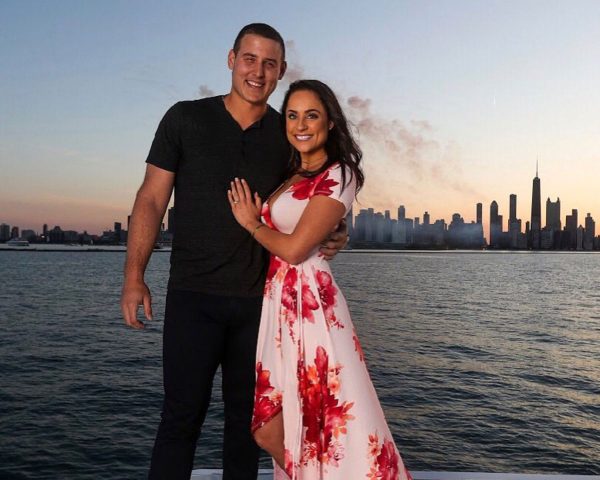 According to  Chicago Sun-Times  Rizzo told:
"It was great,". "She was totally surprised. That's what I wanted. Somehow kept that under wraps."
The newly engaged couple has not opened up a wedding date but Rizzo is released he didn't miss the ring before proposing. Moreover, Rizzo told:
"It's something in life that you want to find someone to spend the rest of your life with,". "I'm lucky enough to have that."
Chicago Cubs nation including his teammate Kris Bryant gave congratulation  to the couple and wrote on Twitter
"Congrats to these two," with an emoji of a diamond ring.
David Ross a Dancing With the Stars participant and former Chicago Cubs player  retweeted Rizzo's photo and wrote that:
"Welcome to the family Emily!"
Anthony Rizzo creates fireworks for his engagement
Followingly, Anthony Rizzo was asked when he was going to marry his girlfriend, Emily Vakos. In the offseason, the two couple had traveled to Thailand. When Vakos stood behind to him with a smile, nodding in agreement then Rizzo said:
"We're in no rush,"
Before he would pop the question  Rizzo knew that Vakos was his "soulmate,". He had to choose the right time and to do the right way. Rizzo planned that when the moment finally arrived on Thursday night on the Cubs' off-day. Followingly Rizzo said:
"We were on a boat on Lake Michigan, had some fireworks go off and it was great,". "She was totally surprised, so that's one I somehow kept under wraps."
Moreover, former Cub Dexter Fowler send a text to Rizzo and reminded him he was after in town again. Then after Rizzo said:
"He asked me if that's why the fireworks went off last night,.
Fowler told it was not a joke. According to Fowler,
"It's funny. I was in my (hotel) room, I heard the fireworks going off,". "I was like, 'It's kinda early for fireworks.' I texted 'Rizz' and he told me he proposed.
Moreover, Fowler said:
"I was like, 'OK, Rizz.' I texted him after, 'No way those fireworks were for you.' He goes, 'You know it.' I go, 'I feel like I was there, a part of it.'"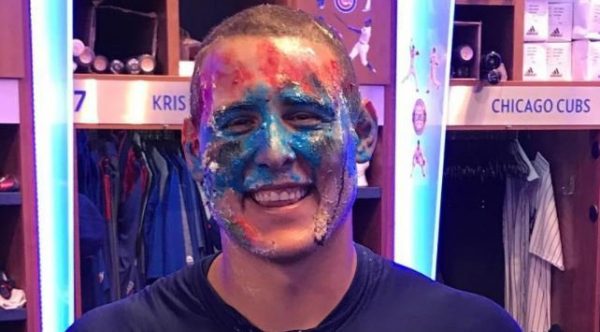 When news extended out Rizzo received hundreds of congratulatory messages and thousands of likes on his social media. When someone asked Rizzo and he replied:
"Do I have a date?". "Yeah, it's June 2nd. No, not yet. Who knows? The excitement is still there. We haven't talked about that really."
Rizzo was asked about the Cubs' 0-6 road excursion and current slip heading into the Cardinals series after talking about his engagement. He said:
"Everything is not going to be perfect,".
A short bio on Anthony Rizzo
Anthony Rizzo is an American professional baseball player. He currently plays as a first baseman for the Chicago Cubs of Major League Baseball (MLB). He was selected by the Boston Red Sox in the sixth round of the 2007 MLB draft and became a top minor league prospect in the Red Sox organization. See more bio…