Has Erin Molan split from her fiance Sean Ogilvy?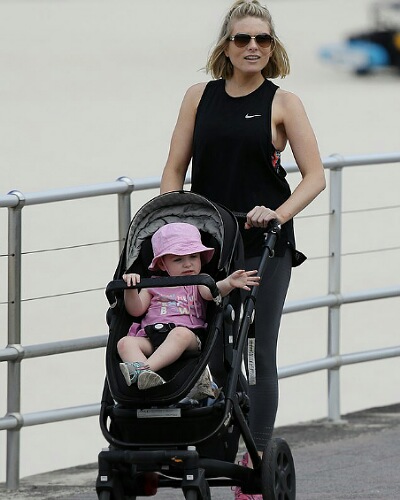 Last month, rumors arose of her split from her fiance Sean Ogilvy. But Erin Molan kept denying it. And on this last Tuesday 28 April 2020, Erin was spotted on a morning stroll with daughter Eliza. But her expensive engagement ring was, again missing!  So what is the truth?
Erin Molan without her engagement ring
Media personality, Erin Molan, 36 was on last Tuesday 28 April 2020 taking a stroll in the morning in Sydney's Bondi with her daughter Eliza who is one years old now. Her $ 100k engagement ring was glaringly absent from her ring finger. Erin was, looking nice in her casual activewear. It was a black Nike tank with a colorful crop top below it.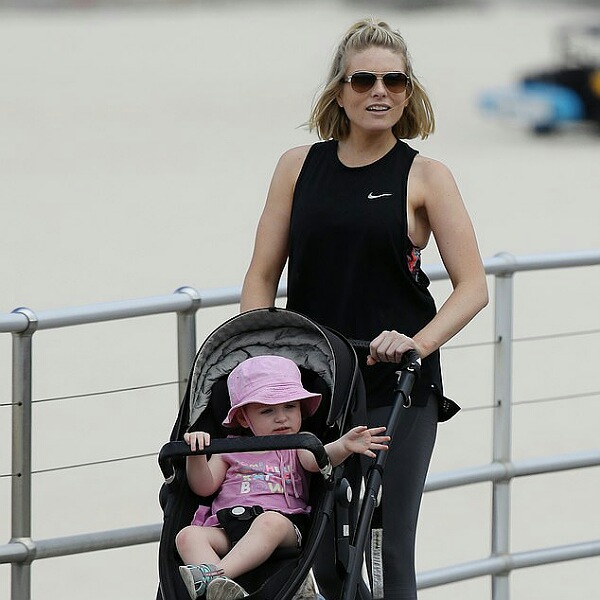 Her leggings were charcoal-colored and revealed her slender figure. Additionally, she had worn pink runners with aviator sunglasses. Erin was in high spirits during this walk.
More about the morning outing
The media person was dating on her daughter Eliza. Her fiance Sean was not with her. Erin was rolling Eliza in a perambulator. At one point, she allowed the daughter to enjoy the grassy area under her watchful eye. Little Eliza seemed to also enjoy this morning outing and the air.
Eliza was in a sweet baby pink outfit. She had on a matching pink-colored hat. And at one time during this fun stroll, Erin planted a sweet kiss on Eliza's face.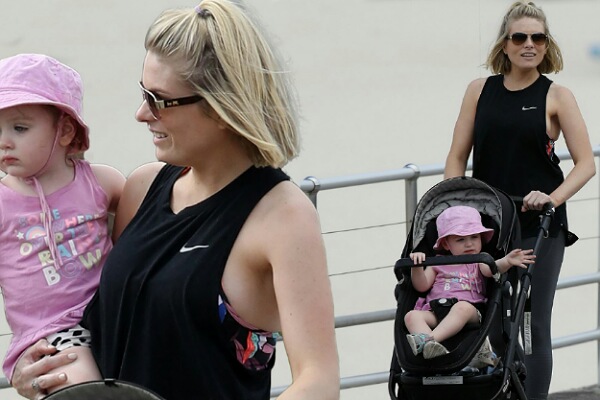 It was conspicuous that  Erin's engagement ring was missing on this outing as well. She has been ditching the ring since last June. She had reasoned out that the ring led to some scratches on her toddler daughter's body.
The relationship of the couple – Erin and Sean
Erin began dating police officer Sean Ogilvy in April 2016. A year later in April 2017, Sean proposed to her and she said Yes. And one week back, she made a cryptic on-air comment. On Channel Mine, she was talking about Newcastle Knights' captain Mitchell Pearce's engagement to Kristi Scott. And she said:
'Ahhh to be young and in love again, wouldn't that be nice.'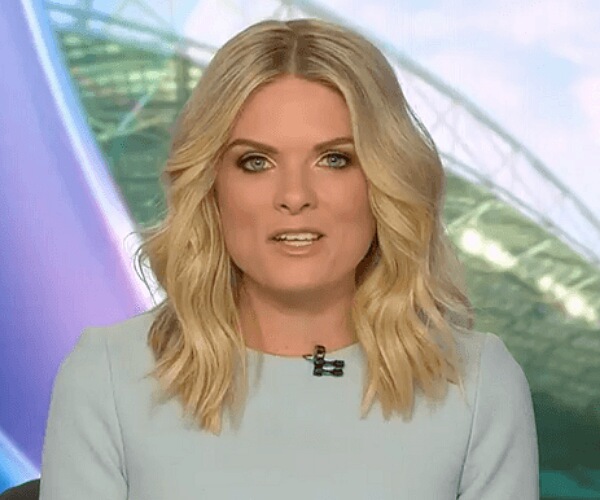 The couple has not been seen in public since December 2019. Therefore, people and fans doubted that they had called off their engagement. But Erin vehemently denied the rumors. She told The Daily Telegraph that she and Sean are very much together and all is well. But they have decided to keep their life private because he is a homicide detective. She justified:
'We are very happy, I don't talk about Sean a lot because his job is quite a unique job so we're quite private when it comes to our relationship,' 

'But we are both very good and happy and we're very much in love with our daughter which is the most important thing.'
The couple are residing together even though there has been no public appearances of the two together for the past many months.
Click to read on Roman Reigns and his wife Galina Becker married with 5 children! Baby twins on the way?
Source: Daily Mail UK