ESPN Sportscaster, Britt Mchenry's Twitter Controversies. What is her relationship status and net worth?
ESPN suspended a reporter Britt McHenry, for about a week after LiveLeak launched a video of her berating a towing company employee in 2015.
ESPN's Britt McHenry got on camera in a revolting occurrence
Current host of 'Like It or Not', Britt McHenry, got tangled after a video segment featuring her using foul language against an employee on April 16, 2015. After ESPN became familiar with the video, they announced her suspension for a week.
She regretted and tweeted saying she allowed her emotions to get away from her during a stressful situation at a Virginia business.
"I … said some insulting and regrettable things."
She wrote,
"As frustrated as I was, I should always choose to be respectful and take the high road. I am so sorry for my actions and will learn from this mistake."
She allowed her emotions to get the best of her and said something insulting at an intense and stressful moment. She was being captured by a surveillance camera and she said to an employee at a register that,
"I'm in the news, sweetheart. I will (expletive) sue this place."
It was told by the employee that she was being recorded but it didn't stop her from continuing her rant.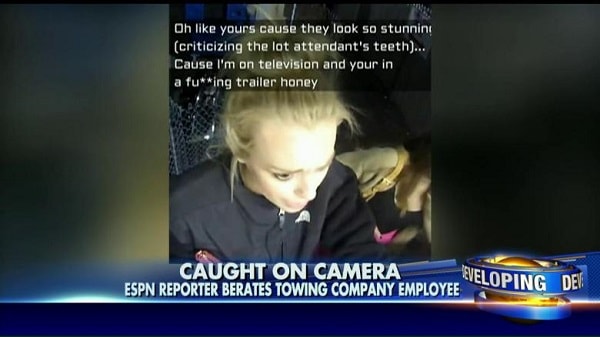 What is the Twitter controversy all about?
Britt McHenry was in an off mood and she told,
"That's why I have a degree and you don't. I wouldn't work at a scumbag place like this. Makes my skin crawl even being here."
The employee commented something about Britt's hair and the color of her roots and later McHenry sasses back saying,
"Oh, like yours, 'cause they look so stunning, 'cause I'm on television and you're in an (expletive) trailer, honey. Lose some weight, baby girl."
The video was edited and posted on the website, LiveLeak and the incident was mentioned to occur on April 5. She added,
"I'm not going to say for the good or bad; just my life changed when the towing video happened. There's so much stuff out there about me, and I don't really care anymore if it's bad. … In general, I've just started to care less. If you're hating me, you're still having a reaction to stuff that I'm saying, you're still paying attention to stuff that I'm saying."
She also drew attention again for tweeting and then removing that she was demoted from her ESPN gig,
"because I was white & I made too much."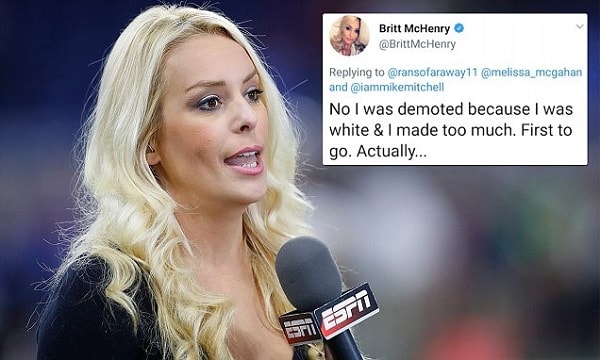 She was labeled 'Jerk of the Week' by a New York Daily News writer and as a 'yahoo and jackals' by a San Francisco Chronicle columnist suggested for unfairly criticizing Kaepernick.
To know Fearne Cotton is upset with rumors of her strained relationship with husband Jesse Wood. This is what she did now!
Britt McHenry's relationship status
She is still unmarried. But, she uploaded a picture with her possible boyfriend on June 4, 2018. The person was a professional tennis player, Tennys Sandgren. He is a former University of Tennessee standout who faced scrutiny in January for some controversial tweets. She disclosed that her boyfriend manages time to be with her even between his tournaments.
Britt McHenry's Net Worth?
She has an estimated net worth of around $1.4 million. She is supposed to be taking an annual salary of around $600,000 from her profession.
Short bio of Britt McHenry
Britt McHenry is an American sports reporter and she is well recognized for her work as an ESPN reporter. She attended Satellite High School and later joined Stetson University. She presents the shows like Sports Center, Outside the Lines, NFL Live, and Baseball Tonight. More Bio…
Know more about Namibian model Behati Prinsloo talks marriage, children, depression post-mortem pregnancy, and return to the ramp!