Evie Clair: her soulful singing, her father's battle with cancer, her family ordeals and her great achievements! Read on for more!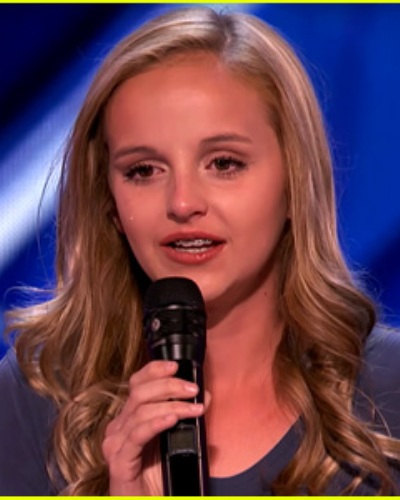 Evie Clair's soul-touching performance
13-year-old Evie Clair participated in 'America's Got Talent' show. Her performance was telecast on the night of 20th June 2017. She took to the stage and sang Christina Perri's song 'Arms' (2011) and left everyone in the audience including the judges emotional. There were a palpable intensity and honesty in her voice.
Evie Clair also mentioned that her father suffers from cancer but is still working in spite of the disease to support his family. Her father has advanced and stages four colonic cancer.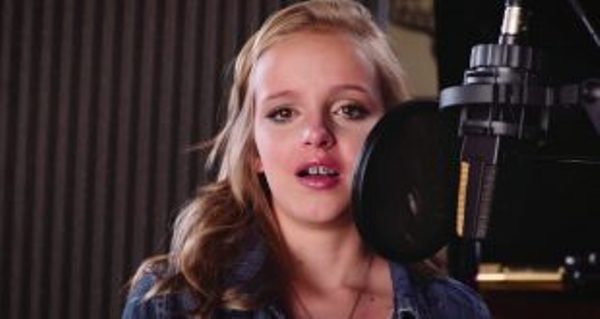 His treatment was started but even during the height of the therapy, he continued to work at the local prison since he could not afford to take off and risk losing his salary. She also disclosed that she sings the song 'Arms' for her father when he has a rough day in order to reassure him.
This song for her is very personal and close to her heart and hence she chose to sing it also for the AGT. As she spoke about her family ordeals, her eyes welled up with tears.
She also added that she wants to 'put a smile on my dad's face'. The air turned emotional. However, Evie Clair soon collected herself and sang with her heart, hitting the right notes and touching everyone's heart and soul. She vowed the Judges and got a standing ovation from them. Judge Simon called her voice 'stunning' and said that she is one whom they all will remember.
Also read Singer Camila Cabello and Shawn Mendes steaming performance in VMA's 2019! Are they dating?
Who is Evie Clair?
Evie Clair comes from Florence, a small town in Arizona. She started at the tender age of 2 years when she discovered her love for singing and the piano. When she was in kindergarten, she participated in her school's talent show. Her performance was most liked and talked about.
She soon became a hit. At the age of 8 years, Evie Clair played the role of Molly in the play 'Ann' at the famous Hale Theater, Gilbert, Arizona. She also started participating in a number of competitions in and around her hometown.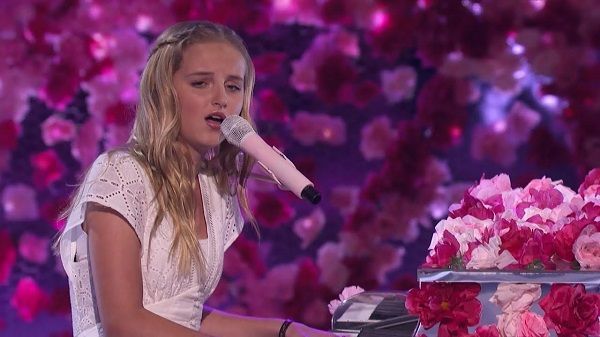 Her voice talent was appreciated by one and all and soon the word spread. In 2015, she entered a competition and having won the first place got an opportunity to sing the theme for the movie 'Once I was a Beehive'.
She also sang an original song in the same movie. She also got the honor to sing the song during the premiere of the film. Evie Clair is also a gifted songwriter.
Her faith in God
She is a religious person with great faith in Lord Jesus. Talking about her singing, Evie Clair told:
"It seems like every time I perform, I'm nervous only before and after because while I'm singing I know that my singing comes from my Heavenly Father. [I noticed] that when I prayed before and afterward to thank my Heavenly Father for my talents then I do a lot better in my music."
Evie Clair's accomplishments before AGT
Evie Clair had already sung the theme song and one original track for the film 'Once I was a Beehive'. She had the opportunity to sing the national anthem at the Arizona Diamondbacks baseball game. She also got a win in her category at the 2014 Arizona's Rockin' with Talent. She has released two original singles.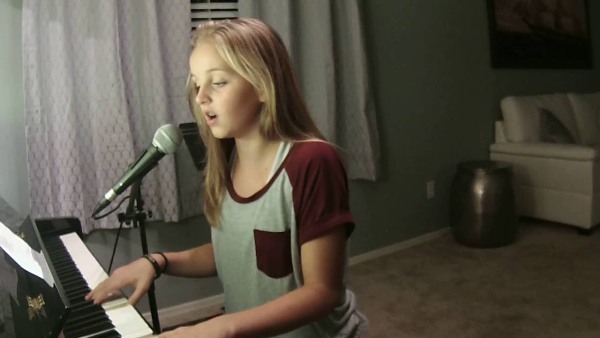 She is a recipient of the Judges Choice Awards in an international contest where she had sung the cover of David Archuleta's 'Glorious' song.
She has also done another music video cover. She has recorded with other renowned artists and also sung on prestigious occasions. She has also posted on YouTube channel.
Also read Country Singer Kylie Railie Harris sadly dies in a car crash!