Excited to have a child; Pregnant Serena William Shows Her Baby Bump In An Patriotic Swim Suit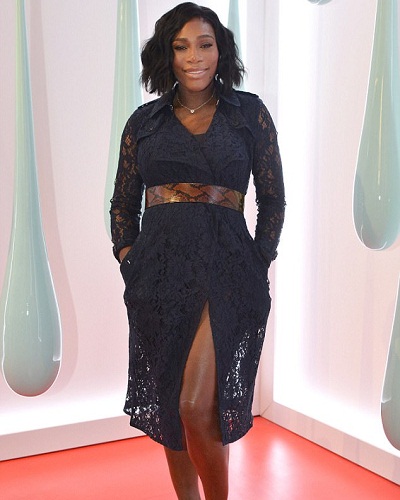 The tennis star, Serena William who is expecting her first child with her fiancé, Reddit co-founder fiancé Alexis Ohanian, took to Snapshot on Monday to show off her growing baby bump while donning a red, white, and blue one-piece swimsuit.
---
Update: Serena and Alexis married on 16th November 2017 and the couple's daughter Alexis Olympia Ohanian Jr. was born in the same year.
Excited for the baby
The tennis star took to Snapchat to show off her red-white-and-blue beachwear. Williams added a matching poncho-style cover-up and wore her hair pulled back into a bun with a Nike visor.
It's good to see the Grand Slam winner continue her baby mooning, after her May trip to Monaco, where she chilled the seaside with friends and family. Serena who is worth an estimated $150m – told her Snapchat followers,
"I went on a shopping spree at Target. Look, I mean it's the only place I could find a bathing suit that fit me."
Serena recently confirmed that she and her husband, Alexis, who is the co-founder of Reddit, have decided not to find out their child's sex beforehand. She uploaded an Instagram post with the caption,
"I think the surprise of knowing what you are going to have on that very special day you give birth is prob the best surprise you can ever have!"
The clarification came after her older sister Venus referred to her future niece or nephew as "she" in an interview after her win.
You may like to read Did Just Venus Williams just reveal about her Pregnant Sister Serena Williams baby? Find out Yourself!
The pair engaged in Rome last December 2016 and Serena recently told reporters that she "couldn't be stuck in a more beautiful place."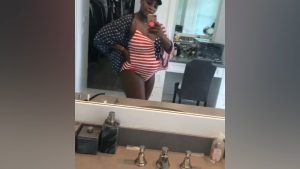 She wrote a letter to her unborn child in an Instagram post,
"My Dearest Baby, You gave me the strength I didn't know I had. You taught me the true meaning of serenity and peace. I can't wait to meet you. I can't wait for you to join the player's box next year."
Back in April, the athlete, who is expecting her first child with fiancé Alexis Ohanian, accidentally revealed her baby news on Snapchat when she posted a swimsuit selfie flaunting her bump at 20 weeks. She said at a TED conference,
"On social media, you press the wrong button and … 30 minutes later I missed four calls and I'm like, 'That's weird,' I've been so good about it, but this was the one time it slipped."
Serena and the Reddit co-founder announced their engagement in December 2016 after more than a year of dating.
Serena's Pregnancy
The tennis legend took to Snapchat to share a photo showing her tummy, titled '20 weeks'.
It also means that she was pregnant when she won Grand Slam title number 23 at the Australian Open in January this year.
Williams, who will return to world number one next week, would be eligible to retain her ranking under the WTA special ranking rule if she is ready to play her first tournament within 12 months of giving birth.
The photo was quickly deleted but her representative later confirmed the pregnancy.
Also read Pregnant Serena Williams shares a lovely note to her unborn baby
Short bio on Serena William
Serena Williams is an American professional tennis player. The Women's Tennis Association (WTA) has ranked her world No. 1 in singles on seven occasions, from 2002 to 2017. She became the world No. 1 for the first time on July 8, 2002. She holds the most major titles in singles, doubles, and mixed doubles combined amongst active players with 39 major titles. She has won 14 Grand Slam doubles titles with her sister Venus Williams. More Bio…