Some exciting facts regarding the much-awaited Wes Anderson's animated film 'Isle of Dogs'!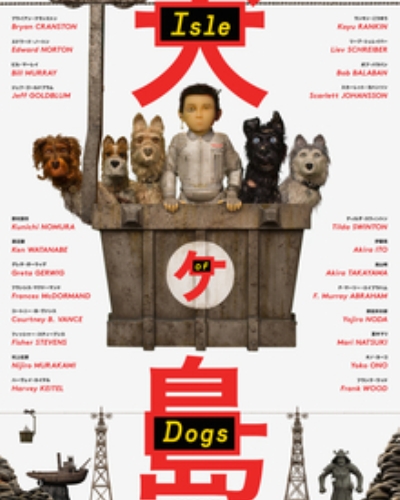 This animated movie 'Isle of Dogs' is the much-awaited of the 2018 movies. Fans, both children and adult, are curious to have a glimpse of this film. The first trailer for this drama and adventure film was released in September 2017.
Scheduled for a 23rd March 2018 release, this film will open the Berlinale Film Festival. In Australia, it will be released on 29th March 2018 while the UK will have a premiere of this film on 3oth Mach 2018.
We have collected some fun facts related to this movie which I am sure our readers would enjoy reading!
The film title is Isle of Dogs. But it has no connection to the place called Isle of Dogs located in the East End of London which is bounded on its sides except the north by the largest meanders in the River Thames.
The movie is based in Japan and deals with the story of dogs being quarantined on an island after an outbreak of canine flu. A 12-year-old boy called Atari Kobayashi dares to travel to the island to search and bring back his pet dog.
This is Wes Anderson's second animated film; the first being his highly successful 2009's Fantastic Mr. Fox. He had made an announcement in 2015 that he would return to animation with a film on dogs and Wes has kept his promise.

Source: High Snobiety (Wes Anderson)

It has an immensely large cast which has increased tremendously since his last film. There are American as well as Japanese actors in it. The voice cast includes Bryan Cranston, Edward Norton, Bill Murray, Jeff Goldblum, and Bob Balaban and many others.
Production for the film commenced in October 2016 in England.
Wes Anderson had admitted that his film is strongly inspired by the films of Akira Kurosawa and the stop-motion animated special movies for holidays which are made by Rankin/Bass Productions.

Source: Indiewire (Wes Anderson)

Fox Searchlight Pictures has the universal worldwide distribution and release rights to this film.
The trailer for the movie has revealed that the classic touch of Wes Anderson can be seen in it. His meticulous care in the making of a movie, his unique style and attention to details could all be witnessed in the trailer of the film. As can be visualized in his movies, the characters occupy center-stage as the sets move around them and they continue to quickly deliver their funny dialogues. His taste, liking, and respect for other cultures are evident in this movie.
Wes Anderson had done another non-animated film in between which was called The Grand Budapest Hotel and it was released in 2014.
Atari's character has been voiced by the bilingual child actor Koyu Rankin who was born in Canada (Vancouver) to Scottish-Canadian father and Japanese mother. Hence he knows Japanese and English well.

Source: NME (Isle of Dogs poster)

Talking about the direction of Wes Anderson, Courtney B Vance had said:
"Wes Anderson is a perfectionist, so you have to just be ready to try it this way, try it this way, try it that way, and then try it this way. And then, once you think you've got it all and it's done, then you're going to be called back in two or three months, so you can try it that way and try it this way. You've got to give him all of it. But ultimately, just like with Tom, who's a perfectionist that likes to do it until he gets it done, the proof is in it when you see it and it's just gorgeous. Every moment is so full of layers. You know that's what you have to do because that's just your process. So, you go, "Okay, all right, I'll be there. Just let me know when, and I'll be good."
Also read Ten Exciting facts related to WrestleMania! Click and find them here!