Exclusive Photos Of Ex-Couple Kylie Jenner and Travis Scott's Son Aire Revealed!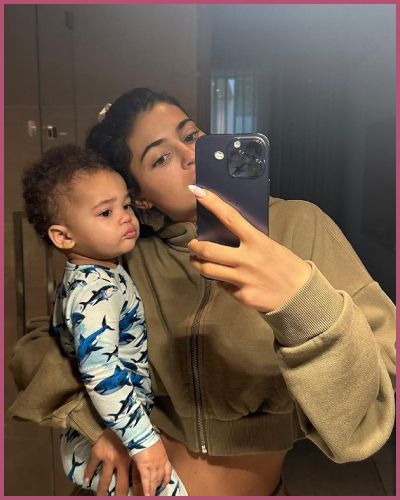 Kylie Jenner has revealed that her 11-month-old son is named Aire, meaning 'Lion of God'.
Jenner and Travis Scott initially named him Wolf but later changed the name after deciding it did not suit his personality.
---
Kylie Jenner's Instagram post, which she shared just two weeks after allegedly breaking up with Scott, 31, revealed the gorgeous child's face for the first time. The Kardashians star informed her 378 million fans and followers of her son's new name in an Instagram photo series with the straightforward caption, "Aire."
She started out by posting a sweet mirror photo that she had taken while holding her 11-month-old kid in her arm. Kylie chose to dress comfortably, donning a long-sleeved, cropped hoodie in an olive tone and matching sweatpants.
The TV celebrity gave the first full view of Aire's face as her youngest child was likewise casual in a blue shark outfit.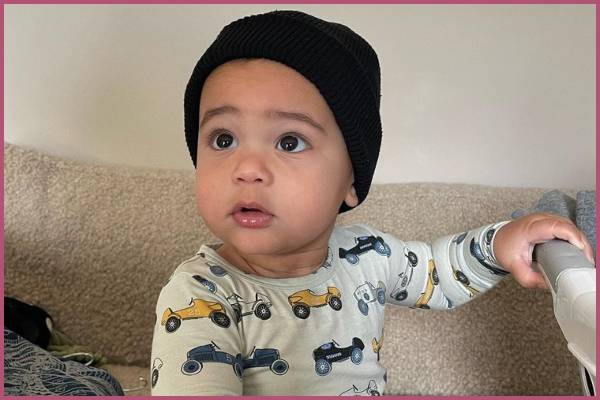 She took the picture in what appeared to be a sleek, roomy bathroom while holding her smartphone partially in front of her face.
She also shared a photo of herself holding her son, who had a smile on his face. Travis and Kylie's four-year-old daughter Stormi is their joint child. Kylie applied a retro effect to the touching photo.
The final picture was a close-up of Aire sitting in a chair with food on his face and bright sunlight streaming in through a window nearby.
Also read: Who is Travis Scott's New Beau Rojean Kar? Did He Cheat On Kylie Jenner? 
Kylie Jenner's son was initially named 'Wolf'
Jenner and Travis Scott initially decided to name their child 'Wolf'. However, the couple later decided that the name does not suit his personality. Jenner told USA Today that she felt rushed and would change his name cause it did not 'suit' him.
"We had to quickly sign the birth certificate, and then I knew the second I signed the birth certificate that I was probably gonna change his name." 
She added:
"It just didn't suit him. We haven't legally changed his name yet. We're in the process, so it just wouldn't feel right to share anything when we don't have an official name."
Last year in September, during an interview on The Late Late Show With James Cordon, Jenner hinted at her plans to change his name. She said:
"We haven't officially legally changed the name,' she had stated on the show at the time. 'His name is still Wolf. His passport's Wolf, but that isn't gonna be his name. We're just waiting."
The official announcement was made on Saturday after reports of Kylie and Travis taking a 'break' surfaced all over the internet.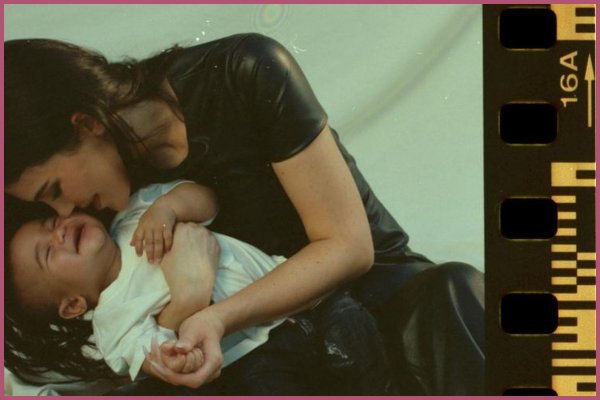 Kylie and Travis are on a break again
The couple has had an up-and-down relationship so far. According to an 'Entertainment Tonight' source,
"The two have had an up-and-down relationship and although they aren't together right now, it doesn't mean it's over for good."
They added:
"Kylie and Travis live different lifestyles and that's been a big issue. With two kids, Kylie doesn't go out too much. Travis on the other hand lives a life of late nights in the studio and going out with friends."
Despite the reported split, they will maintain a healthy co-parenting relationship in order to raise their two young children.
The couple welcomed their daughter, Stormi in 2018, and their son, Aire in 2022.
You may also like to read: Kylie Jenner and Travis Scott sparked breakup rumors after spending the holidays apart