7 unknown facts about Joe Exotic, ex-husband of Travis Maldonado!
Joseph Maldonado-Passage professionally known as Joe Exotic is the former Oklahoma Wildlife Park Owner. He is serving a 22-year prison sentence at present for hiring two different people to kill Carole Baskin. He has also done more than a dozen wildlife violations and killed five tigers.
Joe was married to Travis Maldonado who expired back in October 2017. Here are some unknown facts about Travis.
1) Married to Joe:
Travis Maldonado met Joe when Joe began his private zoo in Oklahoma. One of Joe's employees suggested Joe hire Travis. He began working in the zoo in December 2013. At that time Joe was also in a relationship with John Finlay. Joe was in a polygamous relationship.
Less than a month, the three decided to get married. They got married in a three-way ceremony. It was an unofficial wedding and they danced in a dance hall across the zoo which was broadcasted on Joe's YouTube channel.
At their wedding, the grooms wore hot pink button-down shirts and black pants. Their wedding was zoo-themed involving monkeys from the zoo.
Also read Relationship Timeline Of Channing Tatum And Jessie J; They Are Just Like Any Other Couple Loving Each Other To The Fullest!
2) Travis was straight:
Even though he unofficially married Joe and John, Travis made it clear that he was straight. But Joe was unknown about Travis being straight. After John Finlay was arrested for assaulting, Joe. Joe and Travis legally walked down the aisle in 2015.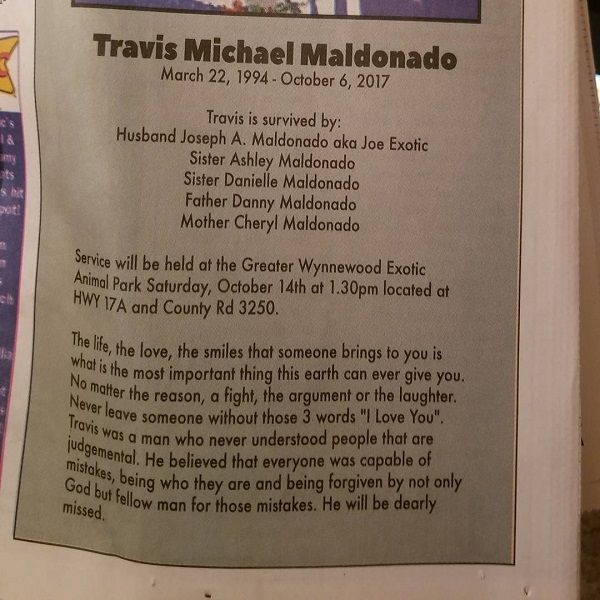 3) Travis Maldonado's early life:
Travis Maldonado was born on 22nd March 1994 in California. He was the son of Danny Maldonado and Cheryl Maldonado. Similarly, he grew up with sisters Ashley and Danielle.
At present, his father is battling cancer and undergoing radiation therapy.
4) Drug addiction:
Travis was a drug addict and he had a rough past with addiction. He was dependent on Joe due to his drug addiction.
5) Not the only husband of Joe:
Joe was first married to Brian Rhyne who passed away in December 2001 due to an infection. When Joe was 19 he lived with his girlfriend in Dallas. Joe left his family name Joseph Allen Schreibvogel after his marriage.
Joe is also married to Dillon Passage.
Also read Vanessa Bryant Came To The Social Media To Say Her Words For The First Time After The Death Of Her Husband, Kobe Bryant And Daughter Gianna!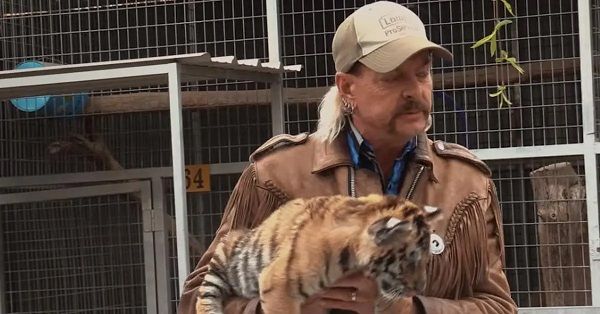 6) Travis Maldonado's death:
On 6th October 2017, Travis Maldonado was found dead. He died in an accidental shooting. According to his husband Joe, he was showing off a Ruger pistol to the staff and joking around in the zoo's gift shop.
Travis had read on the internet that the gun wouldn't fire without the magazine. He wanted to prove that so he took out the magazine. He was aware that there was a bullet in the barrel.
Likewise, he thought that the gun would not fire when he pulled the trigger. But the gun fired and he shot himself in the head. His death was suspected to be the result of drugs. The reason for his death was given as self-inflicted accidental fatal gunshot.
7) Joe was heartbroken:
After the death of his husband, Joe started seeing him everywhere. He spent most of the time at home crying. He even started telling people that he wants to get out of the zoo.
In the same month of the death of Travis, Joe shot five tigers.
Source: cheatsheet, Men'sHealth, EarnTheNecklace