Family Time! John Legend and his wife Chrissy Teigen's Daughter is on her first trip with her parents; Enjoys the vacation on Seaquarium Before His Tour Kicks Off
John Legend and Chrissy Teigen welcomed their first child Luna Simo. They have been very loving and sweet parents to their daughter. The couple is enjoying the first parenthood at the level best. The road trip begins! John Legend and Chrissy Teigen took their daughter Luna to Miami Seaquarium on Friday, May 12. They enjoy the trip with Luna ahead of the first night of the singer's Darkness and Light Tour. They shared the picture of the trip through Instagram.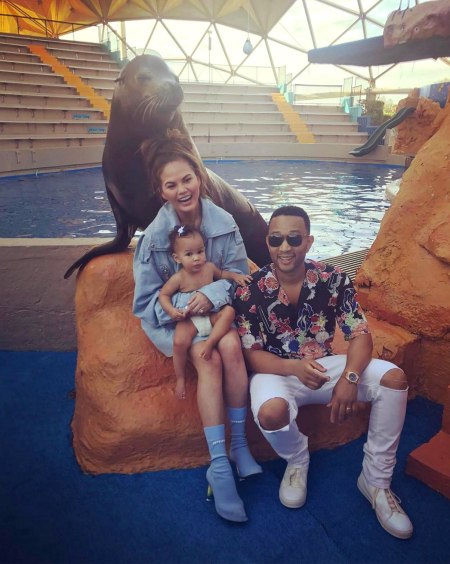 John Legend and Chrissy Teigen with Luna Simo in  Miami Seaquarium on a trip
John and Chrissy went to the trip to Miami Seaquarium with their daughter Luna Simo. As this is the very first trip of their daughter, it is very special to them. John shared the picture of the trip, where he is with Chrissy and their daughter Luna. He captioned the family photo saying:
The very same day, he also shared a series of sweet pictures and videos of her family backstage at Miami's American Airlines Arena through Snapchat. In the clip, he made a speech before heading to the stage. He said:
"I want to thank everybody for being here, and welcome to the Darkness and Light Tour!"
During the time of facebook live, he revealed that her daughter Luna would also join him on the road. He said:
"The awesome part of this tour is my family is coming along. This will be Luna's first tour. She'll be there, so I won't have to spend a lot of time away from my family."
Later on, he jokingly said:
"That's the subtitle of the tour — Darkness and Light Tour: Luna's First Tour."
Chrissy Teigen says that their daughter Luna Simo is more alike her father John Legend
Chrissy Teigen says that their daughter is more alike father John Legend. As being a daughter of two superstars she gains genes of both of her mom and dad. But she is more alike her father.
Furthermore, she said:
"It takes a minute for her to warm up to people. Whereas I'm very much a toucher, a hugger, a lover, she really sizes people up and down. She remembers you, though — after the first time you guys are hanging out, the next day, she'll definitely remember you," the model and cookbook author adds of her 1-year-old. "But yeah, it takes her a minute, and I think that's very cool. I like that she's protective like that. I like my way of things too, but I do like that she has her own personality."

"She's got a little bop, she's got a little [Stevie Wonder] in her. She loves dancing in her high chair, she just goes back and forth as soon as you put music on, it's pretty instant. Sometimes she'll close her eyes and sway her head. She was doing it to Rihanna the other day. She's definitely a dancer, a mover, a big bouncer, which I'm sure all babies are, but the second she gets on my ankles, she wants to go bouncy bouncy bouncy bouncy, a hyper hypo for sure. She is very hyperactive and cute."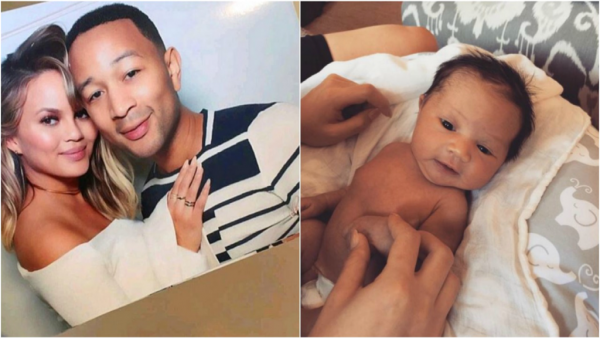 Update on the couple
Chrissy Teigen has given birth to a baby boy named Miles in May 2018.
More about Chrissy Teigen
Chrissy Teigen is an American model. She appeared in the Sports Illustrated swimsuit issue in 2010, and was named "Rookie of the Year". She is the wife of famous American singer John Legend. More bio…