Famous Comedian gay Fortune Feimster Proudly Flaunts Moments with her girlfriend Jacquelyn Smith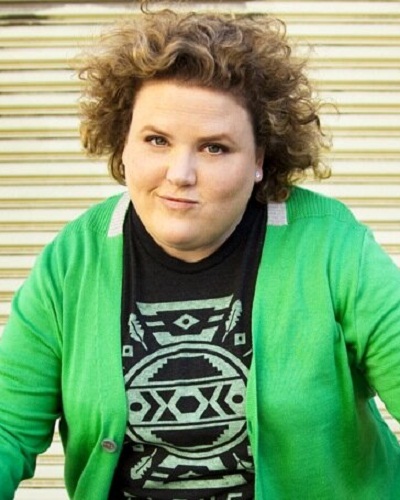 Love is in the air. Everyone has feelings and emotions regarding the love life.
And Being lesbian or gay is not a big deal, though they have a different choice than us, they also have love feelings.
But some of them hesitate to tell and have not much daring to face the society and some people like Fortune Feimster get open about their sexuality.
---
Famous Comedian Fortune Feimster also happens to be an openly gay personality and a pure, proud one. We aim today to unravel her personal life which is filled with joyous moments with her beautiful lesbian girlfriend.
Let's dig deep into her personal life!!!
Update: Fortune proposed to her partner Smith during a trip to Big Sur, California, and engaged in January 2018. The couple married in a stunning ceremony in Malibu, California October 23rd, 2020.
She shared the qualitative time that she spent with her girlfriend
Fortune Feimster sure is happy with her girlfriend, and that shows in her pictures as well. Without any further delay, let us introduce you to Fortune's girlfriend, Jacquelyn Smith.
Not much is known about her as she is not a celebrity and lacks any form of wiki information. However, being a girlfriend/partner to Fortune has worked for her well but remain with us because a wiki-like bio of Fortune's girlfriend will be on its way; soon!
Not much is known of when the couple met, but Jacquelyn is noticeably a serious person. In an interview back in mid-2016, Jacquelyn revealed that she stalked Fortune on her Instagram when they started dating, where she saw Fortune kissing Sarah Silverman, which was for charity.
Both of them admitted that Jacquelyn was the alpha woman and would also know any if anyone was trying to hit on her actress partner.
"More and more people are coming out of the closet, living openly gay lives and in turn showing friends, family, and neighbors that who they are is really not that different from everybody else."
Moreover, she revealed:
"Even Anderson Cooper started openly waving his rainbow flag! Well, not literally waving it, but you know what I mean!"
She continues:
"The point is, he's gay, and the world now officially knows it! Does it make a difference? Shoot yeah it does! Not only does it encourage other gay people to be proud of who they are,"
Career
She made her TV make a big appearance in 2010 on NBC's "Last Comic Standing" where she made a decisive last stand as a semi-finalist. She has since shown up on "Merriment," "Two Broke Girls," "Obsessive workers," "Inebriated History," "Conan," and had a repeating part on "Mulaney" and "After Lately."
She was likewise thrown in the Tina Fey pilot "Cabot College" for Fox. At the point when this show didn't advance, she collaborated with Fey by and by to make her own particular featuring vehicle called "Family Fortune," which was given a pilot arrange at ABC. It would be the second TV pilot Fortune sold to the system.
At the point when not acting, she can be seen voyaging everywhere throughout the nation doing stand-up or facilitating real occasions, for example, the GLAAD Media Awards.
She's most known for her senseless and rational approach in front of an audience, which has made her a most loved among crowds all around.
She's additionally an ace of improv because of her days as an individual from the prestigious Groundlings Sunday Company in Los Angeles and is collaborating with a group at each show.
Short Bio on  Fortune Feimster
Fortune Feimster is a writer, comedian, and actress. She is known for her role in Fox's made-for-television film Cabot College and as Mary Joe on Fox's Mulaney. More Bio…