Fashion For The Positive Change!! Lupita Nyong'o's 'Fearless' Fashion You Wouldn't Miss To Watch; Check It Out Here
HER LOOKS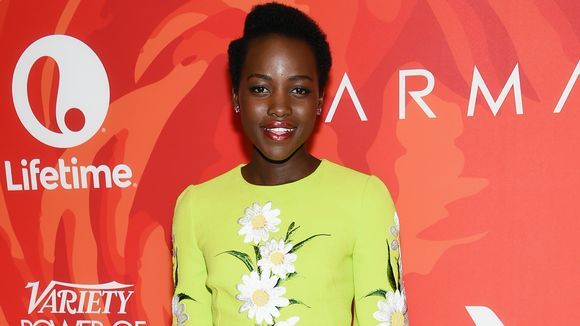 Lupita's hair stylist, Ted Gibson, loves to use striking and simple accessories on her marvelous mane. He heats up a few damp towels in the microwave and places them on her hair and scalp – sharing that this is a sure way to seal in moisture and shine when using oils, keeping Lupita's hair looking luscious.
We love that Lupita keeps it natural and funky, styling her hair in side-partings and giving it texture and volume. Who knew that short hair could be so fabulous?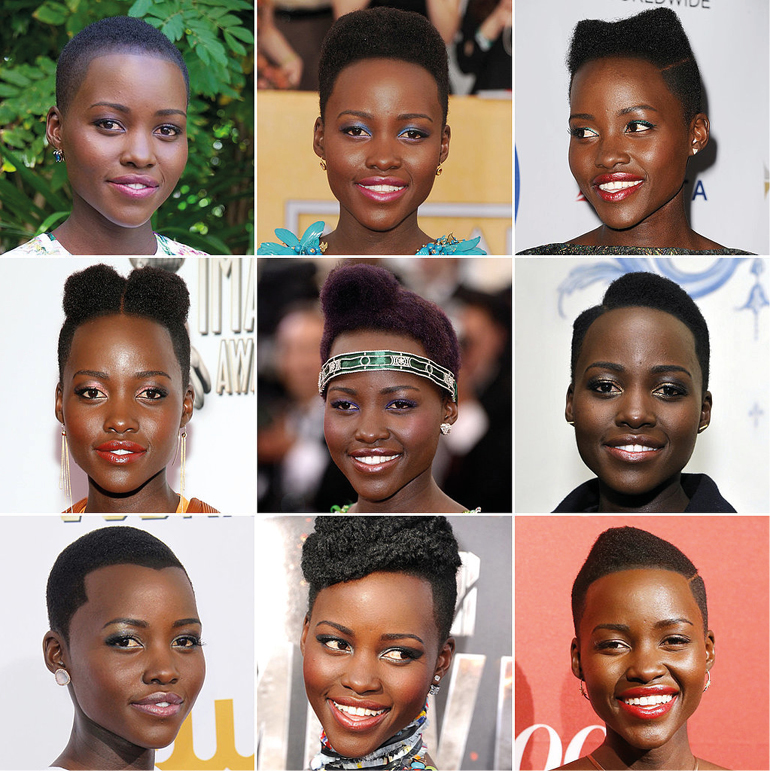 Lupita rocks a bold lip color like no-one else in Hollywood. Purple, red, orchid, orange, bronze, nude, pink or black – she definitely doesn't shy away from bright shades. Her makeup artist, Nick Barose, says that he runs a clear wax lip pencil along the edges of her lips to keep the color in place – without looking as harsh as a colored lip liner pencil. Lupita's lips are usually the star of any outfit, in a stand-out color, while her eyes will take on a more subtle color, matching with her outfit.

Headbands, rings, earrings, bracelets or bags – Lupita does it all. She usually chooses her jewelry keeping her choice of gown or grab in mind which is mostly in softer tones. We adore the way Lupita wears bold earrings with her short hair – and, boy! does this girl have fabulous taste in rings!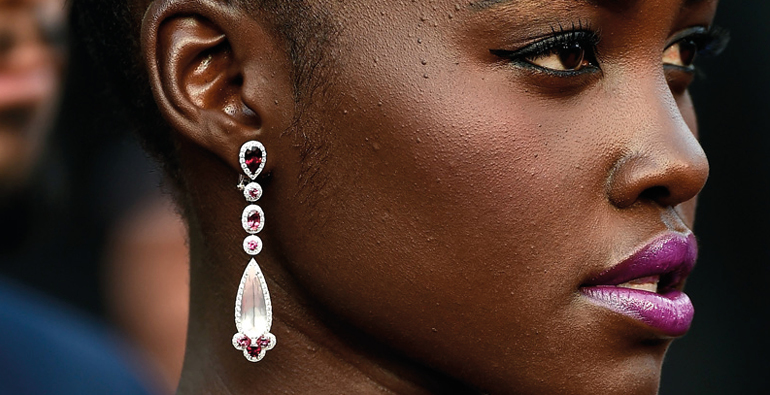 Lupita always has the perfect balance between fearless and feminine when it comes to her nails. She opts for colors that don't compete with her magnificent outfits like light, pearly shades. Every now and then – our girl gives us glam overload by going metallic or magnificent with a vivid color.
You may also like to read First African-American Superhero, Chadwick Boseman hot photo shoot for Rolling Stone. His Reaction when he was signed for Marvel's Black Panthe

First African-American Superhero, Chadwick Boseman hot photo shoot for Rolling Stone. His Reaction when he was signed for Marvel's Black Panthe
We could go on for days about our love affair with Lupita and her love-affair with couture. When every designer in the world is dying to dress you – you're going to look fabulous. Lupita does all this and more by bringing her sensational style to every gown that she wears. Having worn almost every single color of the rainbow, she shines in any shade, saying that she loves clean, classic silhouettes, as well as outfits that make her smile with their sense of humor. We see it, Lupita – and we love it!

Lupita Nyong'o is the "poster child" for positive change:
The 12 Years a Slave star picked up the best- supporting actress Oscar dressed in a powder blue Prada gown at the Academy Awards this year. She has successfully come in the numerous best-dressed lists and celebrity stylist. Some celebs like Jay-Z and Pharrell believes Lupita is an important style role model.
The sources said,
"I think that she's the poster child for better times. In terms of color and being fearless and celebrating loving color, it's really meaningful. Honestly, she could wear anything she wants. She's a straight up-and-down girl. She's model-like. But you can tell that there's an honest connection with everything that she's wearing. It's been a very provocative time. Especially in the world of editorial, where there's this fight, and on the runways, to see more women of color. I like that she's unafraid to be vocal about it. That's what life and style are about. It's a common conversation. To me, it's a conversation we can all have. Fashion breaks down every barrier, in my opinion. We can all talk about fashion."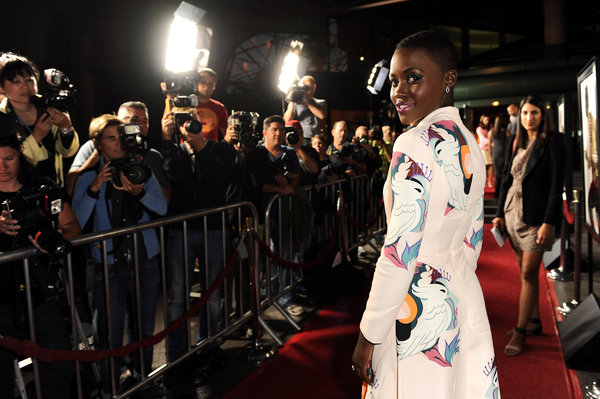 Lupita spotted in designs by Dior Couture and Ralph Lauren, while attending premieres and award ceremonies. The 31-year-old also attended Miu Miu's Fall/Winter 14 presentation at Paris Fashion Week. But all this shoulder-rubbing with the stylish doesn't come naturally to her.
Lupita told,
"I've not always been a huge fashion fan. I've always cared about what I look like, but with 12 Years a Slave and the tour of promotion around the world, I've been able to explore and play. I've learned a lot about presentation, actually. I never knew what the formal fashion industry was up to – it was all a mystery to me. It's all new and an exciting education. I've been introduced to a whole new world where clothing is art."
Also read The Love Life of Lupita Nyong'o, The First African Actress to Win an Oscar, Know more about her career and relationships…
Short bio on Lupita Nyong'o
Lupita Nyong'o is a Mexican-Kenyan actress, born in Mexico to Kenyan parents and raised in Kenya. After her graduation, she had her first feature film role as Patsey in 12 Years a Slave (2013), for which she won the Academy Award for Best Supporting Actress. She became the first Kenyan and first Mexican actress to win an Academy Award. Nyong'o made her Broadway debut as a teenage orphan in Eclipsed (2015), where she received a 'Tony Award' for Best Actress in a Play nomination for her performance. More bio…