Female celebrities who got pregnant after the age of 50!
Brigitte Nielsen is becoming a mom the fifth time around at the age of 54. Brigitte is extremely happy about it and so are we though there is also an element of concern and worry about this later-in-life pregnancy.
Let us see which other celebrity mom had been courageous enough to get pregnant past the age of 50!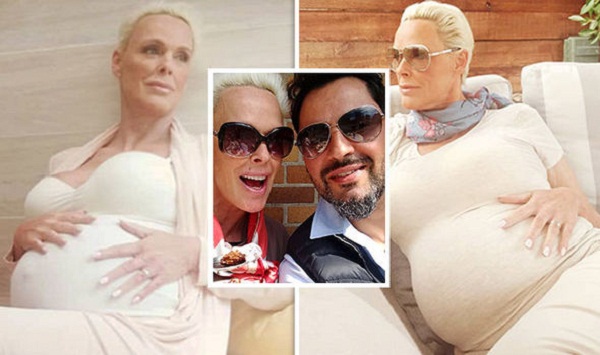 Actress Salma Hayek had a baby when she was in her 40s, but she had stated that it was good for her child since she got a better mother then she would have it had she been born 10 years earlier. She said:
"I'm a more fulfilled human being now, and I probably wouldn't have been 10 years ago. She gets a better mother for being born now."
Janet Jackson-Janet became pregnant when she was 50. In April 2016, Janet announced that she is pregnant with the child of her husband Wissam Al Mana and hence will not be able to make it for her world tour. Her son Eissa was born in January 2017.
Sophie B. Hawkins-She was 31 when she froze 15 of her eggs. She continued to make headlines in her singing career. Her first child son Dashiell was born in 2008.

Source: Listal (Sophie and her kid)

When she was 50, she decided to go ahead with her second pregnancy using the frozen eggs. Her daughter Esther was born in 2015 using these frozen eggs. She told US Weekly at that time:
"Dashiell and I are ecstatic to finally be with our beautiful girl, Our family is now complete!"
Helen Morris-was the fifth wife of Martin Scorsese. She gave birth to a child when she was 52 years. Their daughter Francesca was born in 1999, a few months after she and Martin got married.
Elizabeth Edwards-Elizabeth Edwards was the late wife of the former US Senator John Edwards. Her first child a son with John arrived when she was 48 and she had her second child also a son when she was 50.
Beverly D'Angelo-This actress was just short of 50 when she delivered twins with her then-husband, Al Pacino. The actress now 67 told Closer Weekly:
"I got pregnant at 48, delivered six weeks after I was 49, and by 51 I was looking at a landscape as a single parent,"

Source: Pinterest (Beverly and her family)
Katey Sagal-She could not have a child normally when she was 52. Hence she used her own eggs and had a daughter with her husband Kurt Sutter via surrogacy. Katey told people:
"We went through the whole in vitro fertilization process and our embryos were not really strong, but we thought, 'Let's give it a shot and if it's meant to be, it's meant to be,' And if it wasn't, we weren't going to do it."
Daljinder Kaur-She was not a celebrity when she delivered her child at 72 but did become one after that since she is the oldest woman to date to have given birth to a child.

Source: NDTV (Daljinder Kaur and her husband with their son)

She and her husband had tried for 46 years to have a child without any medical help. She conceived via IVF using donor eggs and a son named Arman was born to her on March 2017. Daljinder is not keeping well since the birth of her child but says she has no regrets about having delivered him.
You may like to read The muscular ladies! Know 5 female celebrities who have taken bodybuilding to new heights!