Finral Roulacase- Black Clover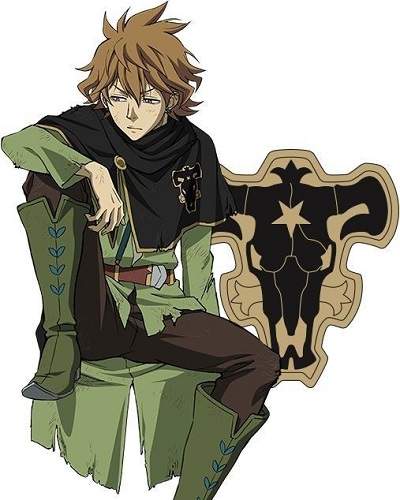 Who is Finral Roulacase?
Finral Roulacase is a fictional character in the Japanese Manga and Anime series, Black Clover. Roulacase is a supporting character of the series popular as the 1st Class Junior Magic Knight of Black Bull Squad.
Also, he happens to be the eldest son of the Noble family, House Vaude. 
Know the Voice Behind Finral Roulacase
– The Japanese voice behind the character happens to be the voice artist, Jun Fukuyama. Fukuyama happens is working as a voice artist since 1998. Also, he had contributed his voice to the characters like 7 Seeds as Arashu Aota, and Demon Slayer: Kimetsu no Yaiba as Yahaba.
– The American voice artist, Brandon McInnis is the voice of Roulacase in the English dubbed version. Currently, McInnis is associated with Funimation Entertainment as a voice artist.
Finral Roulacase- Birth Age, Family Background, & Childhood
Finral Roulacase was born in a Village of Clover Kingdom, Tato as the eldest son of the noble family, House Vaude. His birth date is 6th February. Currently, he is 21 years old.
Despite being born into a noble family, he has quite a rough childhood as his mother passed away just after one year of his birth. After the demise of his mother, his father, Ledior Vaude remarried Liliane Vaude. From the marriage, he has a half-brother named Langris Vaude. Currently, Langris happens to be 1st Class Senior Magic Knight and former vice-captain of Golden Dawn Squad.
When growing up with his step-brother, Langris always overshadowed him via his magical talent. Furthermore, he felt his spatial magic is useless. Due to this reason, he always felt outcasted from his family.
Finral Roulacase's Love Interest
Finral is deeply in love with the lady, Finesse Calmreich. Lady, Finesse happens to be a member of the royal family, House Kira. From the beginning, Finesse was betrothed as the next head of the House Vaude.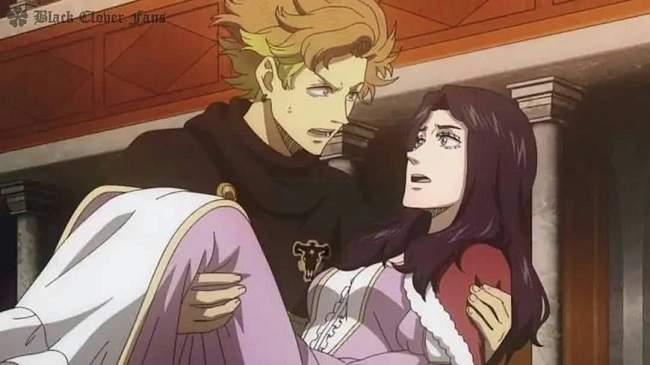 As Finesse is promised to marry the next head of the House Vaude. Finral has always wanted to be the head of his house. However, his effort has never been acknowledged in front of the magical powers and ability of his little brother, Langris who also became the vice-captain of the Golden Dawn.
To prove his skills and worth to his family, he joined the Black Bull Squad as a Magic Knight. Despite his immense love for Finesse, he is easily distracted by the women. This nature makes him a flirt by a nature.
| | |
| --- | --- |
| Birthday | 6th February |
| Age | 21 |
| Birth Place | Tato |
| Horoscope | Aquarius |
| Height/ How Tall | 5 feet and 8 inches (1.73) |
| Hair Color | Light Brown |
| Eye Color | Purple |
| Physical Strength | 3/5 |
| Magic Amount, Magic Sensing, Magic Control | 3/5, 4/5, 4/5 |
Finral Roulacase- Magical Tools, Spells, Powers & Abilities
Tools
– Grimoire- Final holds a three-leaf grimoire that possesses the space-based spells that he uses during the combat.
 Magical Powers
– Spatial Magic- He possesses Spatial Magic that allows him to manipulate space only. However, one of the limitations of his magic is that he has to see the space before manipulating the space.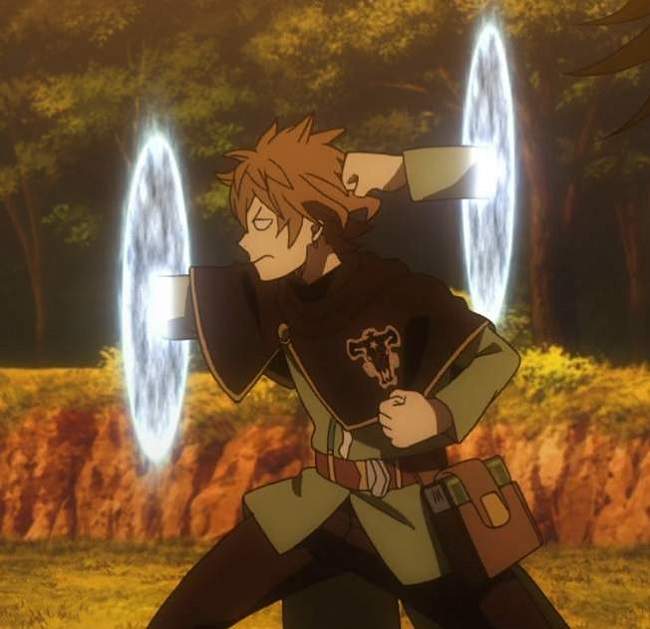 Usually, he offensively uses his magic along with Magna Swing's fire magic.
– Reinforcement Magic- Using this magic, he can reinforce his physical abilities.
Body Measurements: Height & Weight
He has purple eyes with light brown hair. However, we can see that he highlights his hair with green color.
He stands at a height of 5 feet and 8 inches and has a decent weight. Despite being a noble, he is usually dressed casually unlike his brother and Novelle Silvia. He wears a green top below it he wears a white undershirt. Also, he wears a dark pair of trousers and knee-high boots in green color.
Besides that, he puts his squad's robe on his shoulder like the rest of the squad members.
Finral Roulacase's Quotes
I don't have to become the strongest. I'll make the Black Bulls the strongest squad!!
Also, read the fantastic facts about the black clover's kingdom characters like Yami Sukehiro, Asta, Fuegoleon Vermillion.