Favorite foods of celebs on their cheat day! What's your favorite cheat meal?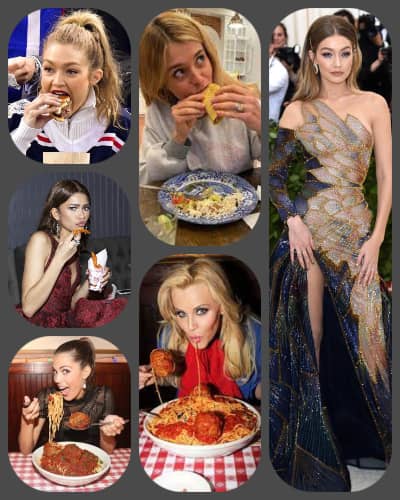 Not always we want to eat healthily! After a strict diet and work-out, you want to treat yourself once in a while. Some days we all want to kiss our diet goodbye and eat whatever our heart desires. And it also goes to celebrities. From supermodels to movie stars, all kinds of celebrities enjoy cheat days on a routine basis.
These are some celebs who reveal what they eat on their cheat days.
1)Katy Perry
Katy's favorite food is dedicated to the burger. When she stuck to a very strict meal plan but she still made time for a burger.
Perry told, "On Sundays, I get to have a cheat day where I go buck wild and eat In-N-Out Burger."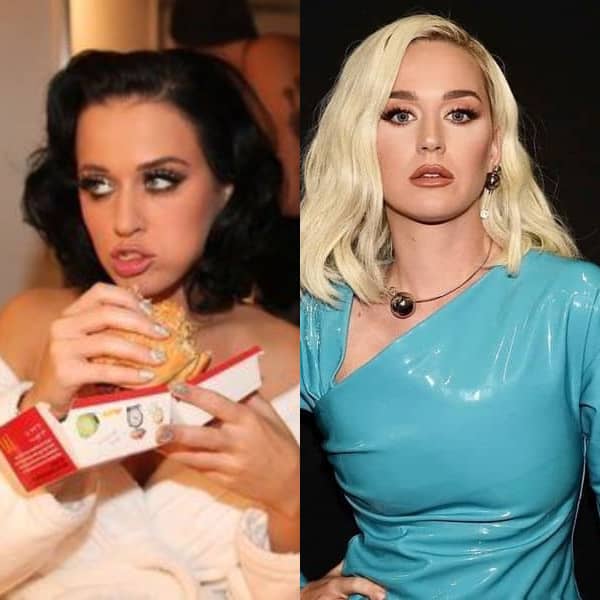 2)Rihanna
Riri loves snack food has been capture on Snapchat, nobody knows her favorite cheat day meal is essential snakes, including regular Cheetos, hot Cheetos, Golden Grahams cereal, Oreos, Cup of Noodles, red and white wine, vodka, soda, Frappuccinos, and garlic olives.
Rihanna said,
"I just like to be prepared, You never know what mood you're going to be in that day."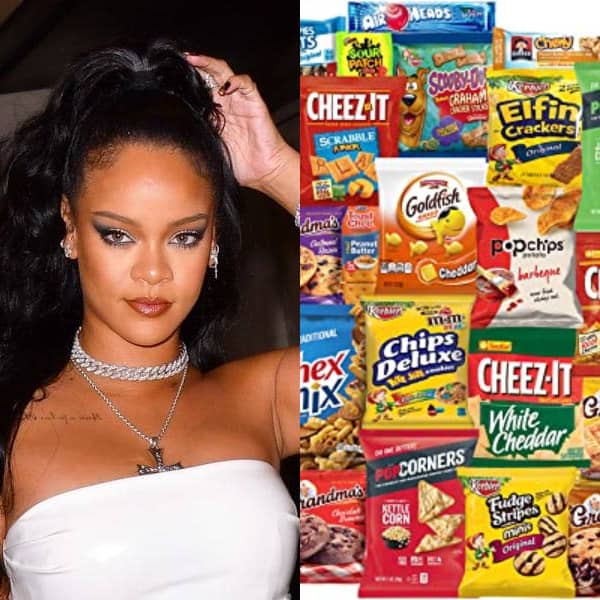 3)Jennifer Aniston
Aniston's cheat days include her handsome hubby Justin Theroux hand made pasta. Her cheat day food either be Mexican food or Italian pasta.
She told,
"My husband makes the best pasta Carbonara and we eat it once a week. I can't get enough of it."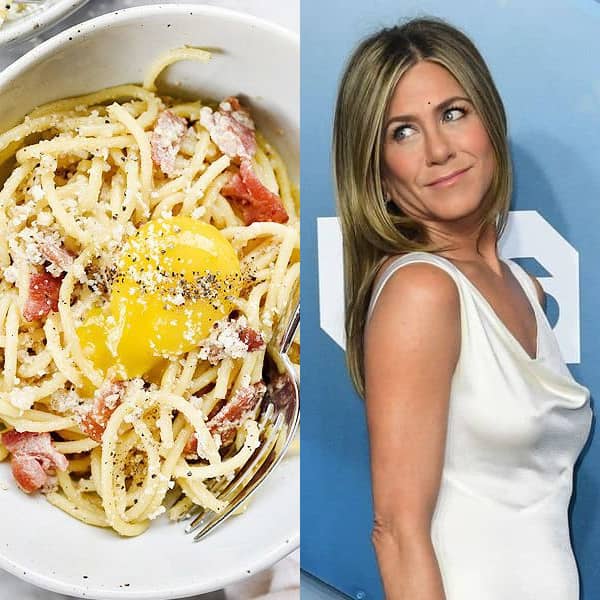 4)Jessica Biel
Beil has a cheat day once a week at least. Her favorite cheat day food is fast food including donuts and pizza.
She said,
"I saw a Dunkin Donuts, I said 'pull the car over. Pullover right now.' We pulled over and ran in. I got 24 donuts. We went to a pizza joint, and we got two giant, large pizzas and I sat in the car and I put as much bread and dough in my mouth as I could possibly manage. It was the best moment."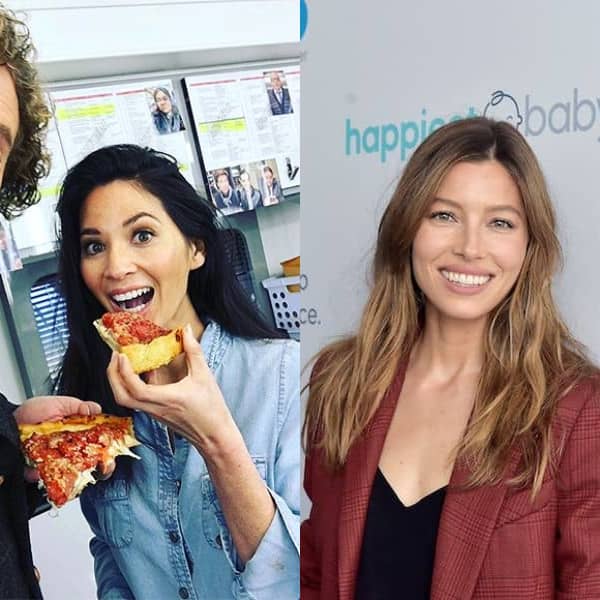 5)Selena Gomez
Selena's favorite cheat day treat is "pickles, hot Cheetos, and chocolates." But her trainer has made a dent in Gomez's cheat food habit.
She added,
"I used to have chicken pot pie, My trainer won't let me eat [junk] but I can still have my pot pies. Just not every day."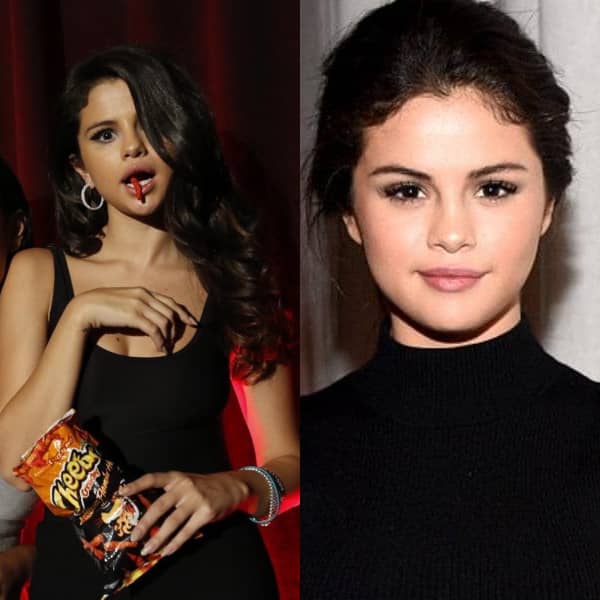 6)Kate Hudson
Kate cheat day meal involves lots of foods,
"Sugarfish sushi, which would turn into Tates gluten-free chocolate chip cookies, which would then be accompanied by a so-delicious ice cream bar with a chocolate and dairy-free coconut ice cream,"
She added,
"But my favorite, favorite, favorite would be frozen yogurt. I usually like a coconut fro-yo with some kind of chocolate situation and anything with cinnamon, or graham cracker-y, or oatmeal cookie type vibe."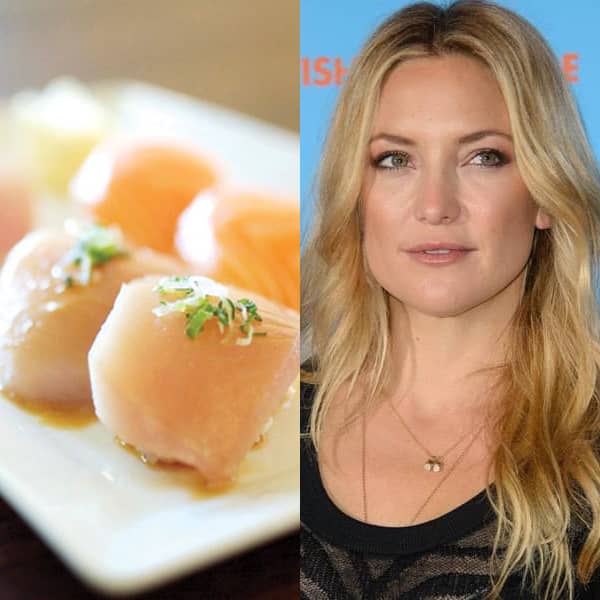 You may also like to read Did you know where these celebrities have moles on their body??
7)Chris Pratt
Even superheroes need their cheat days so, Pratt also goes for it. Pratty told,
"I give myself a three-hour window and just do as much damage as I can,"
And he added with,
"Usually it'll be something really sweet and carby: pancakes, pizza, cheese—because I try to stay away from dairy—ice cream Drumsticks, fried chicken, all the good comfort food. And, of course, whiskey and wine and beer and vodka."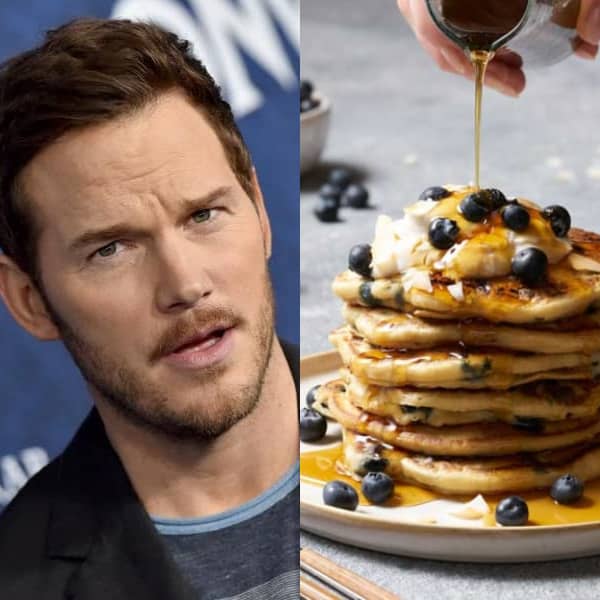 8)Jennifer Lawrence
Jennifer's favorite food is pizza. She once writes about herself 'Look How Much Pizza Jennifer Lawrence Ordered'.
She explained,
"Chili Pizza Sandwich, You have a piece of pizza, you put chili in it with noodles, like southern chili with noodles, and then another piece of pizza, and when you eat it like a sandwich."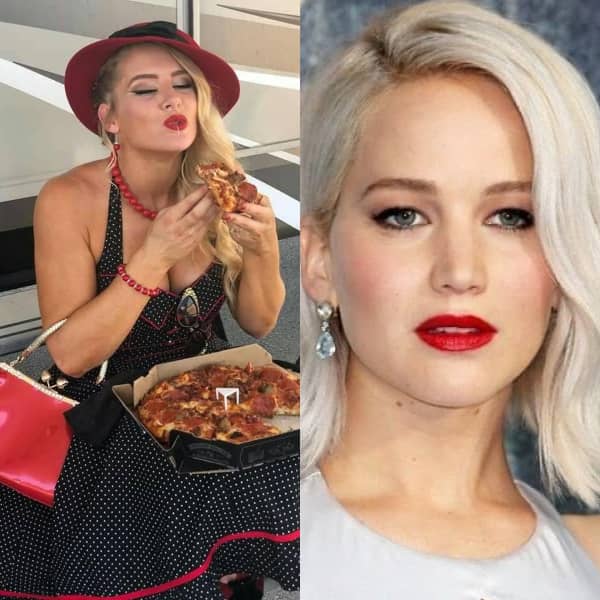 9)Chrissy Teigen
Chrissy once tweeted,
"I feel like even potato chips can be considered clean." Her Instagram post include'Shake Shack, Taco Bell, a visionary combination of Cap'n Crunch and Fruity Pebbles, McDonald's, pizza, and cinnamon rolls'
She admits,
"When I cook, everything is organic and very clean; I'm meticulous and kind of insane about it. But sometimes you just want a Doritos Locos Taco."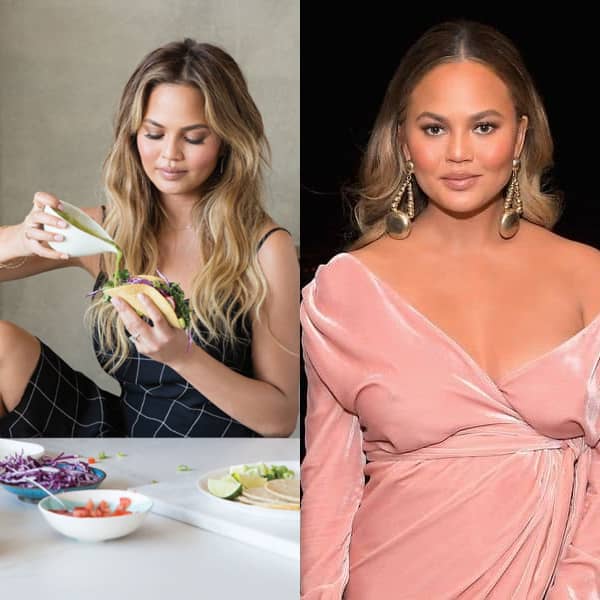 10)Gigi Hadid
Supermodels also have cheat meals. Gigi's favorite cheat meal is a burger. Her eating motto is
"Eat clean to stay fit, eat a burger to stay sane."
Gigi even claims to have found the best burger in New York, which she said is from J.G. Melon. She explained She goes for the classic cheeseburger but holds the tomatoes.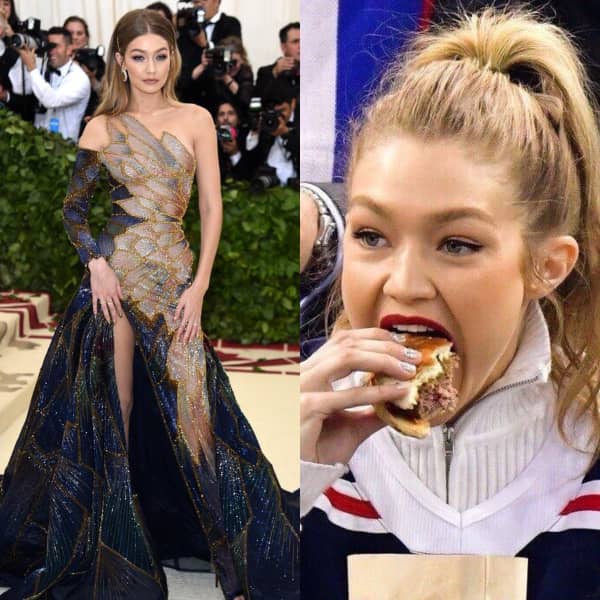 You may also like to read 20 Celebrity Gender Swap FaceApp Photos you would have Crushed on (or maybe not)!.