R.I.P. The Former First Lady of the US, Barbara Bush dies at the age of 92. Her husband, 43rd President of the US, George H.W. Bush was by her side till the end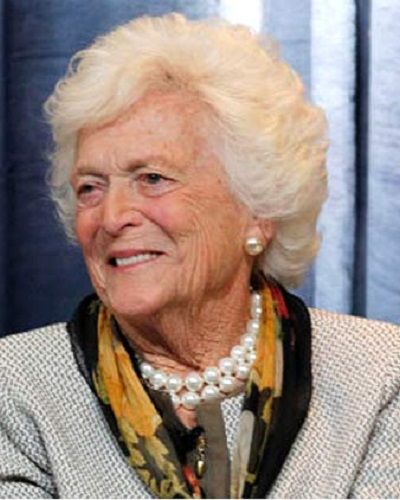 R.I.P. the former first lady of America, Barbara Bush. She passed on 17th April 2018, Tuesday at the age of 92. She was the wife of the 41st President, George H. W. Bush, and mother of the 43rd President, George W. Bush. She was one strong lady whose priority was her family. For her family meant her world.
The reason for her death is not a specific health problem but her body was declining and was not responding to the medical treatment. Her death was announced by her husband George's office stating,
"A former First Lady of the United States of America and relentless proponent of family literacy, Barbara Pierce Bush passed away Tuesday, April 17, 2018, at the age of 92."
Barbara's husband, H.W. Bush was by her side till the end. The couple fell in love with each other and got married and as they took vows, they supported each other till the end. Sources said that he held her hand whole time on the day of her death,
"He held her hand all day today and was at her side when [she] left this good earth."
After the death, he was left shattered and heartbroken.
You may like to read Ninety-two-year-old Barbara Bush decides for only comfort care! Know why she chose no further medical interventions!
Barbara and George's love story
The couple met for the first time during the time of Christmas at Christmas dance party. She was 17 and he was 18. Barbara said,
"I married the first man I ever kissed. When I tell this to my children, they just about throw up."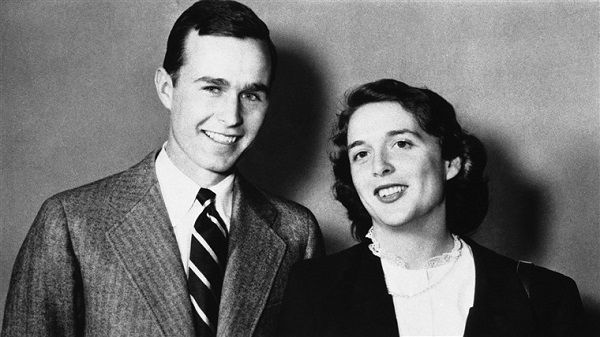 Source: today.com(George H. W. Bush and Barbara Bush)
Some historians and journalists found out the bits and pieces of the love story of Barbara and George. They tweeted that on Dec. 12, 1943, he sent his to-be-wife, Barbara Pierce a letter. Bush was posted as a U.S. Navy pilot during the time of second world war. His letter goes like this,
"My darling Bar,

I love you, precious, with all my heart and to know that you love me means my life. How often I have thought about the immeasurable joy that will be ours someday. How lucky our children will be to have a mother like you.

This may sound melodramamtic, but if it does it is only my inadequacy to say what I mean. Bar, you have made my life full of everything I could ever dream of — my complete happiness should be a token of my love for you."
Navy pilot George H.W. Bush writes to his fiancee Barbara Pierce, December 1943: pic.twitter.com/p3gltpaMAq

— Michael Beschloss (@BeschlossDC) April 18, 2018
The couple then tied the knot on Jan. 6, 1945. The couple was blessed with six children: George W. Bush, Jeb Bush, Dorothy Bush Koch, Neil Bush, Robin Bush, Marvin Bush.
Their son, George W. Bush became the 43rd President of the United States on 2nd January 2001. When asked about his mom, he says she is a,
"a fabulous First Lady and a woman unlike any other."
Also read Google Glitch! The latest victim to have died online is Utah Senator Orrin Hatch!