Former professional wrestler Ric Flair gets a surprise birthday party from his wife Wendy Barlow!
Ric Flair gets an early surprise birthday party on his 70th birthday!
Ric Flair and the surprise birthday party
WWE wrestling pro Ric Flair was taken by surprise this Friday! He walked into the 1818 club thinking that it would be a quiet dinner with his wife, Wendy Barlow! But he soon realized that it was not so! He was taken aback and tears rolled down his cheeks when he came to know that his family and friends had thrown a surprise birthday party for his 70th birthday on Monday 25 February 2019.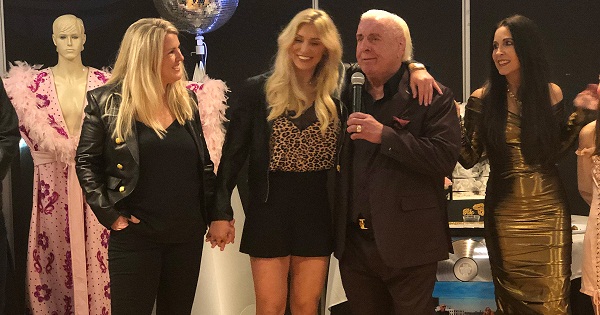 There were 160 guests in toto. Los Angeles Rams player Todd Gurley, former NBA player Charles Barkley and Dennis Rodman, Evander Holyfield, and Brad Nessler attended the event. Wrestling legends such as Ricky "The Dragon" Steamboat, Triple H, Shane McMahon, Chris Jericho, Booker T, Michael Hayes, The Nasty Boys, A.J. Styles, and Jeff Hardy were also present.
Ric's daughter WWE superstar Charlotte Flair and her new boyfriend wrestler Andrade Almas also wrote in the family list.
The great birthday party
The party was in Atlanta and Ric said:
"I can't even begin to tell you what it means to see everybody here tonight,"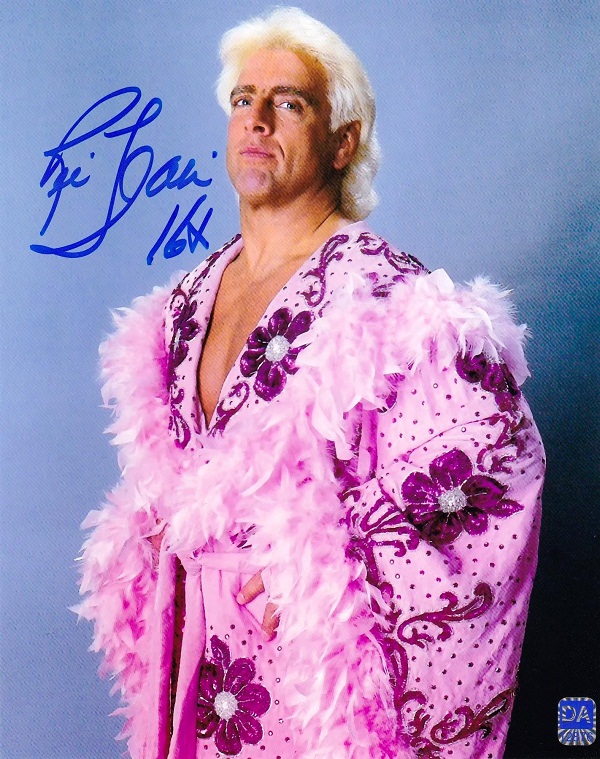 He continued:
"To end up with so many friends at this age. … I'm supposed to be long gone. I remember being out with Angelo Mosca, a Canadian wrestler, one night when I was younger and he told me, 'If you live to be 30, you'll be overstaying your welcome.' True story and here I am."
He told PEOPLE:
"I am so overwhelmed by this whole night. Every one of my peers and my friend are all here to celebrate me. What I mean come on, I am so lucky. I am just so lucky and I am looking around the room in just complete awe Also, I never thought I would live to see this day. I am overcome with emotion."
At the party, he asked Todd whether his knee was okay. Todd answered:
"Yes sir, I'm doing great."
Wendy Barlow 's gift to Ric Flair
Ric Flair married Wendy, 51 last September. She presented Ric with a custom-made pink robe similar to what he used to wear during his career. The local bakery baked a huge cake in a wrestling – ring shape and it had WWE Championship belt on it. The decorators had done the flower arrangement in the form spelling his famous "Woooo!" phrase.
Ric Flair and his uniqueness
Ric Flair has influenced the wrestling field greatly. The various college team of today still remember and mimic his famous "Wooooo!". They also recite his popular Rolex-wearing promo in the locker room.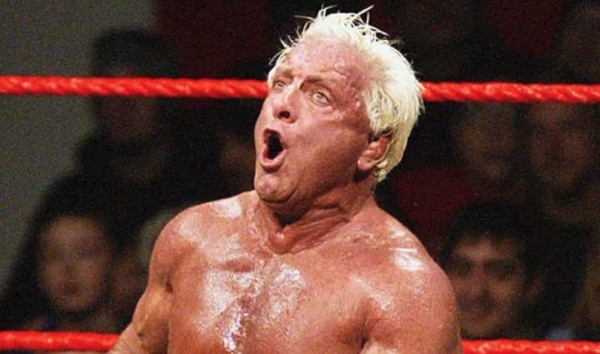 Besides wrestling, Ric also loves football game and one find him on the sidelines during the game when he talks to the team members. Ric once said:
"I love the Rams. Todd is such a good guy and a good friend."
WWE announced that they will celebrate his birthday on Monday. Their official statement read:
"WWE will celebrate the 70th birthday of iconic two-time WWE Hall of Famer Ric Flair on the February 25 edition of Monday Night Raw."
So really "Woooo!"
Source: latimes, People.com