Fox News Anchor Anna Kooiman is finally getting her Happily Ever After with her Prince Charming!! Yes! She is Married to her long term Boyfriend Tim Stuckey!!!
Anna Kooiman is a former American news anchor and now she is married! The hot news anchor broke the heart of her male fans by getting married to an Australian hunk, Tim Stuckey.
Marriage of Anna Kooiman
Anna Kooiman got married to her boyfriend, Tim Stuckey, in the end of July of 2015 in the Central Park, and her excitement was visible in her announcement on her Twitter.
I'm a married woman! #Kismet pic.twitter.com/cY8jM8a6Tz

— Anna Kooiman (@annakooiman) August 1, 2015
The Hot news anchor for Fox, Anna Kooiman married her long-time lover Tim Stuckey on 31 July 2015. Fox news reporter for New York City tied the knot with her longtime lover only after four months of their engagement.
The blonde beauty is a successful reporter for Fox news network who was born on 7th Feb 1984 in North Carolina and grew around in Charlotte. The 32 years old hot reporter of Fox news joined the news network in 2011. She is a regular host of "Fox and Friends weekend" and segments of Fox News Extra.
Tim and Anna were in long distance relationship for several years and on 8th of February 2015, Anna had tweeted about the big question asked by Tim in a very romantic and exciting way. Tim made his proposal while watching the sunrise over the Sydney Harbor and she said Yes.
We're engaged! My favorite person on the planet popped the question watching the sunrise over the Sydney Harbor! Yay! pic.twitter.com/GZayqXiR8s
— Anna Kooiman (@annakooiman) February 7, 2015
The couple got married after four months of their engagement on 31 July 2015 in central park New York city and the celebration was witnessed by friends and family. Their wedding images were shared on Fox Channel live on shot of the morning edition of that day as well.
The husband and wife seem to be happily married and totally in love with each other. They are seen attending events together and by far they look completely into each other.
Their marriage function was held in Manhattan's Central Park Loeb Boathouse.  After leaving Fox News in September 2016, Anna moved to Sydney, Australia with her husband, who is originally from Australia.
There is no any record of her children till now. They are still together and there is no sign of divorce at all. There are no other records of her past and present relationships.
I'm getting married! Thx @foxandfriends @ffweekend for the lovely 'Shot of the Morning!' It made us feel so special!https://t.co/hdOyq9mfso

— Anna Kooiman (@annakooiman) February 9, 2015
You may like to read Ashley Tisdale announces her pregnancy with her husband Christopher French!
The Engagement Announcement
In her first promo of her "Wedding Workout! How to Slim Down for the Big Day" racy couples fitness segment, Anna had done jumping jacks with her white veil and faux marital garb to the tune of Billy Idol's "White Wedding": F&F co-host Brian Kilmeade teased her off the camera,
"I think one is getting married: I think they're all getting married, including Kooiman."
Later, when F&F co-anchor Alisyn Camerota introduced F&F's "Wedding Workout!" segment in the second hour, Anna appeared on camera smiling in her ivory dress and doing jumping jacks new–but this time she has a suggestive ebony blindfold over her eyes.
Pulling it up momentarily, Anna said,
"A couple that works out together stays together. And, that's the idea behind…a brand new wedding season class at New York Sports Club."
Turning to her blindfolded partner dressed all in black, she said,
"This is my hubby….As if her real man were watching, she reassuringly declared, "He's my stand-in hubby, just for the day!"
she proudly announced that she is engaged and happily displayed her new engagement ring.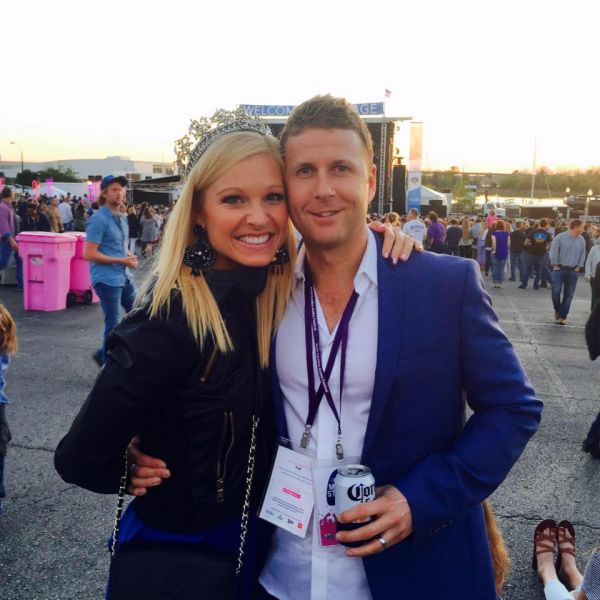 This year, Anna followed with another version of the annual spring "white wedding" exercise segment: Today, it looked as if Anna may have her own marital band in full view.
Anna's foot might have nt fitted into Cinderella's glass slipper two days ago: But, she appears to have her real Prince at the ready.
Update on Anna Kooiman
Anna was pregnant with her first child with Tim. In 2018, Anna and Tim became the parents of their baby boy, Jeremy Stuckey.
Also read Enrique Iglesias welcomed baby girl with wife Anna Kournikova!
Short Bio on Anna  Kooiman

:

Award-winning anchor Anna Kooiman was born on February 7, 1984, (age 32) in North Carolina. She graduated from the University of North Carolina at Wilmington in 2005. Before her graduation, in 2004, she was already a sideline reporter for Fox News. Later in 2007, she moved to Ohio and joined the NBC-affiliated WNWO and served as Anchor and reporter. After about a year, she began to work as an Anchor/Reporter/Host for Fox News Rising. Currently, works for Fox News Channel. She serves as a general assignment news reporter and co-hosts "Fox & Friends Weekend". – See more at…