The frowning face cat Grumpy Cat is dead at age of 7!
She had a persistent and perennial grumpy face. Her sourpuss demeanor would make people laugh. She was the American cat named Grumpy Cat and she had her own social media account. She had died at age 7.
Grumpy Cat dead at age 7
The internet celebrity Grumpy Cat who had her own Facebook and Instagram page died on this Tuesday 14 May 2019 peacefully. She was aged 7. Her owner Tabatha Bundesen posted on social media on Friday 17 May 2019 that their favorite pet cat was no more. Grumpy Cat's owners wrote that the cat had developed complications due to urinary tract infection and passed away peacefully 'in the arms of her mother'.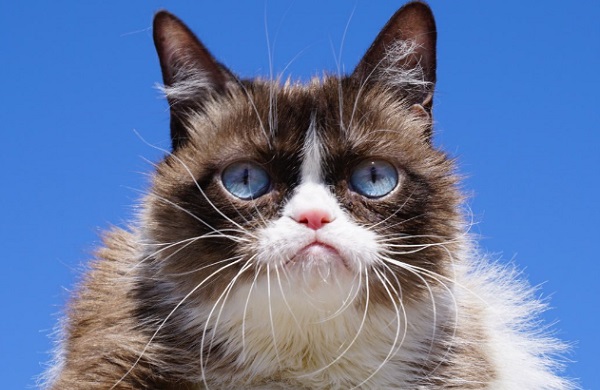 The statement on the feline Facebook page TheOfficialGrumpyCat read:
"We are unimaginably heartbroken to announce the loss of our beloved Grumpy Cat. Despite care from top professionals, as well as from her very loving family, Grumpy encountered complications from a recent urinary tract infection that unfortunately became too tough for her to overcome. She passed away peacefully on the morning of Tuesday May 14 at home in the arms of her mommy, Tabatha. Besides being our baby and a cherished member of our family, Grumpy Cat has helped millions of people smile all around the world-even when times were tough. Her spirit will continue to live on through her fans everywhere-Grumpy's family-Tabatha, Bryan, and Chyrstal."
About Grumpy Cat
Grumpy Cat was the name given to the pet cat owned by Tabatha Bundesen and her family. Her real name was Tardar Sauce. But she was named Grumpy Cat due to her persistent sourpuss facial expression. She was born on 4 April 2012 in Morristown in Arizona in the USA. She became an internet sensation when Tabatha's brother, Bryan posted pictures of Grumpy online on Reddit in the year 2012. The cat had her own social media accounts-Twitter, Instagram, and Facebook which her owners used to manage.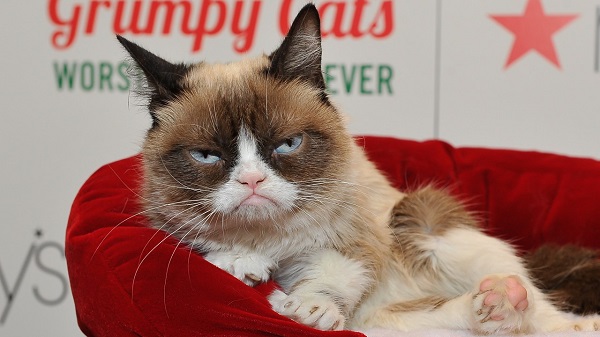 On her Instagram, Grumpy Cat had more than 2.4 million followers. On her Twitter, she had over 1.5 million fans. She also had followers on her Facebook and had more than 8.53 million likes on it. She also had her own website. Her look made people laugh and smile.
The cause of her frowning face was due to the fact that she had a form of dwarfism, as her website states. Her owners had founded a foundation in her name which was called Grumpy Cat Limited. The cat also made several appearances on TV and also was part of some commercials. She had books written on her and movies made on her. She had received the Meme of the Year Award in 2013 from Webby Awards.
About Tabatha Bundesen
Tabatha was working as a waitress at a local restaurant. After making Grumpy Cat an online celebrity, Tabatha quit her job in 2013 and started managing her career full-time. The family has raked in millions of dollars through Grumpy Cat. The Grumpy Cat Limited had sued US coffee firm Grenade for exceeding an agreement related to Tardar's image. They got $ 700k as compensation for it. The owners had given permission to the company to use the cat's photo only for its Grumppiccino iced drink but they used it for their other products as well.
Also, read Meet Lionel the 3-year-old hedgehog from Charleston who has become an Instagram star!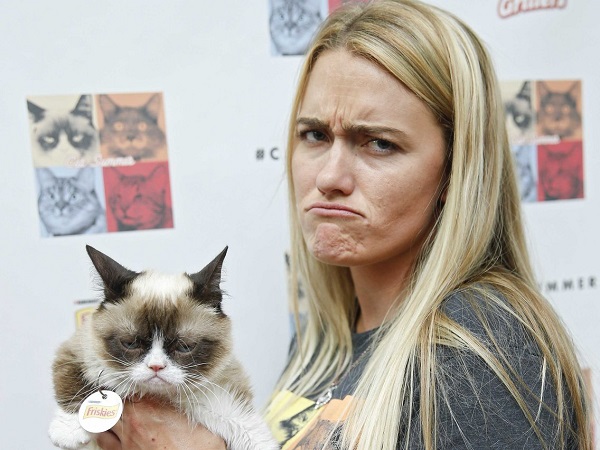 Tabatha was born on 8 July 1985 in Arizona. She has two siblings and they all loved their wonderful cat.
Source; The Sun, Wikipedia, Hollywood reporter