Fuegoleon Vermillion- Black Clover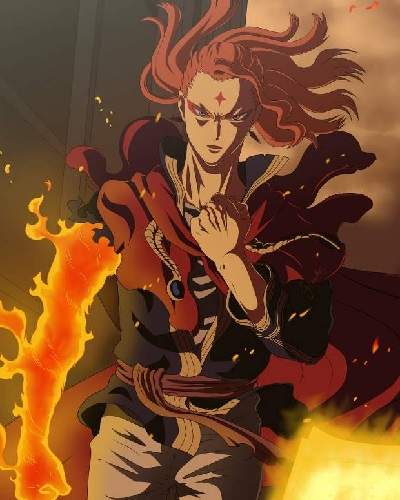 Who is Fuegoleon Vermillion?
Fuegoleon Vermillion is one of the fictional characters of the Japanese Manga and Anime series, Black Clover. Vermillion happens to be one of the strongest Mage of the Cover Kingdom.
He happens to be the first son of House Vermillion (Royal Family of Kingdom). He is popular as Captain of Crimson Lion Squad of Magic Knights.
Know the Voice Behind Fuegoleon Vermillion
– The Japanese Voice behind the character happens to be Katsuyuki Konishi. Currently, the voice artist is affiliated with Ken Production. He is popular for providing a voice to the character, Tengen Uzui in Demon Slayer Corps.
– The American Voice actor, J. Michael Tatum is the English voice behind Fuegoleon. Also, he is an ADR Director and Scriptwriter associated with Funimation.
Fuegoleon Vermillion- Birth, Background & Childhood
Fuegoleon Vermillion was born in the Royal family of the Clover Kingdom in House Vermillion. He happens to be the first son of his parents. His birth date is 5th August and currently, he is 30 years old.
He has two siblings including an elder sister, Mereoleona Vermillion, and a younger brother, Leopold Vermillion.
Born in a noble house, he had a luxurious childhood under the strict supervision of the sister Theresa Rapusal. Theresa herself is is a former member of the Crimson Lion Squad of the Magic Knight. Also, she happens to be Vermillion's magic instructor.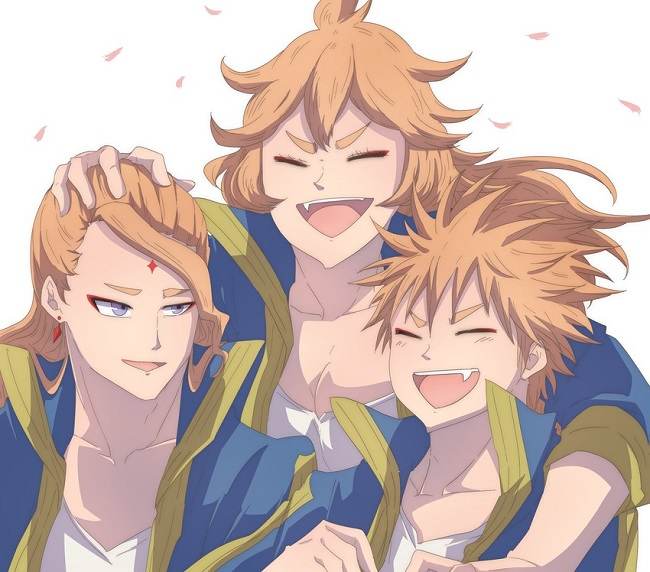 As a child, he was so competitive in nature. Hence, he was always in a race to prove his superiority to his sister. Hence, the two siblings often fight with each other. Once their fight led to the complete destruction of one part of Vermillion's Mansion.
Since his childhood, he formed a deep-rooted rivalry with a fellow magic knight, Nozel Silva. However, their rivalry is limited to competition only.
Fuegoleon Vermillion's Love Interest
In the series, Fuegoleon is portrayed as a man of honor who is dedicated to his duty as a Magic Knight and Captain of Crimson Lion.
During his fight with Eye of Midnight Summer, he fought with his life to defend the Kingdom. Due to this reason, he was almost dead. After that, the squad was led by his elder sister, Mereoleona. Currently, he is single.
| | |
| --- | --- |
| Birthdate | 5th August |
|  Birthplace | Royal Kingdom |
| Age | 30 |
| Zodiac Sign | Leo |
| Height/ How Tall | 1.88m (6 feet and 2 inches) |
|  Hair Color | Vermilion |
| Eye Color | Purple |
| Physical Strength | 4/5 |
| Magic Amount, Magic Sensing, Magic Sensing | 5/5, 5/5, 4/5 |
Family Line of Fuegoleon
Fuegoleon's father and father of Mimosa Vermillion are brothers. That makes Mimosa and Kirsch cousins to him.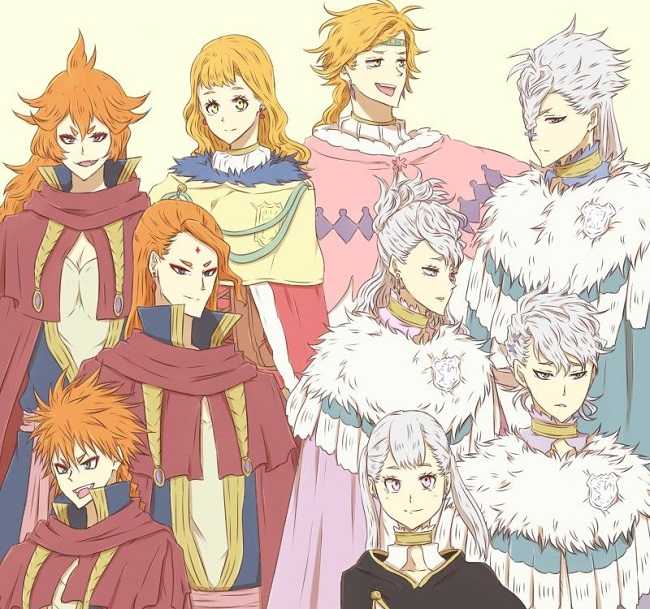 Besides that, he has also a distant relation with the House of Silvia as Mimosa happens to the cousin of Noelle, Nozel, and Nebra Silvia. However, the House of Vermillion has a competitive relationship with the House of Silvia as both of them happen to the noble family of the Kingdom.
Know the Magical Power, Tools & Abilities of Fuegoleon
Magical Tools
– Grimoire- The Captain of the Crimson Lion holds the three-leaf clover grimoire. Through the grimoire, he is able to manipulate the element of fire.
Magical Power
– Fire Magic- The grimoire gives him the ability to generate and manipulate the element of fire. Also, he happens to the master of fire magic. He often uses his magic in an offensive fighting manner.
– Creation Magic- He uses creation magic to shape objects and entities from fire.
– Sprit Magic- He happens to one of the few characters in the manga who is able to summon a spirit. The magic allows him to summon Salamander that is his fire spirit.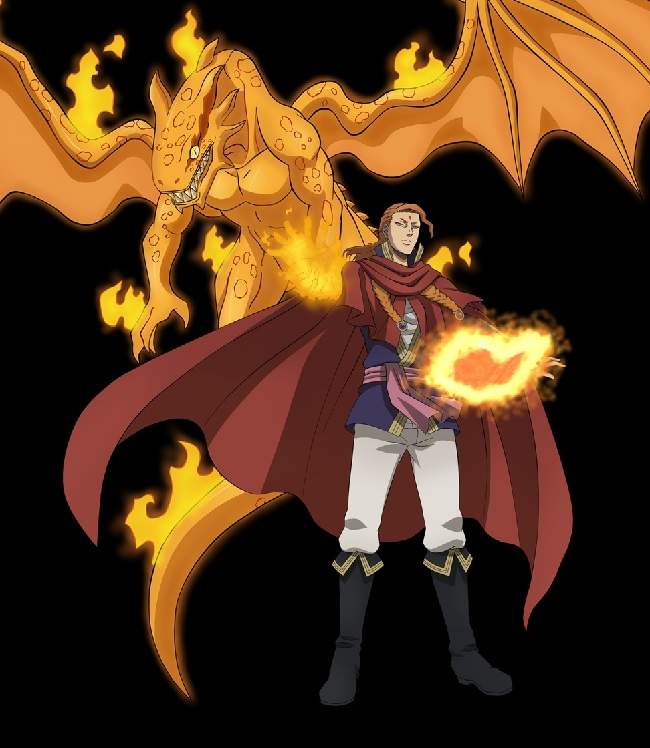 Abilities
He happens to be captain of Magic Knight Squad. As a magic knight squad, he possesses an immense amount of mana. Using his mana, he is able to create intense pressure around his surrounding.
Besides that, he has a great physical strength that enables him to defeat an Apostle of Sephirah by just a punch.
Body Measurements: Height & Weight
He has purple eyes with Vermilion hair. Also, he happens to be the tallest character of the series with a height of 6 feet and 2 inches and has a decent weight.
He combs his hair with a long fringe on his face. Also, he has a diamond-shaped symbol on his forehead which indicates to be the next Magic Emperor.
He wears a white shirt with a purple sash and white trousers. Also, he puts on a pair of long black boots.
Notable Quotes
Being weak is nothing to be ashamed of… Staying weak is!!
Also, read the fantastic facts about Black Clover characters; Yami Sukehiro, Charlotte Roselei, and Vanessa Enoteca.