Full life enjoyment at 82! Basketball coach Denny Crum celebrates his birthday with zest!
Denny Crum, the former men's college basketball coach at the University of Louisville turned 82 on this 2 March 2019. But that does not put him off from enjoying his life to the fullest!
Denny Crum and his 82nd birthday
Denny Crum turned 82 this weekend on 2 March 2019. He celebrated it with zest and said with a laugh:
"I can remember when I thought 30 was old,"
Denny is still his old self despite his advanced age. He has four family dogs which greet you once you enter his home. He still continues to wear his 1994 Naismith Basketball Hall of Fame ring on his finger.
His living room has hi hunting collection which he is brought of. It includes 4 deer heads and a bear. The downstairs area of his house has fish. One wonders whether these are the only trophies he has kept in his house. But no, Denny states that downstairs there are his basketball awards. Denny said:
"Some of the basketball memorabilia is downstairs,"
There are the Naismith Basketball Hall of Fame plaque, fan art, autographs, pictures with his former players and more. There are also pictures with his once-rival and former University of Kentucky coach Joe B Hall. They can be seen happily sharing a tub of popcorn.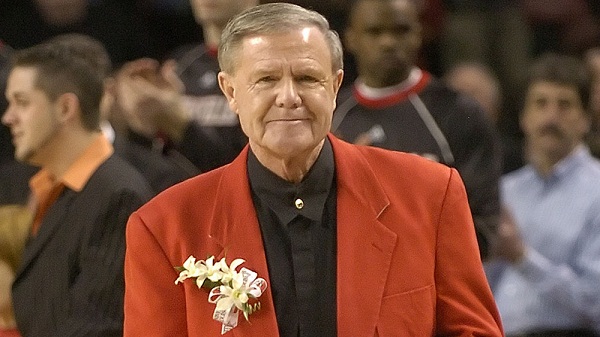 Denny recalls smilingly:
"I bought the popcorn, and Joe helped me eat it,"
Denny also loves poker play and there is a table downstairs for it. He told the reporter with a wink:
"If you don't know how to play, you shouldn't play against me,"
Denny Crum and his health status
Denny has not slowed down even though he is now 82. He has some allergies and a mild stroke which he suffered in 2017. Rest of it is all normal. Talking about his activities, Denny said:
"(My wife Susan) and I go to the Final Four every year. I'll be going fishing out in Idaho and Alaska and that's all coming up here in the spring."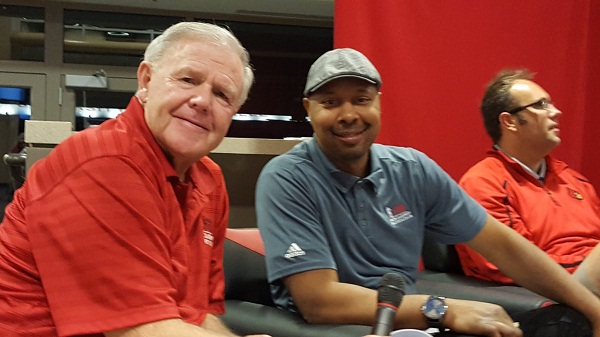 He and his wife Susan Sweeney also host the annual celebrity dinner party which would benefit the Cystic Fibrosis Foundation. This year was the 51st party and was held at the Omni Louisville Hotel. The guests were charged $ 212 per head and encouraged to wear Hollywood-inspired attire. There was a cocktail reception in the evening followed by dinner, auctions, and entertainment.
Denny Crum and his career
Denny Crum had a wonderful and fruitful career as a coach for the men's college team at the University of Louisville. He took his team to 2 wins at the NCAA Championships and got them to six Final Fours. Denny retired in 2001 which is also the year he married Susan. He is happy with the new coach Chris Mack who took charge 11 months ago. Denny said:
"Chris is a really nice person. I'm happy to be here and be a resource if he needs it or wants it. He's had a lot of success, so he probably doesn't need much help."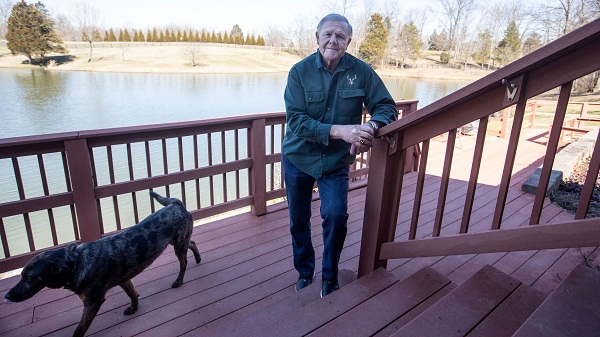 He continued:
"They've got a way to go in terms of the physicality of the game today. There are some teams we just don't match up with yet. But when he gets his own recruiting class in there and they get a year or so under their belts, I think we'll be pretty competitive again."
Denny Crum and his fans
Denny said this of the attention that people give him when he attends the matches:
"It means a lot to me. When you retire from what you did your whole life. I coached 41 years, the last 30 at Louisville. You always want to do your best for the fans and the kids on the team. And you get to a point where it's part of what you do every day.

"Somebody will ask you a question and you'll say, 'I don't remember that.' Then there's always things that people remind you of that was their favorite moment in basketball history."
Also, read Former professional wrestler Ric Flair gets a surprise birthday party from his wife Wendy Barlow!
He likes to cheer the new players and their coach and meets many of them over dinner or a game of poker. He said:
"It makes your existence a lot more fun. That's the main reason I'm still here is because of the people I really care about."
Source: Courier-Journal, Wikipedia, Whas