Fun and Frolic! Harper Beckham's sixth birthday celebrations, her ambitions and more! Click for details!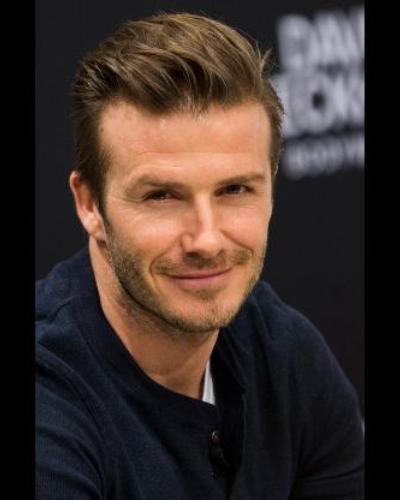 The sweet posts on Harper's birthday!
The English former professional footballer David Beckham and his entrepreneur wife Victoria Beckham celebrated their daughter Harper's sixth birthday with family and friends.
Harper turned six on 10th July 2017. But the proud parents were eagerly waiting for Harper's birthday since the past one week. They started posting sweet Instagram photos with birthday messages for their little one.
Victoria uploaded one such photo of the extended family and captioned it as:
"Family day to celebrate Harpers birthday x We love u all so much x kisses."
Mother Victoria also posted a picture of herself with her thumb-sucking daughter and wrote:
"After a long day shooting u can't beat afternoon cuddles. Kisses on Friday x VB."
The actual day of birthday!
The birthday celebrations were private and at home. The couple had called over their family and close friends. There were some baked goodies and lots of presents.
It was a fun-filled family affair. This get-together was done at the weekend on Saturday afternoon. Besides Victoria and David, Harper's three elder brothers, namely Brooklyn, 18, Romeo, 14, and Cruz, 12 attended the party.
Paternal grandmother Sandra, maternal grandma Jackie and paternal aunts Lynne and Joanne Beckham were present for this party. Victoria's sisters Louise and Christian Adams also attended.
Victoria has also uploaded photos of David Beckham having some rest while doing the party decorations with his own hands.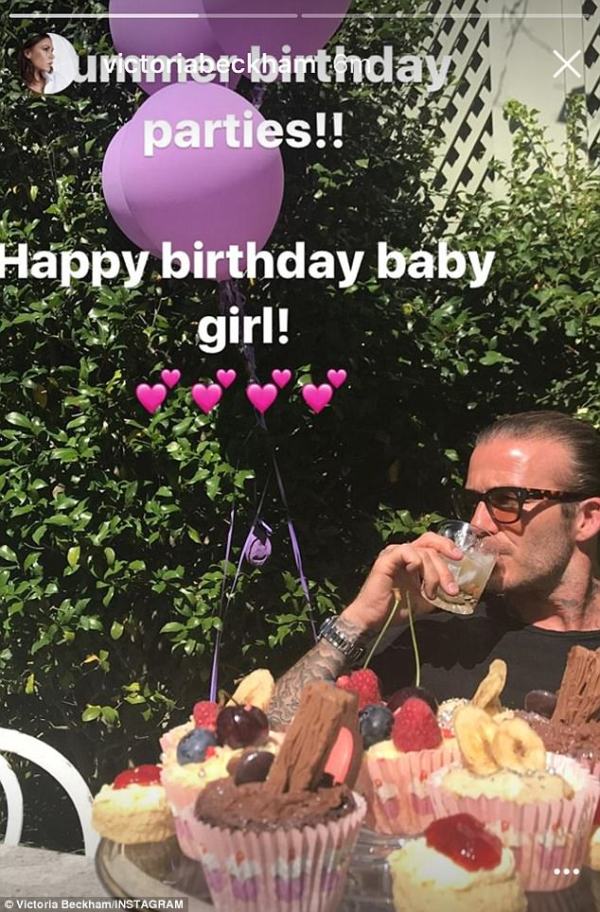 In one, he was seen with an ice cold beverage in his hand and sitting in front of a sea of cakes which he had been decorating and putting an icing on. The couple enjoyed icing the biscuits and mocked each other on it.
Everyone seemed to be in high spirits at the party. David's mother Sandra had applied the party mini-hat on her nose and was clutching onto a set of purple balloons. David immediately took a photo of his mother and posted it on his Instagram.
He jokingly captioned the photo as:
"Mums had a little to many Pimms [sic]."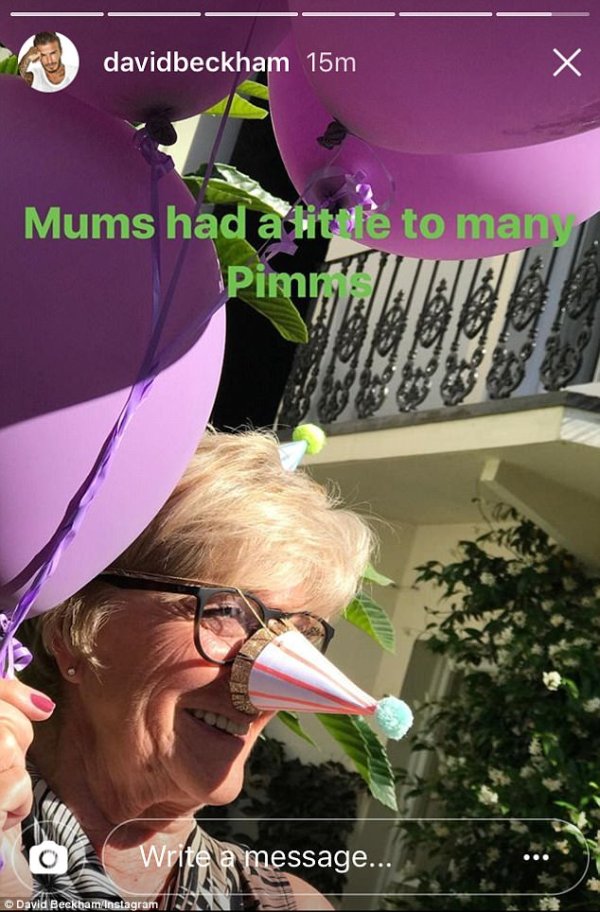 Though there were a lot of photos of the guests and the proud parents, The Beckham couple did not share any picture of the birthday girl!
The couple had celebrated their 18th wedding anniversary recently on 4th July 2017.
On 7th July 2017, it was also the 21st-anniversary celebration of 'Wannabe' by the Spice Girls band of which Victoria was a member.
You may like to read Victoria Beckham treats her daughter Harper Beckham to a baby facial on their girl day out!
The fatherly love and protection
David Beckham had recently disclosed that his daughter wants to follow his footsteps. He said on his Facebook account, he revealed that Harper had come over to him and said:
"Daddy, I would like to maybe play football."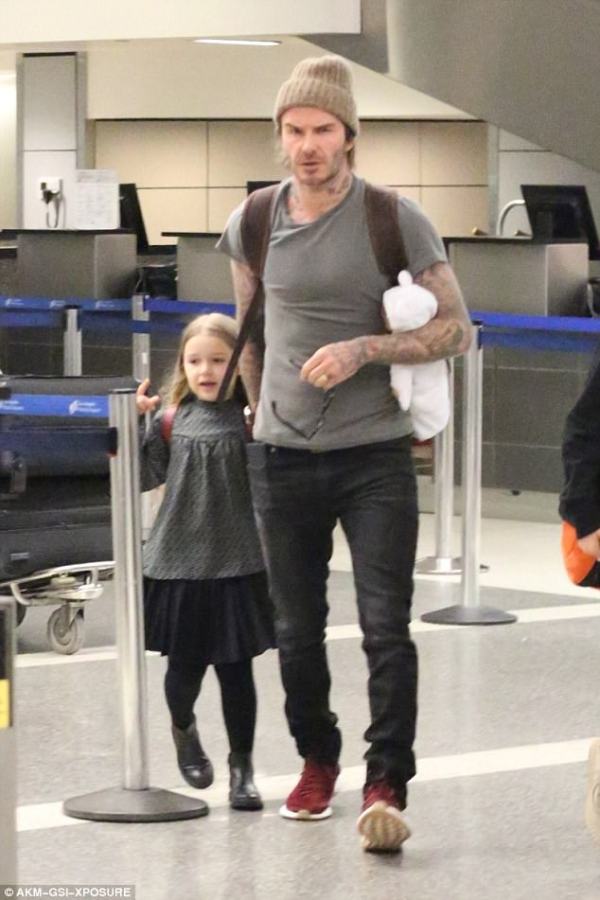 David Beckham, sharing his reaction, said:
'I was like, "Oh my goodness, that's amazing!"'
David is very protective about his little one and said that he is apprehensive of the time that she starts dating someone. But he did say that whoever dates her will have to answer a lot of people. He added:
"Well luckily, she's got three older brothers as well. So once she starts dating, that person will have to go through an inspection with her brothers [and] her dad. It'll be tough."
He turned a bit serious and continued:
"Having children is the most special thing in the world. You don't love any of them more than any of the others. It's just different, you know. The boys are very protective over [Harper] and, obviously, so am I – as you can tell!"
Also read Lavish 21st Birthday Bash Of Brooklyn Beckham And Some Of The Pictures From The Party You May Not Want To Miss
The Buckingham Palace party outrage

Being close to the Yorks, David Beckham and his family were invited to a tea party at the Buckingham Palace. It was hosted by Prince Andrew and the York Family.
But it was noticed by many and it did not go well with them. The party was heavily criticized and people complained that the taxpayers' money was being used to foot the bills.
They felt that the Palace cannot set such wrong examples and if they had called the Beckhams, why did they not consider calling any kid from the Grenfell Tower (which was recently enveloped in fire tragedy) for their birthday celebration at the palace. They were angry that the Beckhams were receiving special treatment.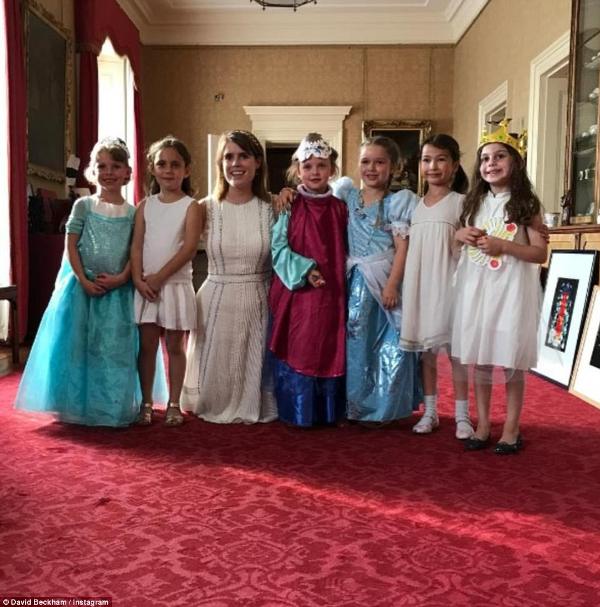 David tried to clarify. He said:
"Just to be clear this wasn't the palace opening the gates for Harper's birthday party. This was a tea party where us and other guests were invited so it was a beautiful thing to do with my mum, Harper plus a few school friends."
A senior Palace spokesperson also said that the tea party was paid from privately and not from the royal expenses. However, the people seemed not satisfied with the answers and the criticisms continue!