Gabourey Sidibe reveals she's been secretly married to fiance Brandon Frankel for over a year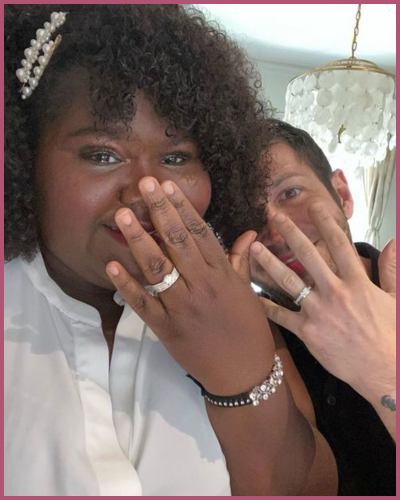 Gabourey Sidibe is already married to her fiance Brandon Frankel
The two secretly got married last year during the COVID-19 pandemic, months after their engagement
Gabourey revealed her secret wedding during an interview on Live With Kelly and Ryan 
---
Gabourey Sidibe, 39, is married!
Gabourey Sidibe and her fiance Brandon Frankel secretly married last year
Precious actress Gabourey Sidibe and her fiance Brandon Frankel, an entertainment business executive, took a milestone in their relationship. The two are now officially husband and wife.
What a surprise! The Oscar-nominated actress recently made an appearance on "Live with Kelly and Ryan" where Gabourey revealed she married her fiance over a year ago.
The lovely couple announced their engagement news in November 2020 via Instagram flaunting a sparkling engagement ring.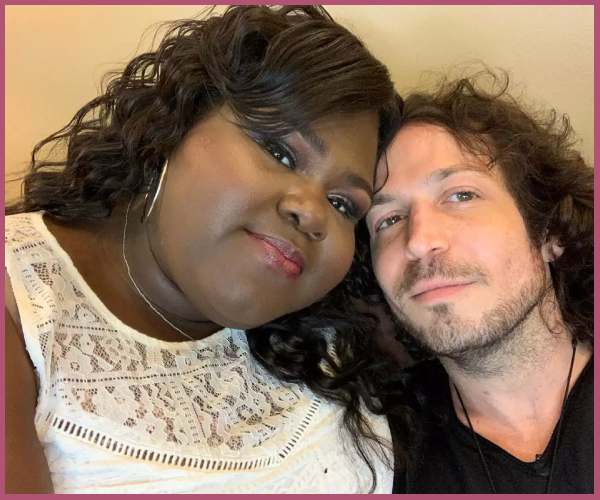 During a lively interview when host Kelly Ripa and Ryan Seacrest asked her about wedding planning, Sidibe then went on to say,
"The thing about weddings is I don't like them. I don't like them. Here's an example of how much I don't like them: I'm actually married. We got married over a year ago."
Also read 4 interesting facts on Brandon Frankel! Know about his age, fiance Gabourey Sidibe, and more
Well, the revelation left Ryan 'confused' while Kelly asked if this was 'breaking news' then Sidibe simply replied 'yes'. Frankel, on the other hand, was seen in the audience confirming the news as he held up his hand to show his wedding band.
The 39-years old actress continued,
"Yeah, we got married at the kitchen table, it was just us…"
Why Gabourey Sidibe doesn't like weddings?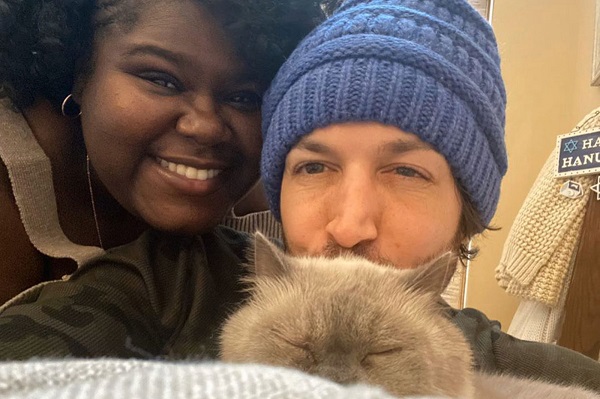 When host Ryan asked her why she doesn't like weddings, to which she said,
"I don't like weddings, like one I'm… we'll have a wedding… I've not like weddings since before there was a partner involved. It's too much… too many things… like my mother in law… shout out to Sherry… she's going to want a wedding."
She continued,
"And I don't like them because my mom was a wedding singer growing up. I've been at a lot of weddings uninvited and just like been the weird kid eating cake at a stranger's wedding,"

"And now I don't like them."
Also read Gabourey Sidibe And Brandon Franke Are Engaged! Sidibe Flaunted A Sparkly Engagement Ring!
Soon after Gabourey announced their wedding news, Brandon took to his Instagram to share photos of the lovely couple posing cozing up. He shared a gallery of photos including the couple showing off their ring.
Similarly, he wrote a sweet caption in the post, penning down,
"Surprise! I can finally call her my wife publicly! Since @gabby3shabby finally spilled the beans today on Live with Kelly and Ryan – we've been married since March '21!"

"Relieved we can finally tell the world. So thankful to have found my forever person, my partner-in-crime, and the love of my life. Every day is the best day with you. Nobody I would rather raise cats with and be in bed by a smooth 8pm with. Love you forever."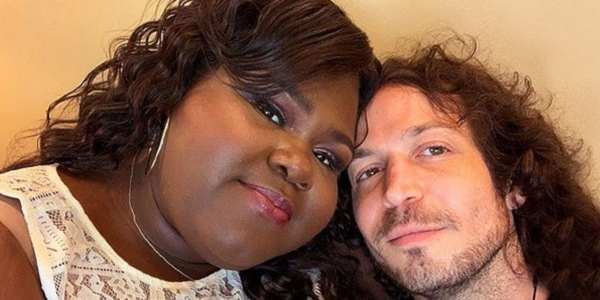 The same day, Gabourey later shared the same wedding snap alongside two others from their wedding day.
The last photo of the series shows the couple in colorful face masks as they posed together while enjoying a 'romantic sunset dinner'. Another photo features their kitty checking out the floral wedding arrangement.
Moreover, she captioned the post, penning down
"These are our official wedding photos! The Wedding at the kitchen counter featuring our rings by @happyjewelers, followed by an extremely lit reception with Aaron sniffing flowers sent to us and then a very romantic sunset dinner featuring our mask because we were still in the thick of the pandemic"

"We really do want to have a wedding someday but I just couldn't wait to marry this amazing man."
Also read Gabourey Sidibe: Mind Your Own Body! Sidibe doesn't like any comments regarding her weight!
Short bio on

Gabourey Sidibe
Gabourey Sidibe is an American actress and writer. Gabourey Sidibe debuted in 2009 with the film 'Precious'.
At present, she is associated with a TV show named Empire and plays the role of Becky Williams. See more…