Game of Thrones actress Nathalie Emmanuel refused to reveal whether she is single or having dating affair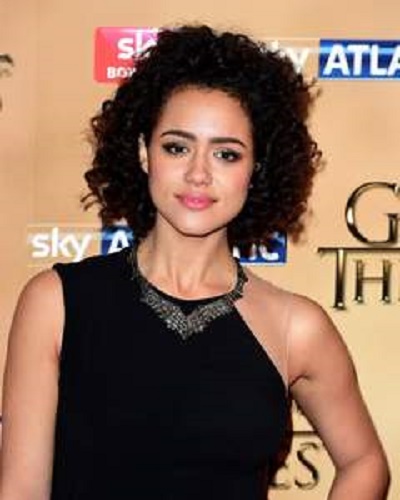 After becoming a famous public figure in the industry, people become interested in their personal life.
Though they do not wanna reveal it, they are compelled to do so.
---
Nathalie Emmanuel is the show Game of Thrones actress which is watched by personalities including Barack Obama and Madonna. While she was asked about her personal life, she refused to tell on it being a secretive person.
Let's dig deep to know what might be the cause that she refused to tell on this topic?
Update: Currently, Nathalie is in a relationship with an English actor, Devon Anderson.
Refused to reveal her love life
Nathalie Emmanuel is dedicated to her acting career. And has earned great fame in her respective career. She is a leader in her acting career and she has many followers on her social media handle.
Similarly, when people try to dig into her personal life, she remains silent and keeps her personal life low-key. And what might be the reason she is keeping it a secret. Is she really single or dating someone?
During the famous talk show "Jimmy Kimmel Live!", she revealed that she is single and said it is really difficult to find the perfect match for her and she is still struggling with getting the perfect partner.
She elaborated,
"It's difficult to find people when you're always moving round, or who aren't intimidated by your achievements. It's tough to find people who are super-secure and encourage you to fly," 
Thus, it is clear that she is single. Might be she will reveal her romantic life slowly in the coming days. And make us clear about her dating life.
However, she is single currently. Previously, she dated "Hollyoaks" co-star and on-screen brother, Aaron Fontaine. The couple remained silent when they are asked about their relationship and they revealed that they do not wanna reveal more about their love life.
Talking about her on-screen romance with Jacob Anderson, the captain of Daenerys' Unsullied soldiers on the show Game of Thrones where she said:
"They're such a great couple because there's a purity about their connection. It's been born of a place of pain and confusion and oppression, so they understand one another. It's very human, and yet very rare. In that world of people being butchered and battered and manipulated, there's this very pure, very sweet thing. It's special."
You may like to read English Actress, Bella Ramsey hobby for acting led her in Acting since her early life
Similarly, she also revealed on their fitness and yoga where she wrote:
"This season, Missandei has some pretty cool stuff to do. Her role as an advisor is becoming more and more important and the stakes are higher,"

 "War is coming, and there's real danger.
Moreover, she said:
"I was obviously sworn to secrecy. I was so sick of people asking me about it. We're not allowed to say but I also wouldn't want to. My friends and family are pretty relaxed and know not to bother me."
Also read Game of Thrones actor Andrew Dunbar dies suddenly on Christmas at his home!
Short Bio on Nathalie Emmanuel
England-born Nathalie Emmanuel was born on March 2, 1989. She is an English national. Nathalie is a very talented film actress. Presently, she is also famous for starring in films like "Maze Runner: The Scorch Trials", "Furious 7", and others.
Similarly, she is also popular for starring in the TV series, "Game of Thrones". She is portraying the character of 'Missandei' in the series since 2013. Additionally, Nathalie is also a popular TV actress. As an actress, she is active in this occupation since 2006. More Bio…