Gene Simmons, co-lead singer of the band Kiss has a unique addiction! Get informed about it and his relationships.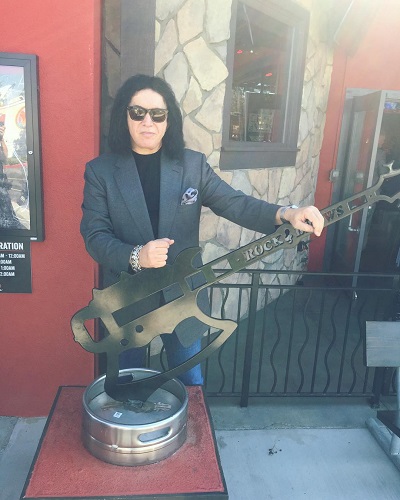 Yes, Gene Simmons has revealed that he is addicted- and it's not cannabis. The 68-year-old The Kiss band member has just become the chief marketing manager of a cannabis brand. And he has further provided the information that he has not even smoked a single joint!
The musician has confessed that he has a sweet tooth. He only drinks decaf coffee and he also likes to top his coffee with hot chocolate for more sweetness. Yum!
His craving
In The News Daily, Simmons also shared his greatest weakness- cake! I mean who doesn't like cake, but he simply craves them.
"I've never touched opioids, crack or weed, but I do have a thing for sugar. I will never say no. My downfall is cake. I have also had the same dream ever since I was a young child – and it goes like this. Imagine your hands are tied and you're trapped inside a room within a house that is made out of cake. There's no windows and no doors. How do you escape? You eat your way through. I have woken up out of dreams chewing."
You may like to read Better late than never! Christina Milian and Karrueche Tran jump into the band-wagon of burger-eating hot babes!
Relationship, marriage, and children
It was well known that Gene never believed in marriages. He is famous for live-in relationships. He even has claimed that he has slept with more than 4800 women since the rise of the Kiss band in 1974.
And in 1983, he met the love of his life- Shannon Lee Tweed. Shannon is a former Canadian Playboy Playmate and an actress. Although the couple was deeply in love, they never had plans to marry.
But at the age of 62, in 2011, he finally married Shannon Tweed, his longtime girlfriend, and mother of his 2 children. They have a son- Nick Simmons and a daughter- Sophie Simmons.
So what made him change his mind? When asked he replied:
"I guess with age comes a sense of mortality and I never thought about dying or being old and alone. It's something I thought I'd do given my wife Shannon has been there for me for as long as she has."
A message
The cannabis advocate is against drug abuse. He does not want people- either young or old to get into the habit of drug abuse.
He also has advised people to do some research. He has shared that he himself had the wrong perception of cannabis. He further had added that he will never use cannabis products and he does not have any problem with it.
Also read Pop star Pink suffered a gastric viral infection and was forced to postpone her concert in Sydney!
Short bio on Gene Simmon
Gene Simmon's birth name is Chaim Witz. He was born on August 25, 1949, at Rambam Hospital, in Haifa. He is an Israeli-American musician, singer, songwriter, record producer, entrepreneur, actor, author, and television personality. He is best known for his involvement in the rock band Kiss as a co-lead singer and co-founder.