'Geordie Shore' star Charlotte Crosby's relationship with her boyfriend Josh Ritchie is very cringey yet sweet. Find out their romantic text exchange here!
Recently, Geordie Shore's season 11 star Charlotte seems really happy these days and one of many reasons can be her really really loving boyfriend Josh Ritchie, the star from 'Ex on the beach'. These reality stars who indirectly confirmed their love-life on February seem to go stronger every day.
Love-shower through IG
Well, everything is in media. Neither Charlotte nor Josh wants to hide the love between each other. We can see their interactions through their Instagram every other day which clearly says: WE ARE IN LOOOVEE!!
The most recent picture of them together was seen just a few hours back on Josh's post. Even better than that, their comment on each other's post is really sweet. Just a few days back, Josh posted a HOT picture of him (with those blue piercing eyes).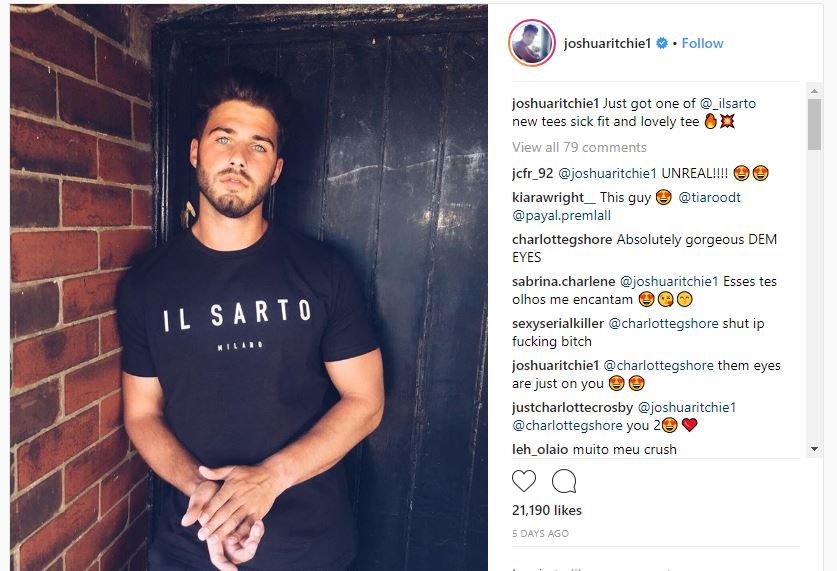 Ugh! Of course, his followers showered with likes and comment in the post, but the comment that stood out among all those thousands belonged to Charlotte, his lover.
Charlotte commented:
"Absolutely gorgeous DEM EYES"
Even Charlotte can't seem to get enough of those beautiful eyes.
And came the sweetest reply of her boyfriend
"@charlottegshore them eyes are just on you ????????"
Yes, girl, not only those eyes are for you but the whole handsome hunk is yours!
So, where did all this start?
Remember when Charlotte was heartbroken by her ex-boyfriend Stephen Bear in October, she was seen with Josh Ritchie multiple times. Also, they were not just by each other's side, they were seen smooching in December. And it didn't take long to realize what was actually happening between the "friends".
And when everyone was almost sure, Charlotte posted this photo of them together with a date.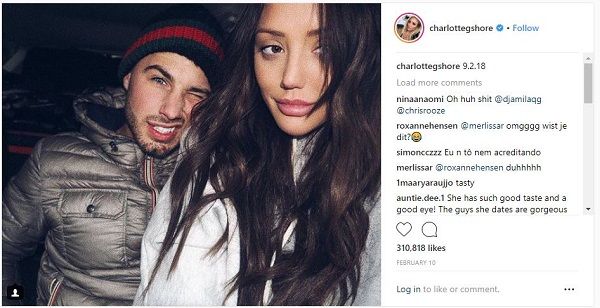 '9.2.18' This can be assumed as their very first day together as an official couple. And since then, these two seem inseparable.
The sun doesn't shine every day
When we see the pictures while surfing the internet, they seem to be the ever-happy couple. But that's not the case. Sometimes they even fight and that sometimes include in public as well.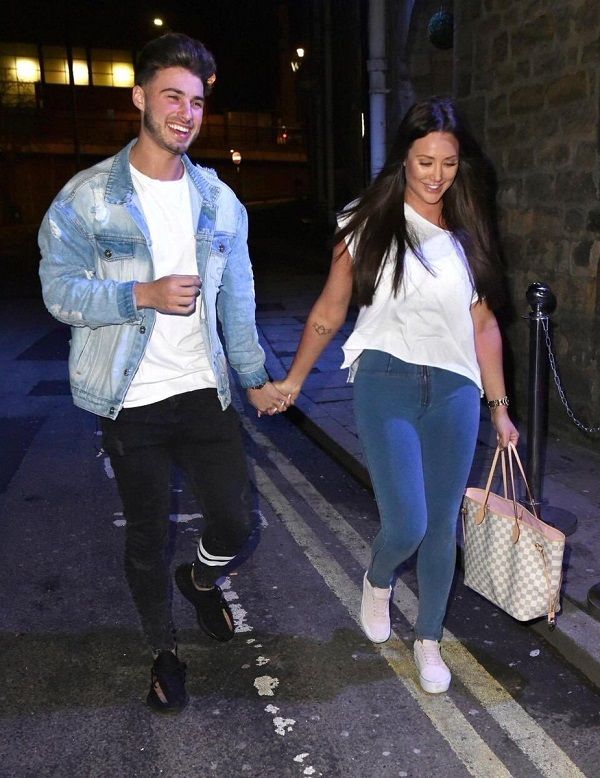 Last month during her birthday celebration, the couple were seen fighting. As the two left a club, they were seen yelling at each other on the streets. Not just that, even pushing each other. At the end of the day, she was accused of punching her boyfriend.
One fo her follower asked her on Instagram:
"How come you punched face? "
Charlotte couldn't agree with his statement and decided to leave a reply, which said:
"I pushed Josh's arm away from me and flung a plastic cup at his feet. We had an argument which isn't really the strangest thing to happen in the world, is it? Not once did I punch/hit or hurt him or his face. He was trying to calm me down and I was pushing him away."
It really isn't strange for couples to have some love quarrels you know.
Being pregnant?
Among the countless rumors, there was also a rumor about Crosby being pregnant. Charlotte didn't like this rumor so decided to clear it out. She posted a video and in it she said:
"So I just would like to clarify that I am not pregnant."
Josh decided to cut her off with: "She is"
After shutting her boyfriend's mouth, she continued:
"I'm not pregnant. I don't have my buttons fastened because I don't like buttons fastened on my shorts. And every comment says 'Oh my god, she is pregnant, she is pregnant.' I am not pregnant, guys."
Her boyfriend supported her in one comment by saying: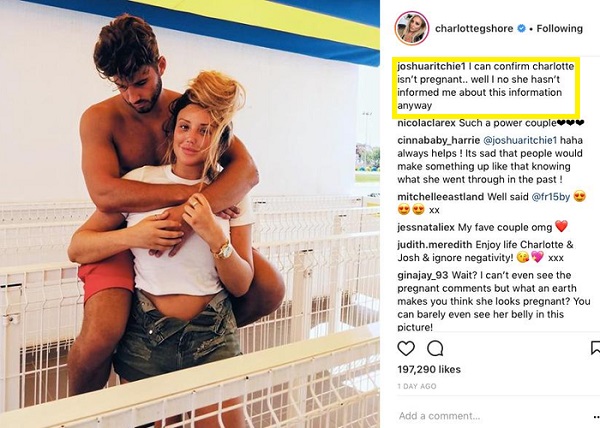 But not being pregnant doesn't mean, she doesn't have any plans of being one. She has revealed that she wouldn't mind being pregnant. In an interview with Closer Magazine, she said:
"Having a family is one thing in life I really want – I've done so much with my life already, and becoming a mum is my dream."

"I want the fairy tale of getting married and having babies – doesn't everyone? I can see myself marrying and having babies with Josh, but he's still quite young, so we'll see."
Well hopefully, Charlotte gets her to wish fulfilled.
More about Charlotte Crosby
Charlotte Crosby is an English reality television personality. People mostly recognize her for her appearance in the MTV reality series 'Geordie Shore'. Additionally, she won the 2013 season of 'Celebrity Big Brother'. More Bio…