Gianluigi Buffon retires from international football as Italy failed to book their seat into the 2018 FIFA World Cup Russia
The game against Sweden came as the last match for the Italy veteran Gianluigi Buffon. The 39-year-old called it quit as Italy failed to secure their spot in the 2018 World Cup. So far, Buffon represented Italy side in 175 matches in his 20-year football career.
The legend waves goodbye
Gianluigi Buffon has earned 175 caps for his country in his 20-year football career. After Italy lost to Sweden in the playoff 1-0 aggregate, he called it quit from the international football. Furthermore, he looks devastated as his side couldn't make into the World Cup since 1958. In his presence, Italy also won the fourth World Cup title in 2006 after beating France in the final.
After the loss, he said,
"It is upsetting that my last match decided we didn't qualify for the World Cup. I'm sorry. Not for me but for Italy. We blew something that could have meant so much. The only regret is that it ended like this."
He further added,
"The blame is divided equally among all of us. There must be no scapegoats. We win together and we lose together."
Talking about the future of Italy football, Buffon said,
"There's definitely a future because we have pride and strength. We're stubborn and hard-headed. After ugly falls we find a way to rise back up. A lot of these kids are talented, including Gianluigi Donnarumma and Mattia Perin. I wish them a lot of luck."
Along with him other Italy veterans Daniele De Rossi and Andrea Barzagli also announced their retirement. In addition, Buffon hinted the defender Giorgio Chiellini will also join them.
Criticism over Italy football and Gian Piero Ventura
Gian Piero Ventura has been sacked by the Italy Football Federation after his side shockingly failed to beat Sweden in the playoffs. This is the first time since 1958 that Italy has not booked their place into the World Cup. When Antonio Conte left the Italian side in 2016, they were just behind the group topper Spain in their qualification group.
Talking about their performance Ventura added,
"I apologize for the result but not for the effort and hard work. I do realize the result is the most important thing."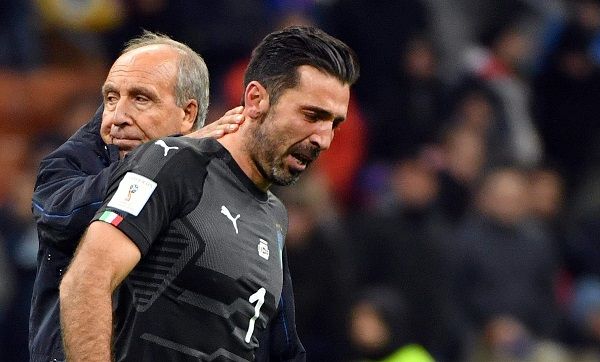 After sacking Ventura manager, Italy has already targeted their sight on Carlo Ancelotti. As per the rumor, Ancelotti is the first choice after sacking the 69-year-old Ventura who only managed to secure his job for 18 months. Carlo Ancelotti, 58, has an impressive record with three Champions League trophy and league titles at Chelsea, Paris Saint-Germain, and Bayern Munich.
One of the leading sports daily newspaper described the failure to reach the World Cup for the first time since in 60 years as the arrival of the apocalypse. La Gazzetta Dello Sport blamed stating,
"Italy, this is the apocalypse. We will not be with you and you will not be with us. A love so great must be reserved for other things. There will be inevitable consequences but let's just see if they stop with Ventura or go further."