"Goddess of Pop" Cher, 76 is Dating 40-Year Junior Music Producer Aged 36!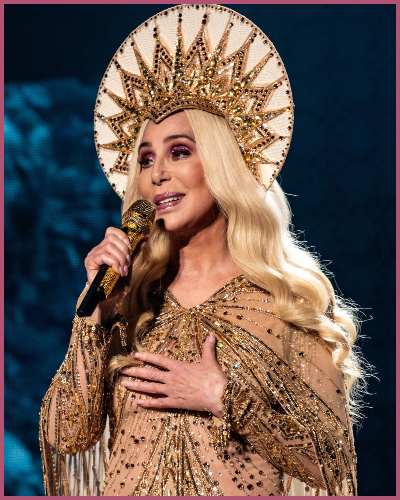 American popstar Cher has found a new love in her life, Alexander Edwards, 36 at the age of 76.
Sonny Budo's ex Cher is reportedly dating a young musician who is nearly half his age.
More into the dating life of the Goddess of Pop.
---
Who is Cher dating now?
Cher has a new love affair in her life. She cited that love doesn't know math after confirming dating a guy 40 years junior to him. Her new love interest is also junior to her son Chaz Bono.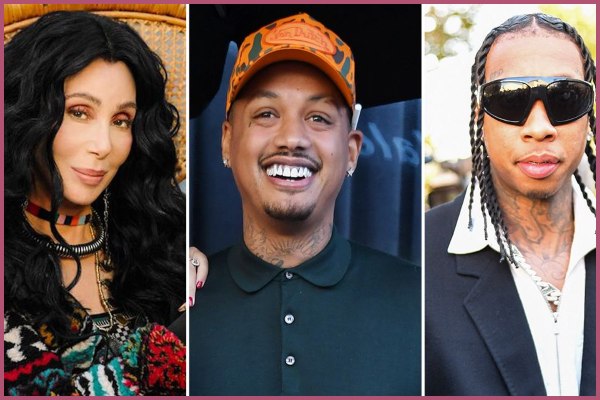 The 76-year-old singer has recently confirmed her rumored romance with 36-year-old Alexander Edwards. She is reportedly sending a stream of gushing messages and cited he treats her like a queen.
It was a fan raising an eyebrow at their 40-year age-gap romance. She just replied with a loved-up face with heart eyes gushing over how loved she feels with him.
Sonny Bono's ex Cher is posting heart emojis right after their romance speculation after they were spotted holding hands at Hollywood restaurant Craig's last week.
Also, Read Is Madonna dating a Much Younger New Toyboy Andrew Darnell, 23?
Cher's first meeting with boyfriend Alexander Edwards
Cher revealed that she first met him during Paris Fashion Week last month. The chemistry was bang on that, she also introduced him to the family.
Talking about the event, The Believe star looked sensational in her raven looks fashioned in black trousers, a coat, and a cut-out top. Her beau was sported in a black leather shirt and trousers accompanied by Kylie Jenner's ex Tyga.
Also, Read EastEnders Michelle Collins is Married to her Age Gap Fiance Mike Davidson at 60!
Relationship History of Cher
The pop legend Cher was previously married to American musician Gregg Allman (1975 – 1979) for four years. Before that, she was the ex-wife of Sonny Bono (1964 – 1975), to who she remained married for 11 years. She also shares a son Chaz Bono, 53, with her late ex-husband Sonny Bono who died in 1998.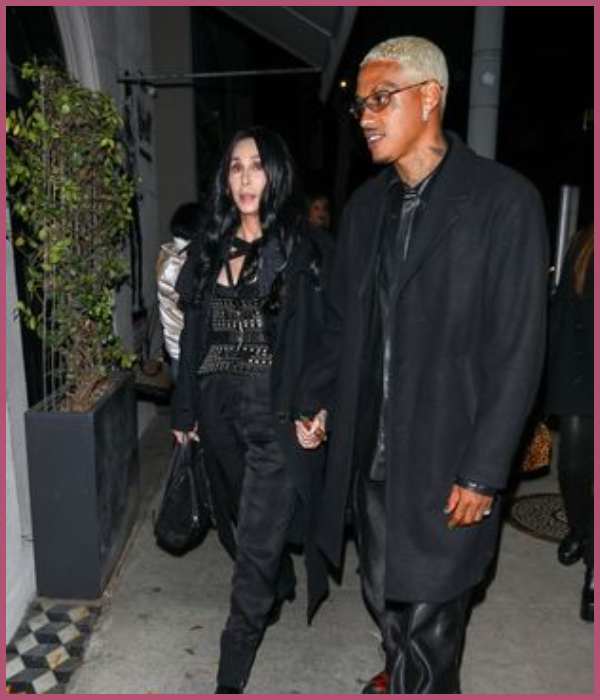 Cher has had many relationships after the romance, including Val Kilmer (1982 – 1984), Les Dudek (1980 – 1982), Gene Simmons (1977 – 1980), David Geffen (1974 – 1985), and Jeff Verrilli (1961 – 1962).
Her other boyfriends were Ron Zimmerman (2010 – 2012), Tim Medvetz (2009 – 2013), Richie Sambora (1989 – 1990), Rob Camilletti (1986 – 1989), Tom Cruise (1985 – 1986), Joshua Donen (1984 – 1986), and Eric Stoltz (1984 – 1985).
Also, Read Dane Cook is Engaged to his Longtime Age Gap Girlfriend Kelsi Taylor!
Who is Alexander Edwards?
Alexander Edwards is a rapper and music producer who is in the spotlight currently for dating Pop star Cher. He also fathered a three-year-old son Slash Electric Alexander Edwards with Kanye West's ex, Amber Rose.
He was in controversy back in August after his ex Amber accused the music producer of having affairs with 12 different people on her Instagram Stories. The music producer also then came to cheat his baby's mother.
Also, Read Are Bachelor Nation Stars Greg Grippo and Victoria Fuller Dating? Find Out!