Baby Bump at The Globes! Pregnant Hilary Swank Looks Super Excited at the 2023 Golden Globes!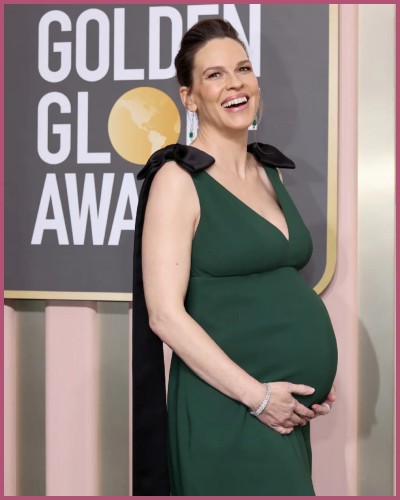 Hilary Swank made her baby bump debut at the Golden Globes in Hollywood.
The actress is all set to welcome twins with her husband Philip Schneider.
The soon-to-be mom loving cradled her bump as she posed for the cameras.
---
Pregnant Hilary Swank looks stunning at the Golden Globes
Hilary Swank is a gorgeous mom-to-be who is enjoying every bit of her pregnancy.
The actress talked about how she is preparing to welcome her twins in just three months from now.
Swank walked the carpet at the 80th Annual Golden Globes with her husband, Philip Schneider at the Beverly Hills Hotel.
When a reporter asked how she was feeling, the Million Dollar Baby actress said,
"I feel excellent, thank you!"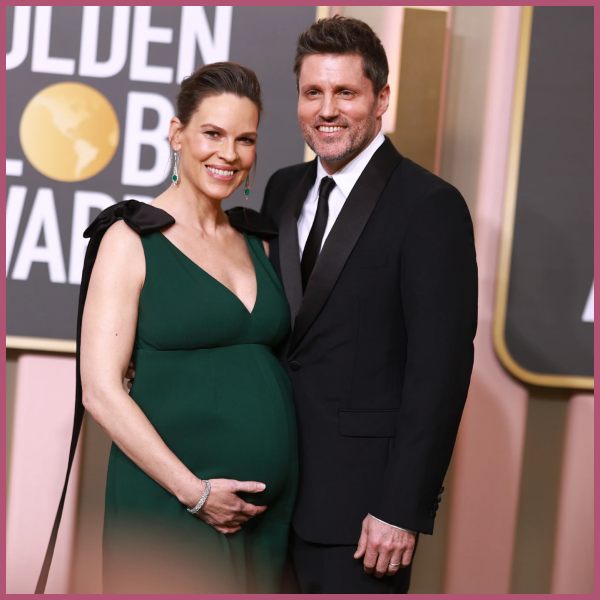 Hilary, who is a four-time Golden Globe Award winner looked elegant in a floor-length dark green dress with black bow-tie straps. The dress perfectly accentuated her beautiful baby bump.
The 48-year-old completed her look with matching emerald earrings and wore her beautiful blonde hair in an updo.
The couple who has been married for four years posed happily for the cameras and even shared a sweet kiss on the carpet while the actress touched her belly.
In October, the Freedom Writers actress revealed on Good Morning America that she was pregnant for the first time. The actress gushed:
"This is something that I've been wanting for a long time, and my next thing is I'm gonna be a mom," 

"And not just of one but of two."
Also, Read Hilary Swank is Expecting Twins at 48 and Explains Why She Waited So Long to Become a Mom!
Swank revealed why she waited long to have babies
The actress also went on to say that her due date falls on her late father, Stephen Michael Swank's birthday which is on April 16.
Hilary also shed light on why she chose to have children so late in life. She revealed that she wanted everything to be right.
She also said,
"I was having a career and not having the right relationship until … four years ago, and all the elements needed to come together and be right," 
Swank who will deliver her kids in three months is nominated for Best Performance by an Actress in a Television Series-Drama for her performance in Alaska Daily.
While appearing on the Late Late Show with James Corden, Swank said that pregnancy has left her in awe of womanhood.
The Boys Don't Cry actress said,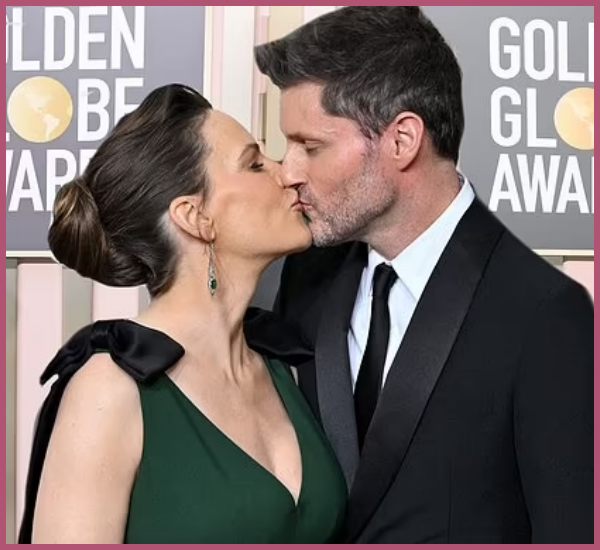 "I feel like women are superheroes,"

"What our bodies do? I have such, like, a whole newfound respect. I mean, I love women, I've always loved women, but now, I'm like, 'Wow, we can do this!' "
Swank also explained the problems she faced in the initial days of pregnancy. She told James Corden and Gwyneth Paltrow,
"The first 16 weeks I had a lot of morning sickness," 

 "All I wanted was fruit. It's not that exciting I know, it's not like pickles dipped in peanut butter, but a lot of fruit — to the point that one of my costars, when they found out I was pregnant, they were like, 'Oh that's why you eat 10 pomegranates a day, 50 pears.'"
Also, Read All We Need to Know About Hilary Swank's Entrepreneur Husband Philip Schneider!