The Good Doctor actor, Freddie Highmore is making fans go gala with his acting. Know about this actor's ex-affairs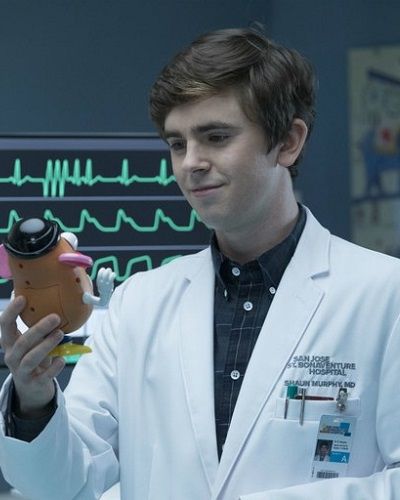 Freddie Highmore is a British actor. He was stared in one of the renowned movies, Charlie and the Chocolate Factory.
The second series of The Good Doctor, television series is out and Freddie is one of the lead actors. The show will be broadcasted on Monday nights at 10 P.M. on ABC!
Freddie plays the role of Shaun Murphy, who is an autistic and savant syndrome-stricken doctor. After the trailer was released, audiences are loving it and it is making a good position in the trending videos. The fans can't wait for the series to come!
When asked about his role, he said,
"It was the character more than anything. I haven't seen someone like Shaun being portrayed in quite the same way on television before and certainly on broadcast television like we've been doing. There was a responsibility that we all assumed by taking on this character and we wanted to get it right. That was exciting to me too and it seemed like a great challenge."
The trailer has touched many hearts and it is getting a lot of positive responses from the viewers. But Freddie said that he was touched when those who are suffering from autism or people near them have sent them a good response. He said,
"I think the most touching and heartfelt meaningful responses that we've got have been from those people who either have autism themselves or know people closely who do and it makes it all worthwhile…you try and do the best you can really and put in as much as you can into it."
He is very honored to get such a huge and good impact from the viewers for his work,
"I guess it felt like a collective achievement and something that we all been working towards in the months prior. I guess it's a new experience for me working on something where there's an immediate reaction. On 'Bates Motel,' we filmed the season and then in a couple of months, it would all be released. It's interesting and exciting, especially for everyone who's been working on it, for the crew who get to go home and watch it with their families and then come back in to work the next day. It feels more alive"
Also read Journalist Laura Thomas has said goodbye to ABC15! Know about this weather reporter's career and life journey!
Freddie's Relationships
Talking about the current relationship of Freddie, he is not dating anyone. Even if he is having an affair with someone, he has not revealed it.
In 2016, he dated Abigail Breslin. She is an American actress and singer. But seems like they ended their relationship on very bad terms. As Abigail's Instagram post revealed that she was raped by her ex-boyfriend. And during that time there was news of her dating Freddie. In her Instagram post, she stated,
"I did not report my rape. I didn't report it because of many reasons. First off, I was in complete shock and total denial… Second… I was in a relationship with my rapist and feared not being believed. I also feared that if my case didn't lead anywhere, he would still find out and hurt me even more."
In July 2009, he has an affair with Dakota Fanning. She is an American actress and model. But soon after some time of their relationship, they called off their affair.
In 2006, he dated Sarah Bolger, an Irish actress. The couple met on the sets of "The Spiderwick Chronicles." The video of Freddie and Sarah making out was also leaked to the media. But soon after three years of their relationship, the couple decided to separate.
You may like to read Roseanne Barr breaks her silence after her ABC show cancellation and tweeted apologies!
Short Bio on Freddie Highmore
Freddie Highmore is an English actor. He has starred in movies like 'Women Talking Dirty', 'Finding Neverland', 'Charlie and the Chocolate Factory' and 'The Spiderwick Chronicles' among others. More Bio…