Hailie Scott Mathers and father Eminem crazy looks alike; Eminem's identical twin
Eminem's daughter, Hailie Scott Mathers being beautiful was not an unknown fact but lately, her crazy similarity with her famous dad Eminem surely surprised everyone. The more Hailie grows, the more she looks like her dad Eminem.
Hailie Scott Mathers looks like her dad Eminem's twin in new selfie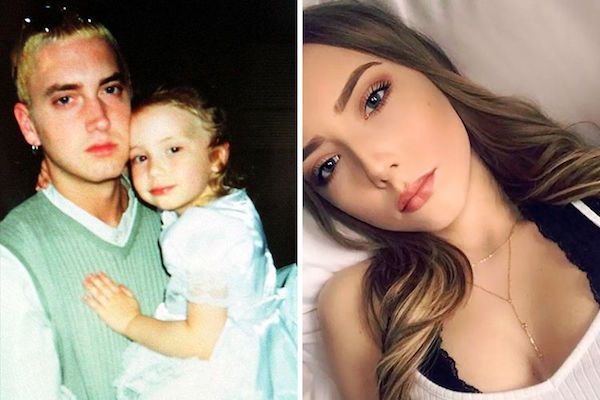 Hailie Scott Mathers has grown to become more and more beautiful. She has not only become more gorgeous but also resembles her rapper dad Eminem so much that in fact, they look almost like identical twins now. Hailie is an Instagram model and often shares pictures of her on her Instagram. She recently shared a new selfie of hers and fans were in awe on how identical the 23-year-old looked to her father.
I mean even if you didn't know the family background of this stunning Instagram influencer, you could guess that she is related to the legendary rapper Eminem or at least might think "She looks like Eminem!!". Okay, she looks very identical to her father Eminem but can we appreciate how gorgeous this young lady is though!
Hailie's stunning 'Golden hour' selfie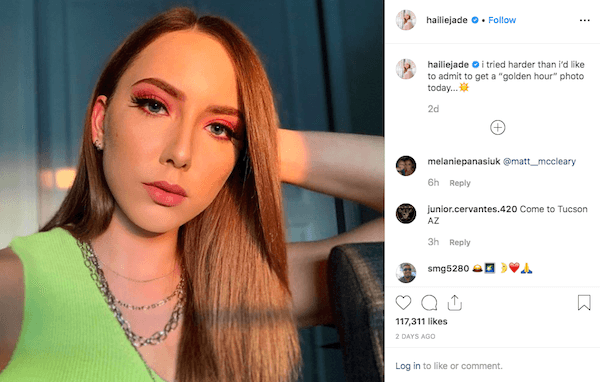 Hailie has been stunning us with her amazing Instagram posts. The picture which made headlines about her crazy resemblance to Eminem was one of the recent selfies, two days ago.
Apparently the 23-year-old Instagram model took the advantage of the 'golden hour' and took a selfie in the natural light of the setting sun. The selfie showed off the beautiful features which are perfectly matched her dad's own features.
She took it to the caption to mention that the selfie didn't just come out perfect in one shot. In her selfie, she captioned,
"I tried harder than i'd like to admit to get a 'golden hour' photo today…☀️."
Her followers were stunned by her perfect complexion, great makeup, and beautiful features. Her fans took the time to shower her with lovely comments. Here are some comments we noted down:
"Your makeup is so cool!!'/ 'Your definitely a beautiful young👑 and I'm sure your pop's is proud! God bless you both!👌🏼'/ 'Too damn beautiful😩 ❤️ '/ 'You should be in Movies."
Also, read about Deborah Nelson Mathers and Eminem Relation in Good Terms! Her Side of the story in Autobiography ' My Son Marshall, My Son Eminem'!! Know all about Deborah's Life!
Hailie Scott Mathers gets called out by fans for a small mistake in her recent photo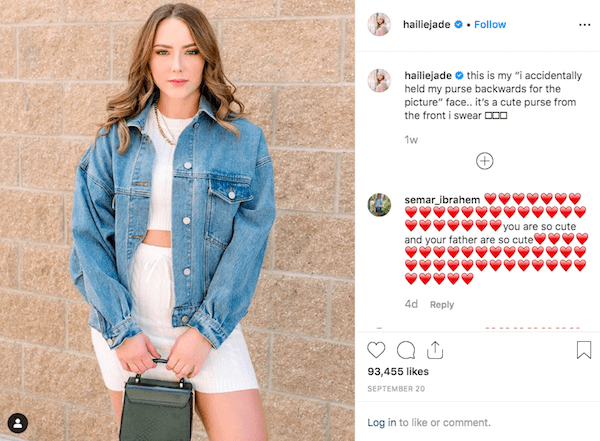 On a recent picture posted by Hailie, a slight mistake was pointed out by some fans. As a social media influencer, one always gets pointed out of the slightest tiniest mistake and sometimes people tend to cling on you for some unnecessary errors.
The mistake, however, it cannot be even termed bad enough but rather cute. In the picture, Hailie posed with some very stylish clothes and classy accessories. Some fans though, pointed out that she was holding the purse the wrong way in the shot and faded the beauty of the purse.
Hailie though took the situation quite smoothly by her hands. She put out good humor and immediately make a joke about the whole situation. She captioned the picture saying,
" this is my 'I accidently held my purse backwards for the picture'  face.. it's a cute purse from the front I swear"
Nevertheless, Hailie does not seem to be affected by some unnecessary backlashes and faced the comments without breaking a sweat.
Also, read about Hailie Jade Scott is becoming an Instagram influencer independent of her father rapper Eminem!
A short bio on Hailie Jade Mathers
Hailie Jade is the daughter of famous American rapper, record producer and actor, Marshall Bruce Mathers III (Eminem) and Kimberly Anne Scott. She has been mentioned in over 20 songs of Eminem. Hailie Jade was protected from the on-off relationships and vulgar legal divorce and custody battles of her parents. Jade has grown up to be a gorgeous, mature, and intelligent woman. More bio…
source:  celebrity insider